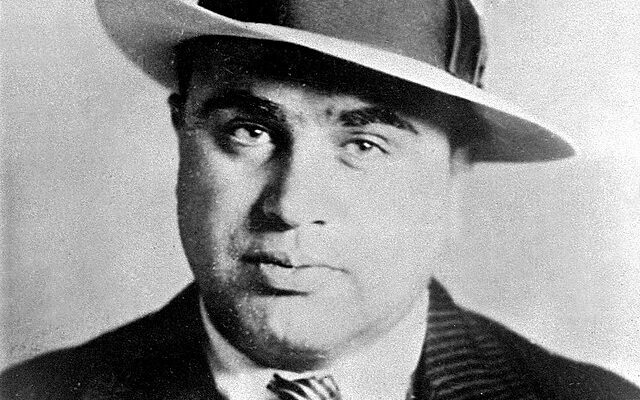 Sometimes you can't escape overwhelming evidence that you're a bad person, even when your dad is the president. It looks like Hunter Biden is finally about to find that out. According to reports, the crown prince of the Biden Family looks to be facing tax and gun charges.
Like Al Capone, it's not always the worst things you do that get you in trouble. It's the paper trail. And from stories involving shady business dealings to using crack cocaine to abandoning his children, not paying taxes and having illegal guns is likely not the worst things that Hunter Biden has done. Despite their best efforts to protect the president's son, the FBI may have to arrest him. 
The story was broken by the Washington Post: ederal agents investigating President Biden's son Hunter have gathered what they believe is sufficient evidence to charge him with tax crimes and a false statement related to a gun purchase, according to people familiar with the case. The next step is for the U.S. Attorney in Delaware, a Trump administration holdover, to decide on whether to file such charges, these people said.

The investigation into Hunter Biden began in 2018, and became a central focus for then-president Donald Trump during his unsuccessful 2020 reelection effort. Initially, the investigation centered around Hunter Biden's finances related to overseas business ties and consulting work. Over time, investigators with multiple agencies focused closely on whether he did not report all of his income, and whether he lied on gun purchase paperwork in 2018, according to the people familiar with the situation, who spoke on the condition of anonymity to discuss an ongoing case.

Agents determined months ago they had assembled a viable criminal case against the younger Biden. But it is ultimately up to prosecutors at the Justice Department, not agents, to decide whether to file charges in cases where prosecutors believe the evidence is strong enough to lead to a likely conviction at trial.

Asked about the case, Chris Clark, a lawyer for Hunter Biden, accused investigators of leaking information. "It is a federal felony for a federal agent to leak information about a Grand Jury investigation such as this one," Clark said in a written statement. "Any agent you cite as a source in your article apparently has committed such a felony. We expect the Department of Justice will diligently investigate and prosecute such bad actors. As is proper and legally required, we believe the prosecutors in this case are diligently and thoroughly weighing not just evidence provided by agents, but also all the other witnesses in this case, including witnesses for the defense. That is the job of the prosecutors. They should not be pressured, rushed, or criticized for doing their job."
CNBC noted that the Biden King of Screw Ups may very well be charged because he screwed up a form, writing that "the potential gun-related charge stems from Hunter's October 2018 purchase of a handgun, which required him to fill out a federal form that asked whether he was a user of or addicted to narcotics. Hunter answered 'no' to that question, despite being a user of crack cocaine at the time, according to a book that he later wrote."
Attorney General Merrick Garland has washed his hands of the case, citing its political nature, and handed it to the U.S. Attorney for Delaware David Weiss, a Trump appointee, "to decide whether to prosecute Hunter on those charges," according to people familiar with the investigation. 
This, of course, is a double-edged sword. While Garland being away from potentially charging Hunter means that justice may get served, it also means that Garland will have more time to continue his prosecution of pro-life activists. 
Along with sending SWAT to a Pennsylvania pro-lifers house to terrify his kids and drag him to jail, the attorney general seems to be "fishing for pro-lifers to prosecute." 
The Washington Examiner recently noted, "The FBI is on a rampage against pro-life activists and protesters, having charged a dozen men and women with federal felonies in the last three weeks for offenses that allegedly occurred last year. Twice, the FBI has deployed platoons of armed agents to arrest middle-aged fathers with no record of violent crimes.
The picture is clear: Anyone who has ever been charged with a crime, even if the charges were dropped or were for a misdemeanor, should expect a visit from the Biden FBI if the old charges involved pro-life activism or advocacy.
This is a clear politicization of the Justice Department, putting the bureau at the service of the abortion lobby. Attorney General Merrick Garland's DOJ has made it clear that its priority is locking up as many pro-lifers as possible and harassing the rest."
His son going to trial could become a heavy burden for President Biden, who recently announced that he will be seeking reelection in 2024. Earlier in the year, evidence was made public that showed that Joe Biden lied when he previously insisted that he did not know of his son's ties to corrupt businessmen from foreign countries. In 2019, then-candidate Biden said, "I've never spoken to my son about his overseas business dealings." 
"Joe Biden called his son Hunter in late 2018 to discuss a New York Times article detailing the younger Biden's dealings with a Chinese oil tycoon accused of economic crimes — telling him, "I think you're clear," according to a report.
The voicemail, discovered on a cellphone backup contained on Hunter Biden's infamous discarded laptop, would appear to contradict President Biden's continued denial that he ever talked with his disgraced 52-year-old son about his overseas business transactions — and was aware they could be improper.
"Hey pal, it's Dad," Joe Biden said, the Daily Mail reported. "It's 8:15 on Wednesday night. If you get a chance, just give me a call. Nothing urgent. I just wanted to talk to you."
Biden then made his intentions clear. "I thought the article released online, it's going to be printed tomorrow in the Times, was good," Biden continued. "I think you're clear. And anyway if you get a chance, give me a call, I love you."
Chances are we are going to hear again from Tony Bobulinski, the man who claimed that Hunter always saved 10 percent "for the big guy." 
The person who's probably most upset by all of this may very well not be Hunter or Joe Biden, however. We should remember Hunter's "sugar brother," Kevin Morris. The Hollywood lawyer paid millions of dollars to cover the younger Biden's delinquent taxes and the guy is still potentially getting nabbed. 
Talk about a bad investment. Though, I guess he can look on the bright side; with the rapid inflation under the Biden administration, $2 million in 2020 is now $2,288,704.89. When life gives you lemons, and Hunter Biden is definitely a lemon, well, you know. 
[Read More: Henry Ford Heir Bullies Catholic Church Because It Hurt His Feelings By Pointing Out The Obvious]