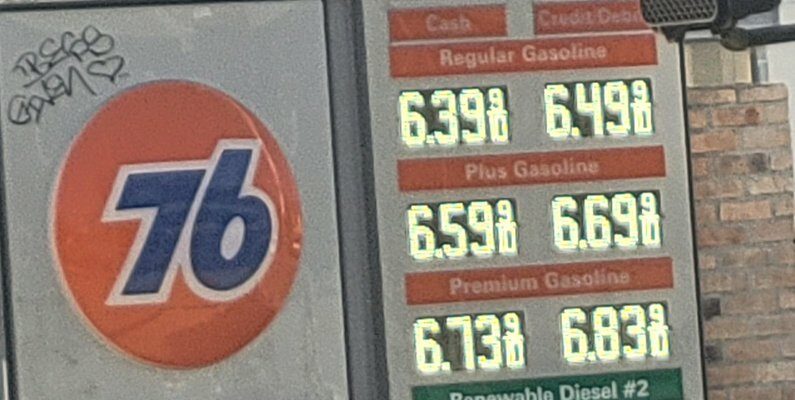 You may have noticed that the dip in gas prices has ended and the cost of filling your tank is back on the rise. AAA explained, "since Monday, the national average for a gallon of regular gasoline has risen by seven cents to $3.86. According to new data from the Energy Information Administration, gas demand increased nationally from 8.83 million b/d to 9.47 million b/d last week, and total domestic gasoline stocks decreased significantly by 4.7 million bbl to 207.5 million bbl. High gasoline demand, amid tight supply, has led to higher pump prices nationwide."
Earlier this week OPEC+ offered some bad news to the White House. The oil producer group announced its largest supply cut since 2020, causing a gigantic whine from President Biden who called the decision as "shortsighted." 
CNBC reported, "OPEC and non-OPEC allies, a group often referred to as OPEC+, agreed on Wednesday to reduce oil production by 2 million barrels per day from November. The move is designed to spur a recovery in crude prices, which had fallen to roughly $80 a barrel from more than $120 in early June.
The U.S. had repeatedly called on the energy alliance, which includes Russia, to pump more to help the global economy and lower fuel prices ahead of midterm elections next month.
In a statement, the White House said Biden was "disappointed by the shortsighted decision by OPEC+ to cut production quotas while the global economy is dealing with the continued negative impact of Putin's invasion of Ukraine."
During its temper tantrum, CNN wrote, "the White House warned it will "consult with Congress on additional tools and authorities" designed to curb OPEC's "control" over energy prices" by potentially backing the NOPEC legislation in Congress. 
"Short for the No Oil Producing and Exporting Cartels Act, NOPEC would empower the Justice Department to go after Saudi Arabia and other OPEC nations for antitrust violations," CNN continued.
"Yet some analysts warn such a move could backfire, setting the stage for a tit-for-tat battle with the world's largest producer group that drives gasoline prices even higher.
"NOPEC is like a nuclear bomb. It's hugely risky," said McNally, who served as top energy official to former President George W. Bush. "If you don't have somebody managing supply, you get space mountain oil price volatility."
Biden and his cronies have also begun to look to other antagonists of the United States for oil, including Venezuela. 
The Wall Street Journal teed off on the White House's idiotic policy: The madness of the Biden Administration's energy policy has been horrifying to watch, like a car crash except all Americans are passengers. The latest bizarre twist is that the White House may ease sanctions on Venezuela and its dictator Nicolás Maduro in an effort to increase the supply of oil on the global market.

The Journal reports that the U.S. is "preparing to scale down sanctions" on Venezuela's nasty regime so Chevron Corp. can resume pumping oil. The move is contingent on the Maduro government entering good-faith talks with the political opposition, which is an oxymoron.

The Venezuela gambit is part of the Biden Administration's rolling dictator tour to encourage more oil supply anywhere except in America. President Biden tried courting the Saudis, but this week they and OPEC+ chose to reduce production by two million barrels of oil a day. The Iran nuclear talks are supposed to liberate Tehran's oil production, but the mullahs won't take yes for an answer and are holding out for more U.S. concessions.

That leaves Venezuela, whose production and sales have fallen off a cliff thanks to its own socialist mismanagement and the sanctions imposed by the Trump Administration. Lifting sanctions now on the mere hope of political concessions in Caracas would reward the regime for impoverishing its people and creating a refugee crisis in the region. It isn't clear how much or how fast Venezuelan oil, which is a hard-to-refine kind of heavy oil, could reach the global market. But Mr. Biden is desperate to reduce American gasoline prices.
One thing this White House won't do, however, is to try producing more oil at home. He'd rather pay Putin and Maduro than red staters in North Dakota or import from Canada. 
Biden–or lets be honest: it's really his radical staffers–appears completely opposed to offshore drilling. Fox News noted, "On Thursday, the 90-day comment period for the Department of the Interior's (DOI) proposed five-year offshore leasing plan ended, paving the way for the agency to issue a final decision. In July, the DOI unveiled the plan which gutted a Trump administration proposal, ruling out any leasing in the Atlantic or Pacific and opening the door to an unprecedented scenario where no lease sales would be held through 2028.
Under the DOI's proposal, the federal government could choose to hold anywhere between 0-11 offshore lease sales, compared to the Trump administration's version which called for 47 such sales. Federal law mandates the interior secretary to issue offshore leasing plans every five years laying out prospective oil and gas lease sales.
However, the administration dragged its feet on a replacement plan as it considered objections from environmental groups, which oppose all new fossil fuel leasing, and pressure from industry as gas prices surged. In her statement announcing the proposal on July 1, Interior Secretary Deb Haaland reaffirmed her and President Biden's "commitment to transition to a clean energy economy."
The American Petroleum Institute, opposing the plan, wrote, "The ability of U.S. producers to provide more oil and natural gas supplies to the world market has also changed geopolitical dynamics for the better, resulting in greater energy security for the U.S. and its allies, in addition to global environmental benefits. Given the current global circumstances, rarely has a strong offshore leasing program been more essential to our energy security."
When recently asked why he wasn't supporting American oil production by the press, Biden weirdly backed away, grinning like a fool. 
Joe Biden: "But it is a disappointment and there are problems."

Reporter: "So how about unleashing American energy?"

Biden: bizzarely started to walk backwards. pic.twitter.com/OYF4OiNEgn

— Real Mac Report (@RealMacReport) October 6, 2022
On day one of being president, Biden canceled the cross-border permit for the northern extension of the Keystone XL pipeline. The project would be opening soon and could have transported oil into the U.S. from Canada "via a modern, environmentally secure pipeline, rather than on higher-polluting trains and trucks that currently bring crude across the border." 
Biden has directed the Department of Energy to release another 10 million barrels from the Strategic Petroleum Reserve next month." He has already drained the SPR to some of the lowest in its history, leaving the country vulnerable while selling some of it to China.
Bloomberg reported on the malfeasance of Democrats and their use of the Strategic Petroleum Reserve as a political weapon. "Trump in March of 2020 was looking to stabilize the oil industry after Covid-19 hit in 2020 and crushed global petroleum demand. With oil at the time priced at about $24 a barrel, Republicans proposed spending $3 billion to fill up the reserve. But the idea became a political football in larger negotiations on trillions in coronavirus relief, with Senate Democratic Leader Chuck Schumer proclaiming that his party had blocked a 'bailout for big oil.'" 
Now Biden, being the economic genius he is, wants to $80 a barrel while begging OPEC to stop cutting production and eyeing socialists in South America who hate our guts.  
In related news, nearly 70 percent of the nation believes that the USA is moving in the wrong direction under Joe Biden, and he continues to be one of the least-liked presidents in modern history. 
[Read More: Charges Finally Coming For Hunter?]