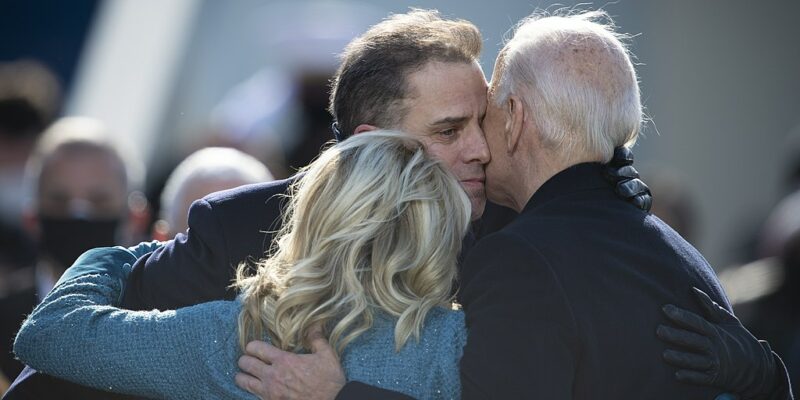 Joe Biden has been sending oil from America's Strategic Petroleum Reserve overseas despite the United States facing the highest gasoline prices ever. Earlier in the year, the president released oil from the reserves to counter soaring costs, partly caused by his refusal to boost domestic oil production. The White House first released 60 million barrels on March 1, which "coincided with similar releases from other countries."
Things have only gotten worse, and the strategic reserve is shrinking at an alarming rate. Bloomberg writes, "If Washington sticks to its current pace, the reserve will shrink to a 40-year low of 358 million barrels by the end of October, when the releases are due to stop. A year ago, the SPR, located in four caverns in Texas and Louisiana, contained 621 million barrels. As the oil market looks today, it's difficult to see how Washington can halt sales in October. Removing that additional supply would mean commercial inventories quickly deplete, putting upward pressure on oil prices."
Reuters is reporting that "more than 5 million barrels of oil that were part of a historic U.S. emergency reserves release to lower domestic fuel prices were exported to Europe and Asia last month, according to data and sources, even as U.S. gasoline and diesel prices hit record highs.
The export of crude and fuel is blunting the impact of the moves by U.S. President Joe Biden to lower record pump prices. Biden on Saturday renewed a call for gasoline suppliers to cut their prices, drawing criticism from Amazon founder Jeff Bezos.
Cargoes of SPR crude were also headed to the Netherlands and to a Reliance refinery in India, an industry source said. A third cargo headed to China, another source said."
NPR has labeled Biden's actions with the Strategic Petroleum Reserve as "unprecedented."  
A White House advisor recently said that the high prices at the pump was the cost of "liberal world order" stemming from defending Ukraine from the Russian invasion. 
Apparently, another cost associated with this liberal world order is sending our strategic reserves to communist China, where "more than one million Uighur and other Muslim minorities are forcibly held in mass detention camps in the Xinjian province where they face countless human rights abuses from forced labor, coerced sterilization, and destruction of their culture and religious identity." 
More seems to be at play, and, of course, the president's corrupt son, who has claimed to be one of the president's advisors, is involved. The Washington Free Beacon is reporting that nearly a million barrels from the strategic reserve were sent to a Chinese oil company connected to Hunter Biden. 
The newspaper wrote: Biden's Energy Department in April announced the sale of 950,000 Strategic Petroleum Reserve barrels to Unipec, the trading arm of the China Petrochemical Corporation. That company, which is commonly known as Sinopec, is wholly owned by the Chinese government. The Biden administration claimed the move would "address the pain Americans are feeling at the pump" and "help lower energy costs."

Power the Future founder Daniel Turner admonished Biden for selling "raw materials to the Communist Chinese for them to use as they want."

"We were assured Biden was releasing this oil to America so it could be refined for gasoline to drive down prices at the pump. So right off the bat, they're just lying to the American people," Turner told the Washington Free Beacon. "What they're saying they did and what they did are not remotely related."

Turner also said the decision highlights the Biden family's "relationship with China." Biden's son, Hunter Biden, is tied to Sinopec. In 2015, a private equity firm he cofounded bought a $1.7 billion stake in Sinopec Marketing. Sinopec went on to enter negotiations to purchase Gazprom in March, one month after the Biden administration sanctioned the Russian gas giant.
Nearly 1 million barrels a day have been released from the Strategic Petroleum Reserve, and it will continue through the fall. Our reserves have been drained to the lowest point since 1986, when we used significantly less oil. 
According to AAA, the national average for the price of gas is just over $4.72, roughly 50 percent more than we paid a year ago. California comes in with the most ridiculous gas prices. The Golden State pays over $6.18 a gallon. (Not that Governor Gavin Newsom cares. When not spending time in Montana–a state he has banned public employees from visiting –he's been focused on attacking Florida. A gallon of gas in the Sunshine State is under $4.50.) 
According to the New York Post, "While the price of gas has fallen by as much as 15 cents in the last three weeks in some states, AAA is warning that the relief is short-lived as Americans gear up for peak driving season in July, which will likely put a further strain on limited supply.
Biden's selling of the Strategic Petroleum Reserve to foreign countries sparked an outcry from conservatives. Donald Trump, Jr. tweeted, "Un-freaked-believable. We sent 5,000,000 barrels of oil to Europe from our strategic oil reserves with prices through the roof for Americans. 
At this point it's hard to assume Democrats are doing anything other than purposefully destroying our country!" 
Fox Host Tucker Carlson called for impeachment, saying, "So, as gas prices set records in this country, as American citizens who were born here and vote and pay taxes cannot afford to fuel their own cars, the Biden administration is selling off our emergency oil reserves to China. That's not an indictable offense? It's certainly an impeachable one and they should impeach him for that. What are they going to sell the Redwood Forest to China next? How about the water rights to the Great Lakes? That's the equivalent of what he just did."
Carlson argued that China did not "even need it" because they, along with India, "already have access to very cheap oil from Russia" due to the Western embargo following Putin's invasion of Ukraine.    
The Biden administration recently floated the idea to allow Russian oil back onto the world market, but with its price capped, which according to Axios, is "something officials view as essential to preventing a catastrophic price surge." 
The New York Times described this plan in disturbing terms, writing, "President Biden is leading an effort to manipulate the oil market at a scale the world has rarely seen, embracing cartel-like tactics in an aggressive but risky attempt to undermine Russia's war effort in Ukraine." 
The newspaper called the idea "nowhere near fully baked" and experts expect it to potentially make things worse: "Mr. Putin could decide it would be more lucrative to cap some Russian wells, pulling a million barrels a day or more off the world market, creating a shortage that would cause prices to spike even further."
Anything seems better than selling away our rainy day fund to line the pockets of Hunter Biden and his pals, though. 
[Read More: Dem Prodigy Broke COVID Rules He Pushed On Others]