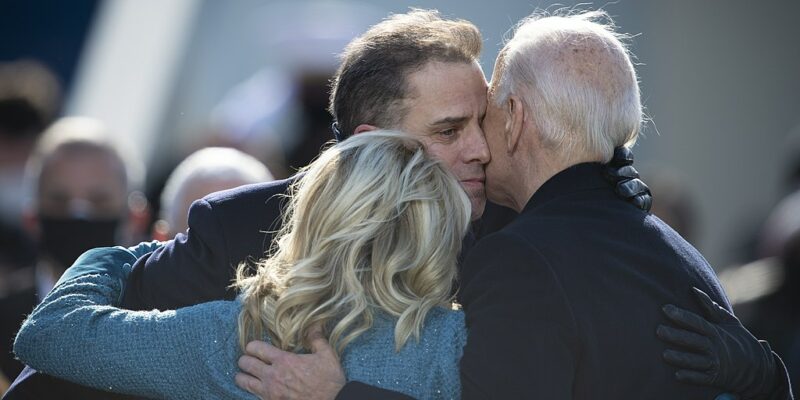 If it's a day that ends in Y it must be a day in which we learn more about Hunter Biden's corruption that undermines both his father's presidency and the security of the United States. A new exclusive report by the Daily Mail revealed that "President Joe Biden spoke with Hunter about his business dealings with a Chinese criminal his son dubbed the 'spy chief of China.'"
Joe Biden had previously insisted that he did not know of the crown prince of the Biden family's ties to corrupt businessmen from foreign countries. In 2019, then-candidate Biden said, "I've never spoken to my son about his overseas business dealings. Here's what I know — I know Trump deserves to be investigated… You should be looking at Trump. Trump's doing this because he knows I'll beat him like a drum."
This has been proven to be false, and recently revealed voice messages from the president to his son prove it. 
The New York Post writes, "Joe Biden called his son Hunter in late 2018 to discuss a New York Times article detailing the younger Biden's dealings with a Chinese oil tycoon accused of economic crimes — telling him, "I think you're clear," according to a report Monday.

The voicemail, discovered on a cellphone backup contained on Hunter Biden's infamous discarded laptop, would appear to contradict President Biden's continued denial that he ever talked with his disgraced 52-year-old son about his overseas business transactions — and was aware they could be improper.

"Hey pal, it's Dad," Joe Biden said, the Daily Mail reported. "It's 8:15 on Wednesday night. If you get a chance, just give me a call. Nothing urgent. I just wanted to talk to you."

Biden then made his intentions clear. "I thought the article released online, it's going to be printed tomorrow in the Times, was good," Biden continued. "I think you're clear. And anyway if you get a chance, give me a call, I love you."
The Post connected the dots, finding the article that the current president was discussing with his son. "The Biden voicemail followed a Times report on Dec. 12, 2018, detailing Hunter's dealings with Ye Jianming, a "fast-rising" Chinese oil tycoon who headed CEFC China Energy Company in 2016 before being arrested two years later amid allegations of economic crimes." 
In October 2020, the newspaper found evidence of Biden corruption, tying both the father and son to shady business dealings in Ukraine. The investigation concluded: "Hunter Biden introduced his father, then-Vice President Joe Biden, to a top executive at a Ukrainian energy firm less than a year before the elder Biden pressured government officials in Ukraine into firing a prosecutor who was investigating the company." 
The story was initially censored on social media and mainstream outlets helped Biden label it "Russian disinformation." Now that we are solidly beyond the election, the same outlets have come clean, admitting that the laptop is genuine. 
Other revelations have shown how close the father and son are. Previous recordings have been released of Hunter claiming to be one of his father's most trusted advisers. He told a friend that the current occupant of the White House "thinks I'm a god."
The Washington Examiner recently reported that the president thinks so much of his son that he "unwittingly financed his son's participation in an escort ring tied to Russia." According to information from the laptop, Hunter "spent over $30,000 on escorts, many of whom were linked to ".ru" Russian email addresses and worked with an "exclusive model agency" called UberGFE during a 3 1/2 month period between November 2018 and March 2019." 
American intelligence agencies believe that Hunter Biden could be a security risk to the nation, and they're not alone. Republican Rep. James Comer is preparing an investigation into his shady connections as soon as the GOP retakes the House. During a recent interview, he said, "There are decisions that Joe Biden's making every day in this White House that are questionable, that go against what I think the majority of Americans would expect from the White House, and yet, these decisions are made in my opinion, because he was compromised by his son's shady business dealings"
Despite having a "sugar brother" pay off his 2 million dollars in tax liability, Hunter Biden is currently under investigation for federal crimes. In May CNN labeled the investigation as "heating up" and explained that a "Justice Department investigation into Hunter Biden's business activities has gained steam in recent months, with a flurry of witnesses providing testimony to federal investigators and more expected to provide interviews in the coming weeks, according to multiple sources familiar with the matter."
According to the report, "The probe, led by the US Attorney in Wilmington, Delaware, began as early as 2018 and concerns multiple financial and business activities in foreign countries dating to when Biden's father was vice president. Investigators have examined whether Hunter Biden and some of his associates violated money laundering, tax and foreign lobbying laws, as well as firearm and other regulations, multiple sources said." 
Only time will tell if Hunter gets charged or if his presidential father will pardon him, but rest assured, chances are that sometime soon we'll be hearing some more about something else horrible he did. 
[Read More: Hillary's Vile Racism Against Clarence Thomas]