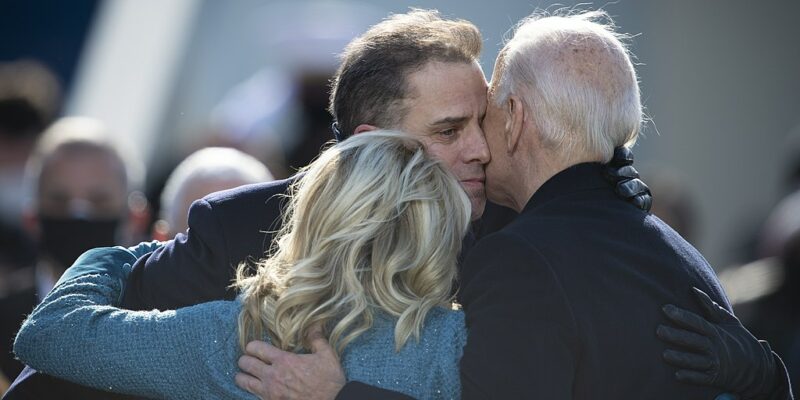 Previously-deleted files from Hunter Biden's abandoned laptop reveal that the crown prince of the Biden dynasty paid the mother of his illegitimate daughter a full-time salary through his shady company Owasco. NBC News reported that business records showed that a Chinese natural gas company had paid Owasco millions of dollars over the span of a few years. The head of that firm, Patrick Ho, was charged with bribery and violations of the Foreign Corrupt Practices Act. He was deported to Hong Kong in 2021. His connection to Biden raised serious concerns from US intelligence officials.
Biden kept Lunden Roberts on the consulting firm's payroll throughout her pregnancy but made sure she was kicked off after giving birth to his daughter. He initially challenged the paternity of the little girl because, as he wrote in his autobiography Beautiful Things, he could not recall having a sexual relationship with Roberts. 
The New York Post writes that Hunter has claimed that "after his 2017 divorce from his first wife Kathleen, he went on 'rampages' during which he and the women he met 'would satisfy our immediate needs and little else.' During this period, he commenced an affair with his sister-in-law Hallie Biden, the widow of Hunter's brother Beau."
In an exclusive, The Washington Examiner detailed the messages about the situation. "Lunden Roberts earned $1,500 for 40 hours of work from Biden's company, Owasco PC, on Nov. 16, 2018, according to a recovered payroll file obtained exclusively by Washington Examiner. Two other recovered files show Owasco spent an additional $521.37 to provide health, dental, and vision insurance coverage for Roberts for the same month.

The payroll records were part of a trove of 168,000 deleted files the Washington Examiner recovered from a copy of Biden's abandoned laptop. Konstantinos 'Gus' Dimitrelos, a cyber forensics expert commissioned by the Washington Examiner to examine the hard drive, retrieved the deleted files from unallocated space on the drive using a technique called data carving.

In the recovered files, Biden expressed shock that his company was doling out payments to Roberts after his assistant, Katie Dodge, texted him the records. He then ordered Dodge to 'take Lunden off payroll.'

Biden severed Roberts from his company's payroll less than three months after she gave birth to his fourth child, Navy Joan Roberts, on Aug. 28, 2018."
Hunter had previously gotten into a fight with his landlord about Roberts having access to his office building. The manager of the House of Sweden, Biden's Washington, DC, office building, accused him in a September 2017 email of violating building rules by sneaking Roberts in through the building's side doors after business hours.
The Daily Mail has documented that "In September 2017 emails indicate Hunter got into an argument with the manager of his DC office building, which also housed several diplomats and the Swedish embassy after she accused him of smuggling in Lunden and other guests through the building's side door after business hours without passing security."
"In one email exchange with a manager at House of Sweden," the newspaper reported, "Hunter explained that Roberts was 'my youngest daughter's basketball mentor' who 'worked out with [Hunter's youngest] Maisy and [Obama's daughter] Sasha Obama when they played in rec league together.'"
The story of Roberts and her now three-year-old daughter named Navy is tragic. Joe Biden is usually presented as a great family man and loving grandfather. The 2020 Democratic National Convention, for example, included a video of four Biden granddaughters as they explained what a great grandfather the current president is. 
Still, Navy doesn't seem to be allowed to be part of this loving family because it's a political inconvenience. Her grandparents have refused to even meet her. 
Last Christmas, People, unveiled the White House Christmas decorations for the Bidens for celebration in the White House. The magazine noted, "This year's White House holiday decorations included a personal touch: stockings hung by the chimney with care — one for each of the Biden grandchildren, in a room dedicated to the 'gift of family'….The red-and-white knit stockings hanging on the mantle are a tribute to the Biden grandchildren — Naomi, 27, Finnegan, 21, Maisy, 20, Natalie, 17, and Robert Hunter Biden II, 15, and 'Baby,' meant for one-year-old Beau, who was on hand last week when Dr. Biden received the White House Christmas tree." The president's three-year-old granddaughter was omitted. 
A representative for Roberts noted that while Hunter pays child support, the Biden family wants nothing to do with her. He said, "[Hunter] has not seen his child. He has no relationship with his child, by his own choosing. Mr. Biden hasn't taken responsibility for this child until he parents her. Every child needs loving parents and loving grandparents. This child could stand a relationship with her father. She could stand a relationship with her grandfather."
Navy and Lunden are not the only members of the family to be thrown to the curb by the Biden Family. The mother of several of the president's grandchildren, Hunter's ex-wife, Kathleen Buhle, has written that she was not offered Secret Service protection and has been barred from family outings. She also detailed a story in which she was excluded from a family photo shoot by her then-husband's aunt, who asked for a snap with "Biden blood only." NCP has been unable to uncover whether or not Hunter's aunt believes his three-year-old daughter should be in family photos as part of the "Biden blood only" rule. 
Buhle stayed married to Hunter for 24 years, during which the president's oldest son had an affair with his brother's widow, Hallie Biden, after the death of her husband, his brother, and the president's golden child, Beau Biden, who passed away from cancer in 2015. The couple has three daughters and divorced in 2017.
[Read More: Former Dem Congressman Pleads Guilty To Vote Fraud]