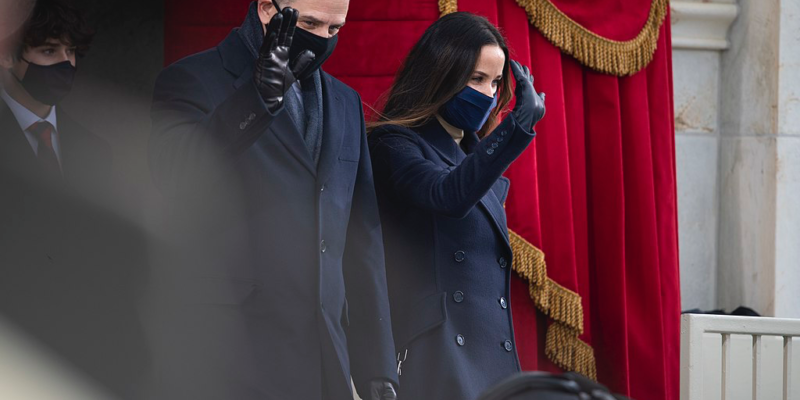 More news is being revealed as to why an anti-Trump FBI agent abruptly resigned from the bureau earlier last month and is facing an internal investigation for being a political hatchet man while working with the bureau. Timothy Thibault, who Republican Senators have criticized for bias and political partisanship while protecting the Biden family from investigations, "retired" on August 26th. 
"Thibault, who worked in the FBI headquarters in Washington, D.C., had recently been removed from his position as assistant special agent in charge at the FBI's Washington Field Office, which covers all of the District of Columbia and Northern Virginia," according to CBS.
The ranking member of the Senate Judiciary, Senator Chuck Grassley of Iowa, recently sent a letter to Attorney General Merrick Garland and FBI Director Christopher Wray that makes some pretty strong allegations. The senator believes that the Department of Justice and the FBI intentionally underplayed damaging information about Joe Biden's son and his brother James to help swing the 2020 election.
"Among the examples Grassley cited in his letter to Wray and Garland, Thibault retweeted a statement from an anti-Trump GOP group saying, 'Donald Trump is a psychologically broken, embittered, and deeply unhappy man.' He also responded to a tweet from GOP Rep. Liz Cheney of Wyoming by saying, 'Your dad was a disgrace,' according to CNN.
In addition, Thibault liked an opinion article posted on LinkedIn h eadlined, 'William Barr has gone rogue.'
'Mr. Thibault's blatant partisanship undermined the work and reputation of the FBI,' Grassley said in a statement on Thibault's retirement. 'Political bias should have no place at the FBI, and the effort to revive the FBI's credibility can't stop with his exit. We need accountability, which is why Congress must continue investigating and the inspector general must fully investigate as I've requested.'"
In a statement from his lawyers, he said he "did not supervise the investigation of Hunter Biden. and was "not involved in any decisions related to any laptop that may be at issue in that investigation." Thibault has also insisted that he "did not seek to close the investigation" while denying that he displayed any political partisanship in his work.
In a completely unsurprising turn of events, it turns out that this shady FBI agent wasn't telling the whole truth. 
The Washington Free Beacon is reporting: "A former FBI official who allegedly shut down part of the investigation into Hunter Biden was "running point" in the bureau's dealings with a key witness in the probe, according to sources directly familiar with the matter.

The witness, Tony Bobulinski, now has concerns that the former official, Timothy Thibault, helped bury information about his dealings with the Biden family that he gave the FBI, sources told the Washington Free Beacon. Thibault retired from the FBI last week amid allegations from whistleblowers that he shut down an investigation into an avenue of "derogatory" information about Hunter Biden in October 2020. Senate Republicans began scrutinizing Thibault earlier this year over anti-Trump rhetoric he posted on social media.

It had been unclear what role Thibault played in the Biden investigation, which began in 2018. But his oversight of Bobulinski means he oversaw one of the most significant witnesses to come forward with information about the Bidens' business links to China. The FBI interviewed Bobulinski for five hours on Oct. 23, 2020, after Bobulinski publicly disputed Joe Biden's claim to have never discussed business with his son. Bobulinski said he met with Hunter and Joe Biden in May 2017 to discuss a multimillion-dollar deal with CEFC China Energy, a Chinese energy conglomerate with ties to Chinese military intelligence. The California-based businessman also said Joe Biden is "the big guy" referenced in cryptic emails discussing equity payments from their business deals.

"In my hour-long meeting with Joe Biden we discussed Biden family business dealings with the Chinese, with which he was plainly familiar," Bobulinski said at a press conference before his FBI interview. Text messages show Bobulinski and Hunter Biden arranging a meeting with Joe Biden at the Beverly Hills Hilton. Emails from Biden's abandoned laptop show extensive discussions about CEFC China Energy."
The New York Post has done the yeoman's work on the Hunter Biden investigation. The newspaper reported, "A witness who testified before the Hunter Biden grand jury was asked to identify the "big guy" in the first son's planned deal with a Chinese energy conglomerate — as calls ramped up to have President Biden included in a conspiracy probe.
The question arose after the witness was shown a piece of evidence while appearing in secret before the panel in Wilmington, Del., a source familiar with the proceedings told The Post.
A bombshell email exclusively reported by The Post in October 2020 showed that one of Hunter Biden's business partners, James Gilliar, outlined the proposed percentage distribution of equity in a company created for a joint venture with CEFC China Energy Co.
The March 13, 2017, plan included '10 held by H for the big guy?'"
During the 2020 presidential campaign, Joe Biden insisted that he had no connection to his son's shady business dealings. In 2019, then-candidate Biden said, "I've never spoken to my son about his overseas business dealings. Here's what I know — I know Trump deserves to be investigated… You should be looking at Trump. Trump's doing this because he knows I'll beat him like a drum."
Of course, Biden was lying. The Daily Mail later revealed that "President Joe Biden spoke with Hunter about his business dealings with a Chinese criminal his son dubbed the 'spy chief of China.'"
The Washington Post noted that the Biden family made millions of dollars after leaving the vice presidency. The newspaper wrote, "Once the poorest senator, 'Middle Class Joe' Biden has reaped millions in income since leaving the vice presidency." 
It still hasn't been revealed how much of that cash came from being "the big guy." 
In December 2020, right after the election, the president's son announced that the U.S. attorney's office in Delaware had begun investigating his taxes. Soon after, the $2 million in taxes were eventually paid by Hunter's "sugar brother." 
Other news organizations have suggested that prosecutors are analyzing Hunter Biden's business dealings in China and Ukraine. Sources told CNN earlier in the year that the "federal investigation of Hunter Biden reaches a critical juncture."
Justice Department guidelines aim to generally "avoid bringing politically sensitive cases close to an election, according to people briefed on the matter." 
The midterm elections on Tuesday, November 8, 2022, will likely decide how much of Biden's potentially corrupt dealings are investigated by Congress. 
[Read More: MLB Funding Organizations Promoting Sex Changes For Children]