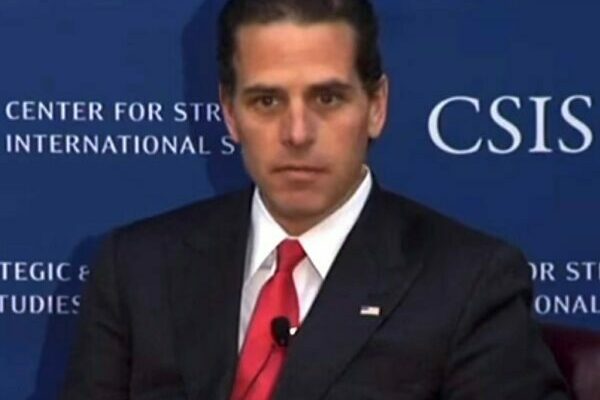 Update, July 20, 2022: On Fox News, Jim Jordan laid out the case against Hunter Biden after allegations that he threatens national security. This is not the first time that the Ohio congressman has gone after the Bidens. Back in April, he said, "One, it sure looks like Joe Biden was involved. This was a family operation, including his uncle, as I said before."
The president's brother has been in trouble before. The Washington Post once referred to him as being "known in the family as the one who's always ready to help. But he also has a history of business dealings that resulted in recriminations and lawsuits."
Original Story
Users of the website 4chan, a controversial website where the anonymous can post images to one of the dark corners of the internet, have claimed to have broken into a backup of Hunter Biden's iCloud, iPhone, and iPad. The post announced that they hold 450 gigabytes of data and many have started leaking it across social media.
This appears to be a much bigger data dump than the infamous "laptop from Hell." Newsweek that Google has placed a disclaimer on certain searches related to this story "to warn users about new and trending stories which may not have been verified by a wide range of sources," which has been called censorship by some conservative pundits. 
4chan has often received media attention "as a source of controversies, including the coordination of pranks and harassment against websites and Internet users, and the posting of illegal and offensive content." 
RedState writes, "Among the things that they leaked onto the site that I was able to view were what appeared to be Hunter Biden's passport and part of a visa card, various pictures of Hunter and Joe Biden, and phone numbers allegedly linked to multiple members of the Biden family, videos of a sexual nature, and alleged porn searches. On the iPad contacts and conversations, there was also an indication of conversations tagged with the name "Pedo Peter." It is not clear who Pedo Peter is referencing. There were a variety of conversations that were accessed that appeared to be conversations between various members of the Biden family. There were claims that they had other records such as tax and bank accounts linked to Joe Biden but I did not immediately see any links to those records. 4Chan users said they were still rooting through all the information and would be dropping more.

Users claimed that 4Chan began taking down the links as fast as the users were trying to archive them but a variety of things were still up and being spread.

It's not clear what the provenance of this is and we have not been able to verify whether it is legitimate, although things like the pictures and the passport would seem to indicate that it's real based on what we understand about Hunter. It's not clear if it's related to the infamous laptop which has been verified by a variety of outlets and upon which we have reported at great length, including Hunter's time in a sensory deprivation tank and texts about how he feels about his stepmother."
The New York Post and Washington Examiner previously posted videos, photos, and messages from a laptop that Hunter Biden allegedly left at a computer shop. In reporting the current story, the latter wrote, "The content from the leak could not immediately be verified by the Washington Examiner, and a White House representative did not immediately respond to a request for comment….It was also not immediately clear if the contents of the 4chan leak included any materials from the younger Biden's infamous laptop, of which the Washington Examiner verified the authenticity earlier this year. "
The new hack/leak comes just days after text messages were revealed showing an icy relationship between Hunter and Jill Biden. The New York Post documented that "Hunter Biden called his step-mom Jill Biden a "vindictive moron" and "entitled c–t" in text messages after she urged him to go to rehab to kick his drug habit, according to a new report." 
The crown prince of the Biden family, an aspiring artist, policy advisor, and former crack addict, made the comments in a string of texts he sent in response to his family begging him to get help and to stop doing drugs, according to The Sun.
The Post continued the reveal: "In one particular text sent to his brother Beau's widow, Hallie Biden, who he was scandalously dating at the time, Hunter went off on the now first lady.
'F–k my stepmother for always being as much of a selfish silly entitled c–t as you,' he wrote to Hallie as their brief relationship deteriorated.
He also admitted to calling his stepmom a 'f–king moron, a vindictive moron' in a separate text exchange with his uncle, James Biden, just days later.
In the texts to his uncle, who is President Biden's brother, Hunter said he had raged to Jill that he was smarter than her."
Disturbingly, the alleged information being posted from the 4chan leak/hack is even worse, bordering on the grotesque in some cases. Some material, such as the president's son arguing with a woman about how much crack he had, has been posted on Twitter. There are other videos of him swimming nude and being lewd.
Some of the new information may see him run into more legal troubles. The Daily Mail argues that "Prosecutors may have a case for federal prostitution offenses against Hunter Biden, according to documents, texts and videos that show he spent a staggering $30,000 on escorts in a five-month period." 
The British newspaper states that "texts from Hunter's iPhone also show him handwriting checks disguised as medical services to escorts supplied by Moreva, whose website offers a 'girlfriend experience' with prostitutes as young as 20….Videos and pictures show Hunter helping transport those prostitutes over state lines for a debauched night with him – a potential federal offense."
VICE News argues that the Hunter leak/hack reveals a troubling weakness in storing private data in the cloud. The website notes, "This wouldn't be the first time hackers used software to access data on an iPhone to get their hands on sensitive personal information. In 2014, hackers accessed the highly personal pictures of dozens of celebrities such as Jennifer Lawrence, Kate Upton, and Kirsten Dunst, in part using a forensic tool that was designed for cops and law enforcement authorities to get data from the iPhones of alleged criminals, which was called Elcomsoft Phone Password Breaker or EPPB. As Wired reported at the time, 'EPPB lets anyone impersonate a victim's iPhone and download its full backup rather than the more limited data accessible on iCloud.com.'"
Hunter's password was allegedly easy to figure out because it was simply a woman's name and a number. The Washington Post posted password security tips late in 2021. The newspaper recommended that "passwords shouldn't draw on details from your life." 
Security experts believe that using a strong password and turning on two-factor authentication makes it more difficult to be hacked. 
[Read More: UGA Slammed By Congress For Anti-Crisis Pregnancy Center Website]