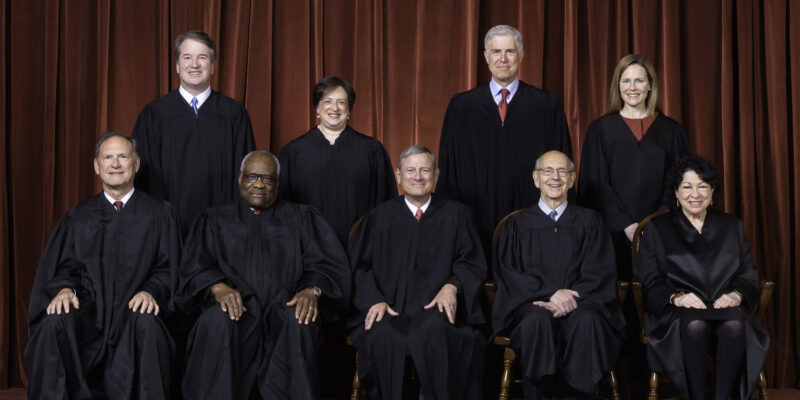 The hunt for the Supreme Court leaker is on. Early last month a draft opinion from Justice Alito became public, going against tradition. The document was presumably leaked by a staff member trying to bully the nation's highest court into backing down from making abortion an issue that legislators decide rather than the courts. 
The ploy worked. Illegal protests have erupted at the homes of some of the justices. The mayor of Chicago called for violence against the Court to intimidate the justices as they deliberate the case. And, Justice Alito was forced to go to "an undisclosed location" as radical pro-abortion activists threatened him. 
In light of these threats, the Senate quickly passed a bill to protect the Supreme Court by beefing up its security, but that bill has lingered in the House, where Speaker Nancy Pelosi, who has Secret Service protection, doesn't seem inclined to protect the justices from pro-abortion violence. CNBC has reported that "U.S. Marshals providing 'round-the-clock security."
It looks like the Supreme Court itself is ready to find the leaker who caused all this trouble and has threatened the very lives of the people he or she is supposed to serve. 
CNN reports, Supreme Court officials are escalating their search for the source of the leaked draft opinion that would overturn Roe v. Wade, taking steps to require law clerks to provide cell phone records and sign affidavits, three sources with knowledge of the efforts have told CNN.

Some clerks are apparently so alarmed over the moves, particularly the sudden requests for private cell data, that they have begun exploring whether to hire outside counsel.

The court's moves are unprecedented and the most striking development to date in the investigation into who might have provided Politico with the draft opinion it published on May 2. The probe has intensified the already high tensions at the Supreme Court, where the conservative majority is poised to roll back a half-century of abortion rights and privacy protections.

Chief Justice John Roberts met with law clerks as a group after the breach, CNN has learned, but it is not known whether any systematic individual interviews have occurred.
The clerks might be upset about the intrusion into their privacy, but the Department of Homeland Security has said it expects pro-abortion violence to increase over the coming months. The seriousness of breaking long held protocol and tradition is not just a nod to respecting the Supreme Court, but also to the safety of the American justice system. 
Earlier this month, Chief Justice John Roberts tasked the Marshal of the Supreme Court Gail A. Curley with finding the leaker to protect the independence of the court. AP has noted, "People who know Curley, 53, described the former Army colonel and military lawyer as possessing the right temperament for a highly charged leak investigation: smart, private, apolitical and unlikely to be intimidated."
Curley started her role in June 2021. Prior to working to protect the Supreme Court she served as a colonel in the US Army. Her biography states, "Throughout her Army career, Curley served in a variety of legal positions, including as the staff judge advocate for U.S. Army Europe in Wiesbaden, Germany. A 1991 West Point graduate who earned her law degree from the University of Illinois College of Law, Curley also has served in Afghanistan and across the U.S." 
[Read More: Dems Put Trump Advisor In 'Shackles' in Latest Political Hit Job]