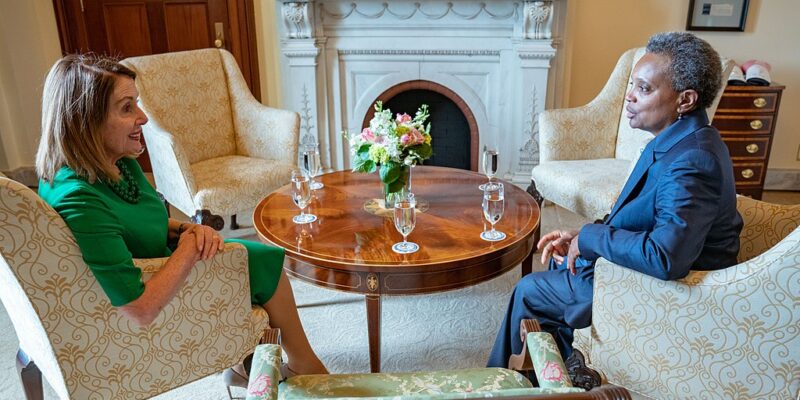 The leaked discussion draft of a potential Supreme Court ruling about abortion has caused Democrats to reveal themselves. Over the past few weeks, liberals have completely lost their minds over the possibility that state legislatures may have to write laws regulating abortion rather than relying on Court decisions from on high. 
For example, leftwing commentator Ryan Cooper wrote, "The Senate violates every basic principle of republican government, its operating rules serve no function other than obstruction, and its average age is approximately 20,000. abolish it." In 2021, liberal activists tried to get a vote on whether or not California should secede from the United States. 
In Chicago, the mayor has taken things a step further. Rather than talking about hypotheticals, she's called for "taking up arms" against the federal government if Democrats don't get their way. 
The Federalist reported, "Chicago Mayor Lori Lightfoot encouraged violence on Monday in a tweet asserting the U.S. Supreme Court's leaked opinion draft signaling the downfall of Roe v. Wade means the justices will come for the "LGBTQ+ community" next.

"To my friends in the LGBTQ+ community—the Supreme Court is coming for us next. This moment has to be a call to arms," she wrote on Twitter. "We will not surrender our rights without a fight—a fight to victory!"

The tweets came after a weekend of attacks on churches and pro-life centers and in the midst of coordinated mobs of Democrat activists descending upon the homes of conservative justices and their families. Due to the increase in calls for violence, security — including high-grade and unscalable fencing — has been erected around the besieged Supreme Court. The Senate also voted Monday on a bill to increase protection for Supreme Court justices and their families who have been threatened.

Lightfoot is one of many Democrats to issue such threats. In 2020, Senate Majority Leader Chuck Schumer stood on the steps of the Supreme Court and personally threatened Justices Neil Gorsuch and Brett Kavanaugh if they didn't issue opinions aligning with his views on abortion.
To be fair, Lightfoot knows about violence. Under her mayorship, Chicago has seen murders rise to levels not seen in decades. Over the weekend, a 16-year-old was killed at the city's famous The Bean statue in Millennium Park. The Chicago Sun Times noted that along with that shooting, "two men were later wounded in a separate attack after hundreds flooded the Loop, prompting Chicago police to close off streets and make mass arrests." Over the same weekend the mayor tweeted for some reason that she was in Texas reading To Kill a Mockingbird, which was banned by wokesters in California because of derogatory language. 
Lightfoot is not the only liberal who thinks this way. The New York Post has noted, "Multiple verified Twitter accounts, including a senior correspondent at Vox, have tweeted calls to 'burn it down,' referring to both the country and the Supreme Court itself."
This insane rhetoric has only grown from Democratic politicians constantly blaming the system, rather than their failure to compromise, after losing a vote.
Senator Elizabeth Warren, for example, recently blamed the filibuster for an abortion vote losing 51-49, a clear majority in opposition. She said, without any pushback from CNN reporter Manu Raju, "I believe in democracy, and I don't believe the minority should have the ability to block things that the majority wants to do. That's not in the Constitution. […] It's time to get rid of the filibuster." For Democrats, it's "anti-democratic" to lose when you can't convince a majority of the legislature to vote with you, just like it's "anti-democratic" if the Court says we should vote on important issues. 
Every time Democrats lose, whether an election or a vote in the House or Senate or in the Court, many of them pretend that the result will be catastrophic and call for violence. In 2017, after Republicans passed tax cuts, a Bernie Sanders supporter, likely radicalized by this kind of rhetoric, tried to kill several House Republicans as they practiced for the congressional baseball team. 
The same media that pinned the shooting of a schizophrenic on Sarah Palin made little effort to tamp down the rhetoric then, and have no intention of doing it now, even if the second in command of Democrats in the Senate, Illinois native Dick Durbin, has asked for the temperature to drop and pleaded with activists to stay away from people's homes.  
[Read More: CEO warns that fuel rationing is on the way]