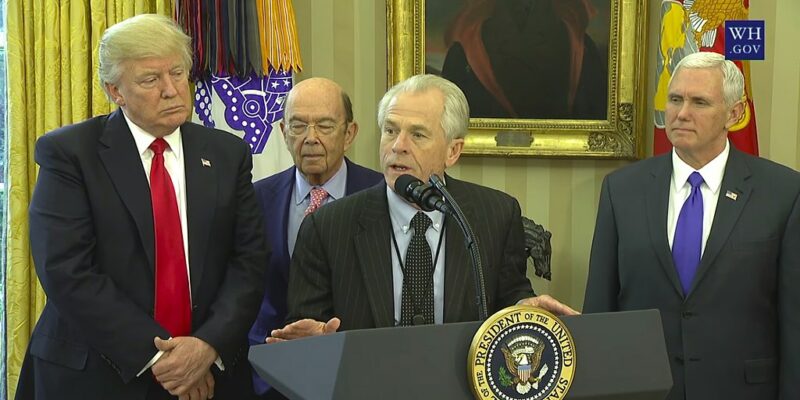 Senior Trump White House advisor Peter Navarro has been arrested for refusing to comply with a subpoena from House Democrats ordering him to appear in front of the committee investigating the January 6 mobbing of the Capitol. He has been charged with contempt of Congress. 
This is a marked change of heart from Democrats. Less than a decade ago, many of the same members opposed similar charges against Lois Lerner, the disgraced former director of exempt organizations at the IRS who likely targeted the Tea Party during the Obama years. Though, perhaps, it does remain consistent with their belief that they should wield the power of the federal bureaucracy, whether the IRS, FBI, or even the Espionage Act, to attack political opponents and keep the media in line. 
The New York Times reported, "A federal grand jury on Friday indicted Peter Navarro, a White House adviser to former President Donald J. Trump, for failing to comply with a subpoena from the House committee investigating the Capitol attack, even as the Justice Department declined to charge Mark Meadows and Dan Scavino Jr., two other top officials who have also refused to cooperate.

The indictment against Mr. Navarro, handed up in Federal District Court in Washington, marked the first time that an official who served in Mr. Trump's White House during the events of Jan. 6, 2021, has been charged in connection with the investigation into the attack.

Prosecutors charged Mr. Navarro, 72, with what amounted to a misdemeanor process crime for having failed to appear for a deposition or provide documents to congressional investigators in response to a subpoena issued by the House committee on Feb. 9. The indictment includes two counts of criminal contempt of Congress that each carry a maximum sentence of a year in prison, as well as a fine of up to $100,000.

The Justice Department has declined to take similar steps against Mr. Meadows, Mr. Trump's final chief of staff, and Mr. Scavino, the deputy chief of staff, according to people familiar with prosecutors' decision and a letter reviewed by The New York Times informing the top House counsel of it.
Navarro told reporters that the FBI locked him in the former cell of Ronald Reagan shooter John Hinckley. He said, "They seemed to think that was like an important historical note" and described being placed in shackles and leg irons." He compared his situation to "Stalinist Russia." He asked, "Who are these people? This is not America." 
Unlike Lerner, who routinely invoked the 5th Amendment during her testimony, Navarro has taken the accusations head-on. In an oped for the Washington Times, he called the actions of House Democrats a "kangaroo comittee" that aims to "to punish Mr. Trump and his most senior advisers by subjecting us to the shame, humiliation, ostracization, banishment and possible imprisonment that comes with false accusations of being insurrectionists seeking to overturn a fair election."
An economist, Navarro worked in the Trump White House as the Assistant to the President, Director of Trade and Manufacturing Policy, and the national Defense Production Act policy coordinator. He also served as Deputy Assistant to the President and Director of the White House National Trade Council. 
In 2017, Politico described Navarro as "the most extreme advocate in Washington, and maybe in all of economics, for an aggressive stance toward China, America's largest trading partner. He has also served as a kind of one-man brain trust for Trump — the only academic who helped craft the Republican presidential candidate's economic platform. With two graduate degrees from Harvard University, more than a dozen books, and a tenured professorship at the University of California at Irvine, he has unusually deep intellectual credentials in a White House heavily reliant on policy outsiders."
Newsweek opinion editor Josh Hammer compared Navarro's arrest, which involved being placed in shackles by the FBI, with a jury stacked with Democrats finding Clinton Lawyer Michael Sussmann innocent of corruption charges. He wrote, "Peter Navarro in handcuffs and Michael Sussmann off scot-free. Tell me more about that 'neutral rule of law.'"
Editor at Large of The Spectator and Fox News contributor Ben Domenech summed up best why so many Americans find our national politics corrupt, despicable, and obsessed with using power to destroy anyone who challenges the status quo of federal authority. "Peter Navarro was charged with contempt of Congress by a monopartisan Committee. He got shackles. Eric Holder was held in contempt of Congress by a bipartisan vote of 255-67. He went out to dinner that night. And DC wonders why people believe in the Swamp." 
The IRS eventually admitted they were targeting conservative groups and apologized. Lois Lerner? She got to walk away with a $129,000 bonus and a cushy retirement. Eric Holder gets at no less than $75,000 a pop in speaking fees and last year gave the commencement at Dickinson College. It would not be wise to hold your breath for the same kind of treatment for Navarro. 
[Read More: Feds Light New Mexico On Fire, Blame Climate Change]