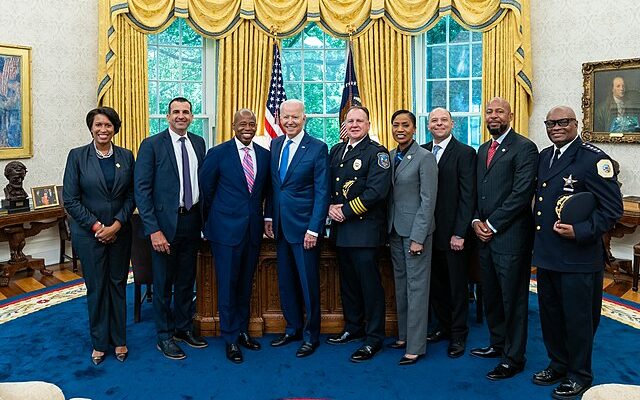 One of New York City's most powerful Democratic fundraisers saw her house raised by the FBI this morning. Brianna Suggs, a top money getter for New York City Mayor Eric Adams, received a search warrant from the feds while he was on his way to meetings in Washington DC. 
A major critic of Biden, the news sent shockwaves through City Hall, causing Adams to change his plans. 
The raid apparently prompted Mr. Adams to abruptly cancel several meetings scheduled for Thursday morning in Washington, D.C., to talk to White House officials and members of Congress about the influx of migrants in New York and other major cities. Instead, he hurriedly returned to New York "to deal with a matter," a spokesman for the mayor told The New York Times.

Ms. Suggs, who could not immediately be reached for comment, is an essential cog in Mr. Adams's fund-raising machine, which has already raised more than $2.5 million for his 2025 re-election campaign.

A third person with knowledge of the raid said agents from one of the public corruption squads in the F.B.I.'s New York office questioned Ms. Suggs during the search of her home.

An F.B.I. spokesman confirmed that "we are at that location carrying out law enforcement action," referring to Ms. Suggs's home in the Crown Heights section of Brooklyn.
The agents have been reported to be part of the public corruption investigative team. 
Adams and Suggs, according to Politico, have a history that "dates back to his days as Brooklyn borough president, where she began working in 2017 as an intern, according to her LinkedIn profile. She stayed at Borough Hall through the end of Adams' term there in 2021, city records show.
She ran the office's gender equity portfolio and worked under Ingrid Lewis-Martin, according to a person with knowledge of the office. Lewis-Martin was deputy borough president and is now chief adviser to the mayor in City Hall.
She then began fundraising for Adams' 2021 election campaign, claiming to have raised $18.4 million between the primary and general campaigns (though Adams was also involved in a public matching system that paired taxpayer dollars with individual contributions).
Adams' reelection campaign has reported paying Suggs' firm, Suggs Solutions, for campaign consulting. She also signed a contract in August 2022 to lobby the city on behalf of the owner of the East Broadway Mall, a Chinatown shopping center in a city-owned building, the Daily News reported, and is involved in fundraising for a committee tied to the Brooklyn Democratic Party — a staunch ally of the mayor."
The raid took place as Adams flew to Washington to discuss the growing immigration crisis with President Biden and forced him to change his plans. 
On my way to DC to join my fellow mayors to talk with our federal partners about the asylum seeker crisis. Follow along throughout the day. pic.twitter.com/K6bvwP4gwQ

— Mayor Eric Adams (@NYCMayor) November 2, 2023
Adams has been a major critic of Joe Biden's handling of illegal immigration and the two Democrats have grown apart over the past year. In September, Politico noted that the relationship between the two leaders was "in tatters over the migrant crisis in New York" and that they avoided each other the last time the president had visited The Big Apple. 
Right before Biden's arrival, the New York Mayor told the press, "President Biden's coming to the city. I am hoping that he understands this beautiful city that's the economic engine of the entire country is being saddled with $2 billion that we spent already, $5 billion we're going to spend in this fiscal crisis, $12 billion in the next two budgetary cycles. New York doesn't deserve this. The asylum seekers don't deserve this."
When pressed on whether Adams would meet with Biden specifically, the mayor continued, "So while he's here, I think that they should really reflect on, New York City has done its part."
Adams had at one time referred to himself as the "Biden of Brooklyn" but has not had any communication with the president since earlier this year regarding the migrant crisis or any other matter. He was removed from Biden's re-election team after criticizing the president more severely in May, while Democrat Gov. Kathy Hochul still serves as a member of the presidential campaign's team of surrogates.
During the summer, the New York mayor claimed that the city was "full" and could take no more immigrants. He has also called Biden's immigration policy "a national embarrassment."
For his part, the president has, at least tacitly, agreed. In October the White House announced that it would be completing the southern border wall started by his predecessor, Donald Trump, infuriating his leftwing base. 
  [Read More: Biden Money Laundering System Revealed]