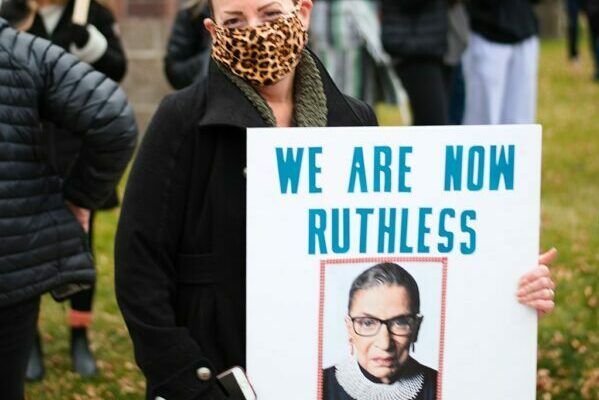 Update: New video shows illegal picketing happening at Justice Kavanaugh's house tonight as protestors try to influence his decision in the Dobbs case involving an abortion law in Mississippi. Federal statutes ban the picketing of a judges' residence "with the intent of influencing [the] judge."
Employees recently installed extensive fencing around the perimeter of the marble Supreme Court Building that sits just east of the U.S. Capitol building in response to calls to protest a potential ruling about abortion. The construction comes amidst a rise in potential threats from leftwing activists against conservative Justices, who are now canceling public events out of reasonable precaution after their home addresses were published online by pro-choice activists.  
Local DC news reported, "Activist groups are instructing pro-choice protesters to go to the homes of the "six extremist justices" whom the recent Supreme Court leaks have indicated are in favor of overturning Roe v. Wade.

The group 'Ruth Sent Us,' named after the late Ruth Bader Ginsburg, published a map purporting to show the streets in Northern Virginia and Maryland on which the six different justices reside.

Other left-wing activist groups have also implored protesters to go to the dissenting justices' homes, including the notorious ShutDownDC, which following the spate of police-involved deaths in 2020 published a map outing D.C.'s police stations, key government buildings, media outlets, and conservative nonprofits."
Journalists also joined in threatening some of the Justices. Simon Gwynn, a deputy news editor at Campaign, wrote, "Interesting real life trolly problem in America now. If you had the chance to kill Clarence Thomas and Samuel Alito, the two oldest right wing Supreme Court judges, should you do it while Biden can get his nominees to replace them confirmed?" After being called out, he essentially said he was just asking questions. 
CNN looked to be giving cover to violence against the Court by claiming that "Law enforcement bracing for violence from far right following the Alito opinion." Maybe they think that it would be violence similar to LA rioting after the Lakers win a championship? Then again, these are the same folks who stood in front of a burning building set on fire by a mob and claimed it to be "mostly peaceful."
As the threats to the Supreme Court continued to rise, Fox News reporter Peter Doocy asked White House Press Secretary Jen Psaki whether or not the Biden administration thought that the pro-choice militants had gone too far when they posted the addresses of Supreme Court Justices. Her answer was both revealing and disgusting: "I think the President's view is that there is a lot of passion." Just like Lee Harvey Oswald, I guess.
These are the same people obsessed with the Capitol insurrection on January 6 and are constantly worrying about "norms." They've also become more radical over the last few years, first demanding that we restructure the Court to suit their political demands and more recently using the DHS to monitor free speech online.
Biden was originally elected as a moderate, and his inaugural address revolved around unity, but since he's fallen sway to his increasingly extreme staffers. The president recently said that Trump supporters are "really the most extreme political organization that's existed in American history." 
Remember, this is the reaction to a draft opinion from the Supreme Court that says elected lawmakers, rather than unelected courts, should negotiate regulations on abortion, not a federal abortion ban. You can learn more about the dynamics here.  
For their part, the Republicans in the Senate have taken the threats seriously. Fox News reports, "Sen. John Cornyn, R-Texas, introduced legislation expanding protections for Supreme Court justices and their families as a liberal group plans protests at the justices' homes.
The legislation would allow Supreme Court police to arrest individuals who interfere with the Court's ability to perform its duties, as well as create a criminal penalty for individuals who impede or obstruct those duties." Biden would be unlikely to sign the bill, since he thinks posting private addresses of Supreme Court Justices and making them targets is mere "passion." 
The Supreme Court is expected to make its actual ruling potentially affecting Roe v Wade over the coming months. 
[Read More: Opinion: The Obsession with Musk and the Obscenity of Liberal Censors]