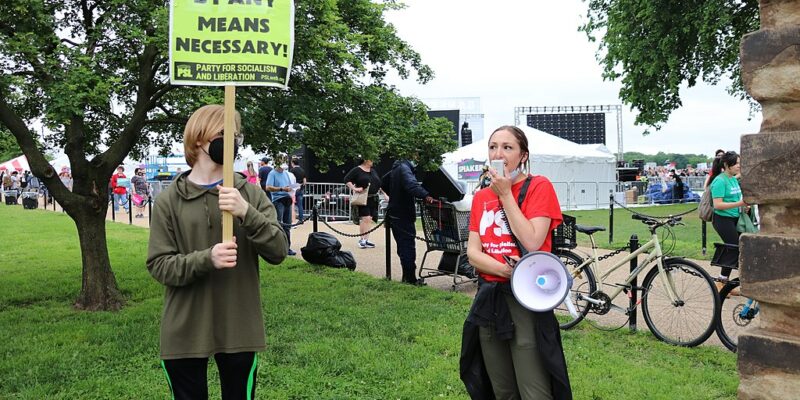 The Department of Homeland Security has issued a disturbing memo that warns law enforcement that they should expect pro-abortion violence against Supreme Court members and churches following a ruling that overturns Roe v Wade. Axios reports that "the U.S. government is bracing for a potential surge in political violence." 
The Washington Free Beacon obtained and posted the memo from the agency's Office of Intelligence and Analysis that sketches the "potential for threats to public safety in response to the abortion debate."
"Domestic violence extremists (DVEs) and criminal actors have adopted narratives surrounding abortion rights to encourage violence, likely increasing the threat to government, religious, and reproductive health care personnel and facilities and ideological opponents," the memo reads.

DHS states that the agency identified "at least 25 violent threats on social media" that included "burning down or storming the U.S. Supreme Court and murdering Justices and their clerks, members of Congress, and lawful demonstrators."

Other threats mentioned include members of the anarchist "Boogaloo Boys" encouraging violence against pro-abortion protesters in hopes that it will spark a civil war.

The Free Beacon previously reported on efforts by House Democrats to stall bipartisan legislation to boost security for the families of Supreme Court justices. White House press secretary Karine Jean-Pierre called on Congress to pass the bill, citing the DHS memo outlining the security threats against the Supreme Court."
Abortion advocates have become exceedingly more extremist over the past decade, both in how they attack pro-life organizations and in admitting that a baby in the womb can be considered a person before birth. 
Supreme Court Justice Samuel Alito allegedly had to move to an "undisclosed location" after a draft of his ruling was leaked in which he argued that abortion laws should be decided at the state level. All six Republican-appointed justices saw calls for their homes to be protested over the past month and some radical college students have even claimed that the justices should be arrested.  
In early May a radical pro-abortion group named Jane's Revenge claimed responsibility for the fire-bombing of the Wisconsin-based pro-life organization Wisconsin Family Action. Madison.com reported, "The group's "first communiqué" was shared anonymously with an investigative reporter for the online Netherlands-based news site Bellingcat." 
The group said, "This was only a warning. We demand the disbanding of all anti-choice establishments, fake clinics and violent anti-choice groups within the next 30 days." 
Catholic churches have also been attacked over the past month by activists who oppose the church's pro-life views. In some cases, the radicals promised to attack to steal and burn the eucharist. The Catholic News Agency has been tracking incidents. 
Pro-choice advocates have also taken radical positions in Congress under the guise of "personal choice" and self-affirmation. During a committee hearing in the House on abortion this week, Aimee Arrambide, the executive director of the abortion-rights nonprofit Avow Texas claimed that men could become pregnant and have abortions, but that wasn't even the most extreme thing she said.   
When asked to explain the difference between a nearly-newborn she condones aborting and a 2-year-old, she responded with, "I trust people to determine what they do to do with her own body. Full stop." 
This stance isn't just limited to radical activists, either. Earlier in the month, Senate Democrats failed to pass a bill that would essentially have enshrined abortion through nine months despite calling it a "codification of Roe v Wade." The bill was so radical that they couldn't get Democratic Senator Joe Manchin or two pro-choice Republicans, Susan Collins and Lisa Murkowski, to sign onto it. 
Fox News noted that "Republican Sens. Susan Collins, of Maine, and Lisa Murkowski, of Alaska, concluded the measure undermines the Religious Freedom Restoration Act by removing protections for religious liberties. This override would be unprecedented, according to Collins' office, given that 'Congress has never before adopted legislation that contains an exemption to this religious liberty law.'" 
Manchin said, "I would vote for a Roe v. Wade codification if it was today. I was hopeful for that, but I found out yesterday in caucus that wasn't going to be." The West Virginia senator is one of the few pro-life Democrats who hasn't become radically pro-abortion over the past few years. 
Once a self-described pro-lifer currently running for Senate in Ohio, Tim Ryan told Brett Baier that there should be no limitations on abortion in the United States. Deploying taking talking points from activists, he said, "Look, you got to leave it up to the woman," even if through the ninth month of pregnancy. That is three months further than Roe's current limits.
A ruling from the Supreme Court regarding the future of Roe v Wade is expected over the next month or two.  
[Read More: Major Biden Donor Outed As Foreign National]