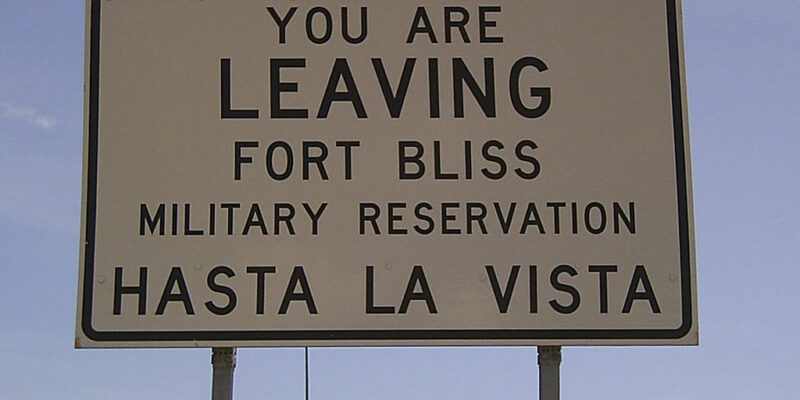 A recent internal investigation showed that the mixture of White House incompetence and liberal immigration policies led to children being housed in tents on an Army base located in the desert. 
The Department of Health and Human Services (HHS) Office of Inspector General announced that the resulting policies put in place by President Joe Biden left migrant children suffering "distress and panic" because his administration hired contractors who do clean and repair after natural disasters rather than anyone with experience taking care of children. 
"The Biden administration's hurried efforts to house the record number of unaccompanied minors who crossed the U.S.-Mexico border last year, the inspector general said, led HHS to hire individuals "who lacked knowledge about child-welfare best practices" as case managers to vet potential sponsors for children.
Due to the large caseloads, staffing shortages, high rates of turnover and the inexperience of workers, hundreds of unaccompanied children housed at the HHS tent camp in Fort Bliss, which had the capacity to hold up to 10,000 teenage migrant boys and girls last year, went as long as two months without seeing a case manager. 
'This created a situation where some children waited weeks between updates from their case managers, which staff at the facility reported as causing many children to experience distress, anxiety, and in some cases, panic attacks,' the Office of Inspector General said in its 58-page report," according to CBS.
It's true that liberals often want nothing to do with children, outside of writing school curricula for them. Still, you'd think there'd be someone in the Biden government with experience babysitting kids. You'd think some of them have nephews or nieces or nephews. 
The geniuses at the White House thought that taking care of children was like repairing water damage after a hurricane or sweeping out debris after a fire. Roll Call detailed the contractor the Biden Administration hired to take care of the kids they captured and sent to Fort Bliss. 
Roll Call reported that "ServPro Industries, a Tennessee-based company specializing in water and fire damage cleanup, was responsible for direct supervision of unaccompanied migrant children held at the emergency influx shelter at the Fort Bliss army base, despite having no expertise in youth services, according to the disclosure sent to Congress.

The whistleblowers, two lawyers named Laurie Elkin and Justin Mulaire who worked at the shelter from mid-May to early June, said children were not given enough clean underwear and were forced to sleep in tents that "were dirty and often had a foul odor," at times smelling of sewage.

"After witnessing the dire conditions at Fort Bliss, we feel it is our obligation to speak out. Regardless of one's views about immigration policy, the reality is that these unaccompanied children are here now and are in U.S. custody. HHS must act now to ensure the children are treated in a safe and humane manner," Elkin and Mulaire said in a joint statement Wednesday.

The contractor's staff told the whistleblowers "that they had received no training prior to beginning work and had little guidance about what their role was," the whistleblowers said. They also said the contractors "seemed to view their job more as crowd control than youth care," describing instances in which contractors woke children up at 6 a.m. with a bullhorn.
Oddly, lefties like AOC have not gone down to do photo shoots this time around. They also haven't defended the whistleblowers who stood up for abused children. I guess they're too worried about 50 migrants going to swanky Martha's Vineyard. 
Just as with various other whistleblowers who have come forward to reveal the misdeeds of this White House, the HHS employees who tried to highlight the dangerous conditions of the unaccompanied migrant children being held at Fort Bliss faced retribution for speaking up at more and more kids came over the border.
Reuters stated, "Two U.S. government employees said they experienced retaliation after they sounded alarms about the conditions at Fort Bliss, which has been used for emergency housing since March 2021, according to the report issued by the U.S. Health and Human Services (HHS) inspector general's office.  
The alleged acts of retaliation, which included demotion and removal from assignments, may have caused a broader' whistleblower chilling,' the inspector general's office said, 'effectively scaring staff into withholding any complaints or reports of wrongdoing.'
The whistleblowers cited in Tuesday's report included a staff member working with HHS Office of Refugee Resettlement (ORR) leadership. ORR oversees the care and custody of unaccompanied minors.
The staffer, who was not named, was allegedly demoted and transferred after raising concerns about the treatment of children at the base and the removal of certain safety checks in the program to release children to sponsors."
Attacking whistleblowers has long been the administration's modus operandi. Last week, Steve Friend, an FBI Special Agent, was made an example of for protesting the bureau's repeated use of SWAT Teams to attack conservatives being investigated. That same week the DOJ sent heavily-armed agents to arrest a pro-life, Catholic activist in front of his children as they slept at their rural Pennsylvania house. 
Chand Wolf, the former acting secretary of the Department of Homeland Security, took to Fox News earlier in the month to decry Biden's immigration policies.
He wrote, "The Biden administration describes its refusal to secure the southern border a "compassionate" immigration policy. Inhumane or cruel are more accurate descriptions. The inhumanity of these policies was on full display over Labor Day weekend when 13 illegal aliens, including a pregnant woman, drowned in the Rio Grande trying to cross our southern border unlawfully. The latest drowning tragedy comes just two weeks after two young, unaccompanied, alien children (UACs) drowned in the Rio Grande. The families of those who perished will never see their loved ones again. 
The Biden administration's failed border strategy continues to set all the wrong records. Before the two children drowned on August 22, U.S. Customs and Border Protection (CBP) agents already reported finding 670 illegal aliens dead so far this fiscal year (F.Y.) attempting to cross our southern border. According to the leaked CBP migrant death data, drowning and heat exposure, two horrible ways to die, are the causes of death in 60% of migrant death cases. The deaths of the 15 illegal aliens in the past two weeks bring the F.Y. 2022 total up to 685, which already exceeds F.Y. 2021's then-record of 566 deaths. The more than doubling of migrant deaths along the border since the change in administrations is not coincidental. It is the direct byproduct of the dramatically different immigration policies over the past 18 months."   
Under oath, Border Patrol Chief Raul Ortiz said the dramatic increase in border apprehensions is caused by the perception that illegal aliens will be allowed into the U.S. under Biden administration policies. Ortiz said, "In my experience, we have seen increases [in illegal immigration] when there are no consequences."  
The Chief of the U.S. Border Patrol Raul Ortiz, under oath during a deposition hearing, remarked, "​​In my experience, we have seen increases when there are no consequences…There is an assumption that if migrant populations are told that there is a potential that they may be released, that, yes, you can see increases."
[Read More: Bewildered President Creepily Calls For The Dead]