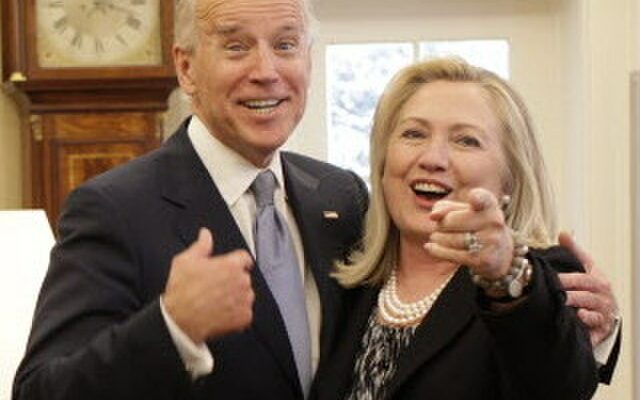 If you ever needed to see the difference between being a Democrat and being a Republican in the eyes of the current Department of Justice, Special Counsel Robert Hur just provided it. For years, like former President Donald Trump, Joe Biden has held classified documents all over the place, for example, in his unsecured garage, in his "think tank" at the University of Pennsylvania, and at his lawyer's office. 
Unlike the 45th president, however, the current occupant is just going to get a stern talking to. Like Hillary Clinton in 2016, the likely Democratic nominee will not be charged with a crime even though anyone else under the same circumstances likely would. 
Who's excited to live under a two-tiered system of justice?
The prosecutor investigating why classified documents ended up at President Biden's home and former office is preparing a report that is expected to be sharply critical of how he and his longtime aides handled the material, but the probe isn't likely to result in a criminal case, according to people familiar with the matter, reports The Wall Street Journal.

Since his appointment in January, Special Counsel Robert Hur has interviewed roughly 100 of Biden's aides, colleagues and family members, including his son, Hunter, culminating in a two-day interview with the president last month.

The documents in question date to Biden's time as vice president during the Obama administration as well as his days in the U.S. Senate. The number of interviews Hur's team has conducted indicates it cast a wide net in trying to answer questions about how the material was packed and handled and wound up at an office Biden used at the Penn Biden Center for Diplomacy and Global Engagement, a Washington-based think tank, and in the garage of his home in Wilmington, Del., alongside his vintage Corvette.

Among those Hur spoke to were Secretary of State Antony Blinken, who was an aide to Biden in the Senate and his national security adviser when he was vice president; current White House national security adviser Jake Sullivan; top White House political aide Steve Ricchetti and Biden's former chief of staff Ron Klain.
Democratic allies in the media have already begun to spin the fact that these exact same crimes are being treated wildly differently. CNN writes, "A decision to not pursue charges is likely to draw criticism from Donald Trump and his allies. They have long drawn parallels between Hur's investigation with that of special counsel Jack Smith, who earlier this year brought charges against the former president related to his own handling of classified documents after he left the White House.
But key differences between the two probes abound, including the fact that the National Archives repeatedly tried and failed to get back documents in Trump's possession. At one point, the FBI secured a search warrant to search his Florida estate.
Biden's attorneys, on the other hand, quickly notified the National Archives of the materials found in his possession."
Unlike Trump, the Biden family has been alleged to have profited from keeping classified documents. Evidence showed that Hunter Biden had demanded a key to the office where some of the documents were held at the University of Pennsylvania. 
The request raised some eyebrows, and later House Oversight Chairman James Comer said in April that it appears that Hunter Biden "sent one of the classified documents to a "partner" at Burisma, the Ukrainian energy." It has previously been reported that many of the boxes holding classified documents were connected to Ukraine, Iran, and the United Kingdom. 
The current controversy surrounding both Biden and Trump has reminded many political commentators of Hillary Clinton's use of a private email server and the special treatment she received from the Obama Justice Department. The initial FBI investigation into her obvious breaking of the law concluded in July 2016, with then FBI Director James Comey announcing that although Clinton and her staff had been "extremely careless" in handling classified information, there would be no criminal charges filed.
Biden has been accused of using the government to punish his adversaries for decades, including using his power as a senator to attack his wife's ex-husband.  
Over the summer, Biden's Department of Justice took the unprecedented step of charging his chief opponent for re-election with a federal crime that the current president was under investigation for. Trump received seven counts against him, including conspiracy to obstruct, willful retention of documents, and false statements.
The trial is scheduled to start on May 20, 2024.
[Read More: Tlaib Allies Attack Dem HQ]