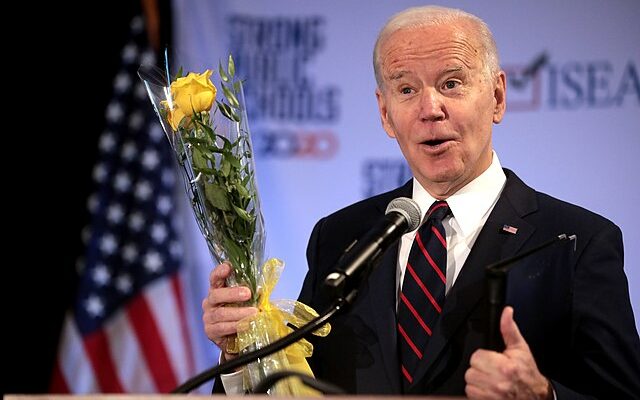 Gavin Newsom may have just received the biggest endorsement of his life. During a meeting of the Asia-Pacific Economic Cooperation conference, the president and current frontrunner for the 2024 Democratic nomination appeared to pick the California governor as his successor.
BIDEN: "I want to talk about Gov. Newsom, want to thank him. He's been one hell of a Governor, man — matter of fact — he could be anything he wants. He could have the job I'm looking for." pic.twitter.com/KiMZnpp1fs

— Breaking911 (@Breaking911) November 16, 2023
President Biden openly touted California Gov. Gavin Newsom as a hot contender for the White House — telling world leaders the younger man "could have the job I'm looking for," referring to his 2024 re-election bid, writes The New York Post.

"I want to thank him. He's been one hell of a governor, man," Biden, who turns 81 next week, said of the 56-year-old fellow Democrat after he warmed up the crowd for him at a reception for leaders at the Asia-Pacific Economic Cooperation conference.

"Matter of fact, he can be anything he wants — he could have the job I'm looking for," said Biden, who is the Democratic Party's front-runner for 2024.
Although he's been a vocal champion of President Biden, Newsom has appeared to be running a shadow campaign in the event the president drops out of the race for the White House next year. 
Over the summer, New Conservative Post asked: What is Gavin Newsom up to? 
"Gavin Newsom, the flashy California governor who often serves as the bizarro version of Ron DeSantis, insists that he is not running for president so long as Joe Biden seeks reelection. But the question on many people's minds is: What does Gavin Newsom know that we don't? Because he certainly seems like he's running for the White House."
Democratic strategists throughout the summer echoed the same sentiments, noting "his aggressive media play [came] amid heightened anxiety within the Democratic Party over President Biden's age and low popularity, raising the question of what exactly Newsom is aiming to achieve.
'I buy that he supports the president, but I also think that he wants to be there in case, God forbid, there needs to be an alternative if something happens to the president or if somebody else mounts a challenge, I think he'll be right there,' Democratic strategist Steven Maviglio told The Hill.
'I mean, [former Gov.] Jerry Brown gave him some advice in the news a few months ago, 'Hey, if you want to run, run,'" Maviglio said, adding, "He hasn't taken that advice and feels he can sort of run a shadow candidacy, while also being the carrier of the message that Democrats want to talk about … It doesn't hurt him at all politically.'"
Biden's kind words for the California governor probably did not sit well with his running mate. In an effort to soothe his vice president, who many have assumed would receive his endorsement should he not run, Biden said, "I'm particularly grateful for the Bay Area for giving our great vice president the chance to become vice president," he said. "She's the best. She's an outstanding leader and a great partner."
Before becoming vice president, Kamala Harris served as San Francisco's city district attorney before becoming California attorney general and then senator. 
"Questions about Harris's political prospects have hovered for a long time," wrote The Washington Post in September. "Harris isn't extraordinarily unpopular for a vice president, but her presence looms larger in this election. Voters have serious and growing concerns about Biden's age and sharpness. And polls show that Americans are more reluctant about the prospect of Harris becoming president than they have been about recent past vice presidents. They are also more reluctant about Harris now than they were in 2020.
Most often, the concerns are spoken about privately. Or they come from lesser-known Democrats outside Washington. But prominent Democrats are increasingly giving the kind of answers that ordinarily would seem designed to fuel questions about the wisdom of proceeding as-is.
Back in January, it was Sen. Elizabeth Warren (D-Mass.) responding affirmatively to a question about whether Biden should run. Then, when the question turned to Harris, she was significantly more muted.
'I really want to defer to what makes Biden comfortable on his team,' Warren said."
The newspaper noted that Warren was not alone in dodging questions about Kamala Harris. When Nancy Pelosi was asked whether Harris served as the best running mate for Biden, she avoided saying yes.
"He thinks so, and that's what matters," Pelosi initially told CNN.
She added, upon the third asking: "She is the vice president of the United States.…I think she's represented our country very well at home and abroad."
Does anyone really think Kamala Harris would defeat Gavin Newsom in a primary without Joe Biden? It doesn't appear Joe Biden thinks so. 
[Read More: Joe Gets Away With It]