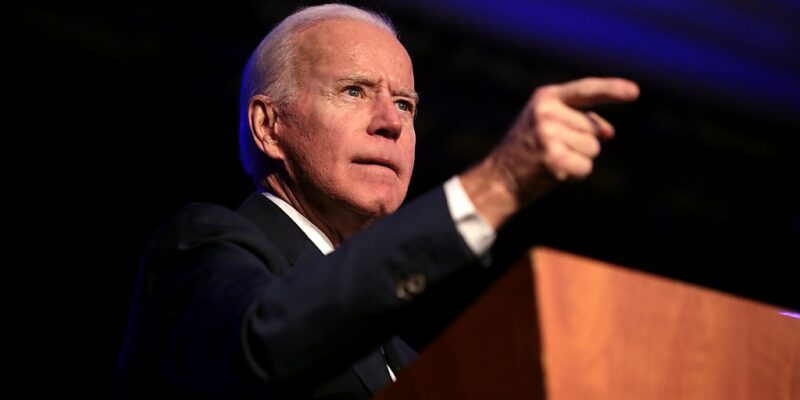 Update 1/12/2023: Representative Hank Johnson, Democrat from Georgia, claimed that the documents were "planted" to hurt Biden.
Georgia Democrat Hank Johnson suggests Biden's found classified documents are a conspiracy and were "planted." pic.twitter.com/1Q3RyFPWH4

— Brandon Morse (@TheBrandonMorse) January 12, 2023
Attorney General Merrick Garland has picked Robert K. Hur, "a veteran prosecutor who worked in the Trump administration, to handle the investigation into how classified documents from President Biden's time as vice president ended up at his private office and home.
Mr. Hur, who previously served as the U.S. attorney for Maryland during the Trump administration, is responsible for investigating "the possible unauthorized removal and retention of classified documents or other records discovered" at the office of Mr. Biden's think tank in Washington and his residence in Wilmington, Del., according to the order signed by Mr. Garland on Thursday.
Mr. Hur, who also served as a top department official in the deputy attorney general's office in 2017 and 2018, is authorized to prosecute any crimes arising from the inquiry or to refer matters for prosecution by federal attorneys in other jurisdictions, the order said, according to The New York Times.
Earlier in the week, we noted that a bombshell was dropped on the White House. Like Donald Trump, Joe Biden took classified documents from his time as vice president and stashed them in his personal office. The news organization wrote, "The material was identified by personal attorneys for Mr. Biden on Nov. 2, just before the midterm elections, Richard Sauber, special counsel to the president confirmed. The documents were discovered when Mr. Biden's personal attorneys "were packing files housed in a locked closet to prepare to vacate office space at the Penn Biden Center in Washington, D.C.," Sauber said in a statement to CBS News. The documents were contained in a folder that was in a box with other unclassified papers, the sources said. The sources revealed neither what the documents contain nor their level of classification. A source familiar with the matter told CBS News the documents did not contain nuclear secrets."
"The Presidential Records Act states that all presidential and vice-presidential material must be turned over to the National Archives after following special protocols to keep classified information safe. The finding occurred right before the midterm elections but was conveniently not disclosed until January after Democrats had won by campaigning against Trump, using the Mar-a-Lago raid as a cudgel against Republicans. 
'Among the items from Joe Biden's time as vice president discovered in a private office last fall are 10 classified documents including US intelligence memos and briefing materials that covered topics including Ukraine, Iran and the United Kingdom, according to a source familiar with the matter," according to CNN."
Things have only gotten worse for Biden as the week has gone on.
The revelation had some in the media asking whether this was related to Hunter. 
Update: Do you believe in coincidences? CNN reports that the material related to Ukraine … which is where Hunter Biden was cutting deals at the same time. https://t.co/LmSEMHmAkd

— Ed Morrissey (@EdMorrissey) January 10, 2023
The White House has refused to explain why they sat on the revelations for two months. They understand that Biden had done the exact same thing they accused Trump of doing during the midterms would likely have swung the midterm elections back to the Republicans. 
👀Karine Jean-Pierre won't say when Joe Biden was briefed that classified documents were found at his think tank in D.C.

She also refuses to say why the White House sat on the news for two months. pic.twitter.com/Bdsfot12S1

— John Cooper (@thejcoop) January 11, 2023
The White House tried to spin the findings as "a small number of documents with classified markings" found at the office." It turns out that this was not just a one-time mistake from President 'Big Guy.' 
The AP is now reporting, "President Joe Biden's legal team has discovered additional documents containing classification markings in a second location, a person familiar with the matter told The Associated Press on Wednesday. The revelation comes days after an attorney for the president said Biden's lawyers had discovered a "small number" of classified documents at his former office space in Washington.

The revelation that additional classified documents were uncovered by Biden's attorneys came hours after White House press secretary Karine Jean-Pierre dodged questions about Biden's handling of classified information and the West Wing's management of the discovery. She said the White House was committed to handling the matter in the "'right way,' pointing to Biden's personal attorneys' immediate notification of the National Archives.

But she refused to say when Biden himself had been briefed, whether there were any more classified documents potentially located at other unauthorized locations, and why the White House waited more than two months to reveal the discovery of the initial batch of documents, which were found Nov. 2, days before the midterm elections.

'As my colleagues in the Counsel have stated and said to all of you yesterday, this is an ongoing process under the review of the Department of Justice. So we are going to be limited on what we can say here,' Jean-Pierre said."
Biden took to the podium this morning to explain that the new cache of classified documents he took with him was safe and secure. They were, the President of the United States assured the crowd, with his Corvette in a locked garage at his house. 
DOOCY: "Classified materials next to your Corvette?! What were you thinking?"

BIDEN: "My Corvette's in a locked garage so it's not like it's sitting on the street."

DOOCY: "So the material was in a locked garage?"

BIDEN: "Yes— as well as my Corvette."

— Benny Johnson (@bennyjohnson) January 12, 2023
Here is video of the super-secure garage in which the president keeps his sports car.
Here's a shot of Joe Biden's "locked" GARAGE where he was hiding classified documents. pic.twitter.com/QcxfTZdaMx

— RNC Research (@RNCResearch) January 12, 2023
NBC News announced that "multiple aides who worked for President Joe Biden in the final days of the Obama administration have been interviewed by federal law enforcement officials reviewing how classified documents ended up in his Delaware residence and a Washington office, according to two people familiar with the matter.
Kathy Chung, who was Biden's executive assistant while he was vice president and helped pack up his vice presidential office in January 2017, is among those who have been interviewed, according to the sources, who spoke on the condition of anonymity to discuss the ongoing inquiry. Chung currently serves as deputy director of protocol for Secretary of Defense Lloyd Austin.
One of the sources said that those who were asked to be interviewed by law enforcement officials complied 'quickly.'"
The new findings put the corrupt Attorney General Merrick Garland in a bind. Former federal prosecutor Andrew McCarthy explains in The Hill: "Attorney General Merrick Garland was obviously aware of Biden's apparently unlawful possession of classified intelligence when, on Nov. 18, he appointed a special counsel, Jack Smith, to investigate Trump's unlawful possession of classified intelligence. There was no real conflict of interest in the Biden Justice Department's investigating Trump; out of political calculation, Garland appointed Smith to project the illusion that he and Biden are detached from any eventual decision to charge Trump, even though Smith reports to Garland and exercises Biden's executive power.
In marked contrast, there is patently a conflict of interest in the Biden Justice Department's investigating Biden himself. Yet, Garland has refused to appoint a special counsel for both the new investigation of Biden's mishandling classified information and the long-pending investigation of millions of dollars of foreign money reportedly flowing into the Biden family coffers — which the media-Democrat complex labels "the Hunter Biden investigation" in order to obscure that the main issue is whether Joe Biden cashed in on his political influence, courtesy of anti-American foreign regimes (most of all China, whose millions backed the creation of the Penn Biden Center, where the classified documents were found).
Garland's story, which the media apparently accepts, is that there is no need for a special counsel on the Biden documents probe because he has assigned the case to John Lausch Jr., the Trump-appointed U.S. attorney in Chicago. What you're not being told is that a district U.S. attorney cannot get confirmed absent the approval of senators from the state in question. This means that, in Illinois, Trump's nominee needed to be acceptable to two Democrats, the powerful Dick Durbin (the second-ranking Democrat in the chamber) and Tammy Duckworth, both stalwart Biden allies. Durbin and Duckworth regard Lausch so highly that they went to bat for him when the Biden White House was purging Trump officials. Lausch is thus the only one of the then-remaining 55 Trump-appointed U.S. attorneys who was not forced to resign.
Garland also knew that Biden's representatives had reported finding classified documents when, three weeks later, Trump's representatives reported finding two additional classified documents in a West Palm Beach storage locker to which a government agency (the General Services Administration) transmitted six pallets of boxes of Trump administration records. Garland's Justice Department reacted by marching into federal court and asking to have Trump held in contempt.
Sounds like politics is not a factor at all here, no siree."
We know that Democrats do not believe that rules apply to them, whether its banning gas stoves while using them, enacting COVID protocols to keep us in our homes while holding lavish parties themselves, or, in this case, once again taking classified documents while throwing the book at normal people. 
[Read More: Navy Leader Issues Dire Warning]