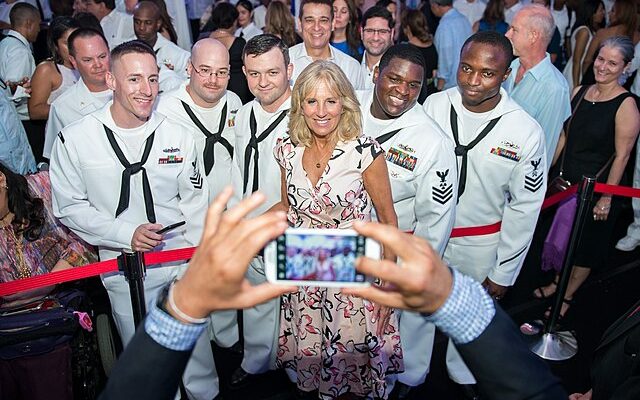 Jill Biden's ex-husband, Bill Stevenson, claims that Joe Biden has been weaponizing the federal government against enemies for decades. He should know, he says the Biden (Crime?) Family has been doing it to him for years.
Married to the First Lady from. 1970 to 1975, Stevenson said during an interview with Newsmax that he was "targeted" by Joe Biden for getting in way of his ambitions much in the same way that Donald Trump and other conservative activists have been over the past few years.   
"Frankie Biden of the Biden crime family comes up to me and he goes, 'Give her the house or you're going to have serious problems,'" Bill Stevenson told Newsmax's Greg Kelly Wednesday night of the moment President Biden's brother Frank allegedly approached him when he and Jill divorced in the mid-1970s.

"I looked at Frankie and I said, 'Are you threatening me?' and needless to say, about two months later, my brother and I were indicted for that tax charge for $8,200."

Stevenson — who married the future first lady in 1970, when she was still a college student — claims that Joe Biden, who was then a young senator in Delaware, sicced the charges

"[I] could not believe the power of Joe Biden and the Department of Justice. I couldn't believe it," he lamented to Kelly.

Kelly then noted that Stevenson and his brother were reportedly charged with two felonies for less than $10,000 in unpaid taxes, while his ex-wife's stepson, Hunter Biden, has so far only been slapped with two misdemeanors for a staggering $2.2 million unpaid tax bill.
When Kelly asked Jill's former lover to clarify if he believed then-Senator Biden was behind the tax charge he faced, saying, "I not only think it, but I know it."
Stevenson compared his situation to that of President Trump, who is currently facing charges of conspiracy to obstruct justice, withholding a document or record, corruptly concealing a document or record, concealing a document in a federal investigation, and appears to be on the verge of receiving even more charges based on his actions to prevent the Electoral College from convening on January 6, 2021.
'I was on the wrong side of them and they have literally come after me for 35 years in a row,' Stevenson, a staunch Trump supporter, continued.
"It's hard to believe what they're doing to President Trump… I can't let them do this to a president I love and respect… This is the only reason I've come forward," The Daily Mail noted. 
"It's like I said, nothing about the divorce, no bitterness, but Jimmy, Frankie, and President Biden are very dangerous, and it's tragic. I can't let them do what they did to me to President Trump. I can't do it."
The Bidens' "love story" has been called "legendary" by much of the media. The story goes that the couple triumphantly discovered true love in the wake of heartbreak. After enduring the loss of his wife, Joe Biden, then a senator, met Jill on a "blind date" before falling head over heels for each other. Stevenson claims that, like much of Joe Biden's claims about his history, it's entirely made up. 
The owner of a local music venue in Delaware called the Stone Balloon, Stevenson says that both he and Jill met Joe Biden when Biden was a county councilman in New Castle, Delaware after they asked for Biden's help obtaining a liquor license. Stevenson also says he threw a fundraiser for Joe's campaign years before the alleged "blind date."
"We got married in '70, I introduced Joe to Jill in '72. Right before the election in '72, Jill, Joe, Neilia and I were in his kitchen. How do you forget that?" Stevenson told Inside Edition.
"Stevenson says his first inkling something was up came when Jill refused to go with him to meet Bruce Springsteen, who was booked to appear at The Stone Balloon.
"She said, 'Joe asked me to keep an eye on the boys.' And I just thought in the back of my mind, 'hmm!'" Stevenson continued.
Things got really interesting for Stevenson when Biden allegedly sent a tough guy to ask him for money after Joe apparently crashed Jill (and Stevenson's) car. 
"He looks at me and he says, 'Oh, she wasn't driving.' I said, 'Her beloved Corvette, she wasn't driving it?' He goes, 'Senator Biden was driving it.' And I went, 'What?'" Stevenson explained.
Stevenson claims that Jill tried to take part of The Stone Balloon away from him after their divorce, but a judge ruled against her. 
Despite the alleged harassment, however, Stevenson said that he voted for Barack Obama twice before switching to Donald Trump in 2016.  
[Read More: GOP Candidate Accused Of Taking Huge Money From China]