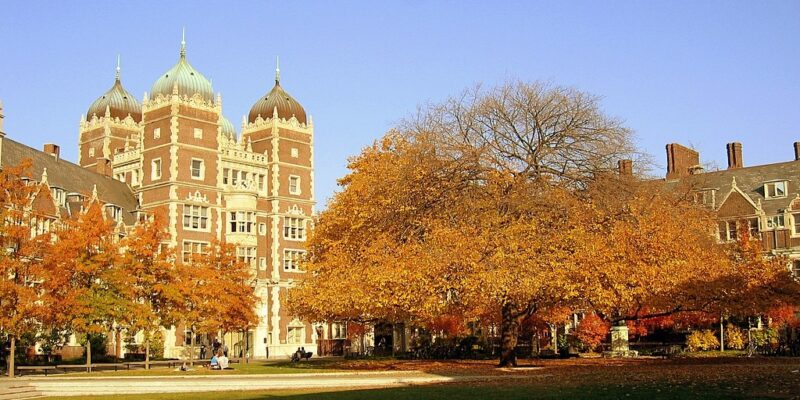 As the investigation into Joe Biden's mishandling of classified materials continues, his "think tank" at the University of Pennsylvania is facing more scrutiny. New evidence shows that Hunter Biden attempted to obtain an office at the university where the president kept classified documents and he tried to get his Chinese business partner a key. 
We previously reported that Hunter was key in facilitating large gifts from Chinese donors to the UPenn "think tank." As more investigators look at Biden's shadiness, the think tank at the University of Pennsylvania is getting more scrutiny. Biden Center for Diplomacy and Global Engagement has been labeled a "dark money nightmare" because it received millions of dollars from communist China in the form of "anonymous" donors. 
Some critics have called the arrangement between China, the university, and the Bidens "unprecedented."
The Washington Free Beacon has the story about Hunter's attempt to get his hands on a key to the office where the president kept classified documents related to Ukraine. 
"Joe Biden's talent agent, Craig Gering, emailed Hunter Biden in April 2016 to discuss the vice president's plans for the following year, including the establishment of the Penn Biden Center, a Washington, D.C., think tank affiliated with the University of Pennsylvania. Gering wrote that the university's D.C. office "will be expanded to house a DC office for VP Biden (and Mike, Hunter, and Steve?)," an apparent reference to future Penn Biden Center officials Michael Carpenter and Steve Ricchetti.

Hunter Biden said he hoped the plan would come to fruition. "That's the way I would like it to see it shake out," he said in an April 25, 2016, response to Gering. "BUT please keep this very confidential between us because nothing has been set in stone."

It is unclear whether the plan shook out as Hunter Biden hoped it would. But the exchange raises questions in light of growing concerns about the discovery of classified documents at the Penn Biden Center and Biden's home in Wilmington, Del. Biden's lawyers discovered a trove of documents about Iran, the United Kingdom, and Ukraine at the office. Republicans have expressed concerns about Hunter Biden's potential access to the records, both because of his erratic behavior during that time period and his foreign business dealings with Ukraine and China.

Gering, the agent for Joe Biden, did not respond to requests for comment. Biden hired Gering's firm, Creative Artists Agency, after leaving the White House in 2017 to "amplify" his post-White House career. The firm helped Biden secure a book deal and speaking engagements. It also helped Biden with plans for the Penn Biden Center and a think tank at the University of Delaware.

"Since November, classified documents have been found at the Penn Biden Center and at Joe Biden's Wilmington, Delaware, home, where Hunter lived for a period.
One report said Hunter Biden suffered blackouts from drinking and drug use while he was working with a connected Chinese businessman and living at the house where classified documents were discovered, according to an investigative journalist.
Hunter Biden told Gering in their "confidential" meetings that Joe Biden's post-government plans were to open think tanks at the University of Delaware and Penn Biden Center, as well as to focus on 'wealth creation,'" Newsmax wrote. 
"Joe Biden hired Gering's firm, Creative Artists Agency (CAA), in 2017 as he aimed to "amplify" his career after serving as vice president. CAA helped the then-former vice president secure a book deal and speaking engagements," the outlet continued.
House Republicans have already targeted UPenn as a possible trouble spot for the Bidens. CBS reported, "The GOP-led House Oversight and Accountability Committee is seeking information from the University of Pennsylvania about foreign donations and visitors to the Washington think tank where documents marked classified from President Biden's tenure as vice president were discovered, as the panel expands it probe into Mr. Biden's handling of government records.
The committee's chairman, Rep. James Comer of Kentucky, is requesting records related to donations from China to the university and the Penn Biden Center for Diplomacy and Global Engagement, as well as a list of all Chinese donors to both entities since the end of the Obama administration. He is also seeking information on all Penn Biden Center employees, a list of people who had keycard access to the think tank's office and a log of visitors who met with Mr. Biden at its office.  
"It is imperative to understand whether any Biden family members or associates gained access to the classified documents while stored at the Penn Biden Center," Comer wrote in a letter to the University of Pennsylvania President Liz Magill dated Wednesday.
The Kentucky Republican said the Oversight committee is 'concerned about who had access to these documents given the Biden family's financial connections to foreign actors and companies,' a reference to foreign business deals pursued by Hunter Biden, Mr. Biden's son."
The University of Pennsylvania paid nearly $1 million to Joe Biden between 2017 and 2019. In 2019 the university granted him a leave of absence to allow him to run for president. 
The Philadelphia Inquirer noted, "Joe Biden didn't teach regular classes or have a defined role at Penn, but the school was likely paying him for something else, experts said: the prestige of associating with a former vice president and global figure."
[Read More: Most Americans Think They're Worse Off Under Biden's Leadership]