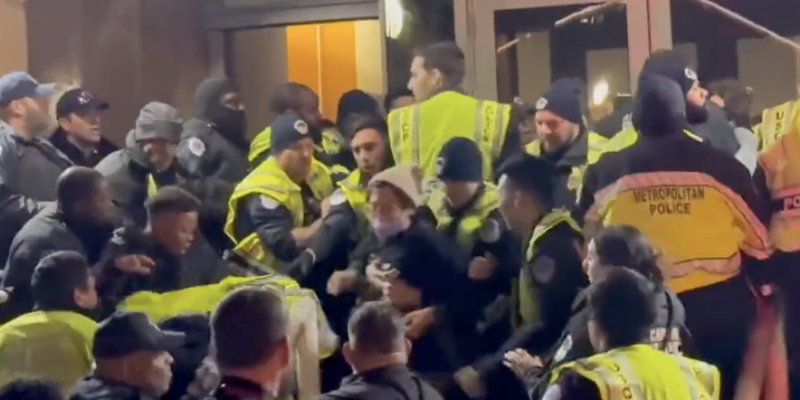 Congresswoman Rashida Tlaib, a Democrat from Michigan, has claimed that she does not support terrorism and said that the genocidal phrase "from the river to the sea," a chant calling for the destruction of Israel, is really a call for "peaceful coexistence." Her comments caused her to receive censure from the House of Representatives, with some in her own party calling her despicable. 
A new report is only going to be adding fuel to the fire. Tlaib is part of a secret Facebook group "in which its members have glamorized Hamas." 
It shouldn't come as a total surprise. After all, she was caught with fundraising ties to Hamas, which I suppose makes her not much different from the vice president's stepdaughter. 
What comes after censure?
The group's founder, Maher Abdel-qader, who has extensive ties to Tlaib and has also been linked to other liberal politicians, has come under fire in the past for his antisemitic social media posts, including questioning if the Holocaust ever occurred, according to Fox News.

The Palestinian American Congress group, of which Tlaib is a member, has featured pro-Hamas posts in the wake of the deadly Oct. 7 attack on Israel.

On Oct. 12, one group member posted: "We don't want to throw you in the sea…we want you to ride it back from where you came." The message was accompanied by a picture of an elderly Israeli woman and a Hamas fighter holding her captive.

On Oct. 19, another group member wrote about the "achievements" of the "resistance in Northern occupied Palestine," including dozens of dead Israeli soldiers. The post included a picture of a Hamas fighter.
The report showing Tlaib's true feelings came only hours before her allies, radical activists, attacked the Democratic National Committee headquarters in Washington, D.C. on Wednesday night, trapping members of Congress inside. They claimed they were mobbing the DNC in order to support a cease-fire between Israel and Hamas, a move that would merely allow Hamas to move the nearly 200 hostages currently being held captive without fear of an Israeli raid to rescue them.
BREAKING

Absolute mayhem outside the Democratic National Committee headquarters in Washington DC.

Ceasefire advocates who were protesting and blocking the doors of the DNC building are being pulled off, thrown down, and arrested by law enforcement. pic.twitter.com/uCEsYGQt8L

— Yashar Ali 🐘 (@yashar) November 16, 2023
"Right now our officers are working to keep back approximately 150 people who are illegally and violently protesting in the area of Canal Street and Ivy Street, SE. Officers are making arrests. All Members have been evacuated from the area. Please stay away from the area," Capitol Police said in a statement.
Dozens have been arrested.
Members of Congress were hearing from prospective candidates inside of the DNC when Capitol Police evacuated them from the building, Rep. Sherman told ABC News in a phone interview.

In total, about seven members of Congress were inside when they were evacuated from the building by "heavily armed and serious" U.S. Capitol Police officers, Congressman Brad Sherman said.

The forum was attended by Democratic leadership, including minority leader Hakeem Jeffries, Whip Katherine Clark and Pete Aguilar, but Sherman said Jefferies and Clark had left by the time protests started breaking out.

Rep. Sherman said members inside the room heard chants of "cease-fire now," and they thought it was going to be 10 or 15 minutes and then the protesters were going to leave.

"Then the Capitol Police came in big time and said, 'We're getting you out of here,'" he told ABC News.
Some of the members of Congress might be wondering how many of their staffers were outside threatening violence against their bosses. 
Over 50 Democratic National Committee employees signed an open letter to their leadership last week, calling on them to urge President Joe Biden to seek a cease-fire in Israel's escalating war against Hamas.
The Huffington Post wrote that "the letter's signers, who chose to remain anonymous, work at the primary organizing body for the Democratic Party, which is handling the bulk of Biden's fundraising and the coordinated campaign for his reelection.
The document, which was shared exclusively with HuffPost, underscores how frustrated many Democrats — as well as administration officials, including career diplomats — have become with Biden's reluctance to demand Israeli restraint in the country's now month-long offensive against Hamas, the Gaza-based Palestinian militant group.
Hundreds of congressional personnel have also signed a separate letter asking lawmakers to demand a cease-fire amid the costly fighting. And as HuffPost reported on Thursday, staff members at the State Department have submitted at least two formal expressions of dissent through a specially designed "dissent channel" urging the U.S. to do more to end the war.
A group of staff alumni of Biden's presidential campaign also sent a letter to Biden calling for him to back a cease-fire."
Hamas launched a surprise attack on October 7, killing nearly 1,400 people, mostly civilians and taking 200 hostages, the Democrats have revealed themselves to be completely divided on whether or not to support terrorism.
On one side of the divide stands old figureheads like Biden, Hillary Clinton, and Nancy Pelosi. They live in reality, a place where Israel has the right to defend itself. On the other side, you have their younger staff, those influenced by TikTok and have designer college degrees. They believe genocide against Israelis is justified, demonstrating and attacking Jews on college campuses, and are posting videos on social media in support of Osama Bin Laden. 
[Read More: Biden Betrays American Troops Under Fire]