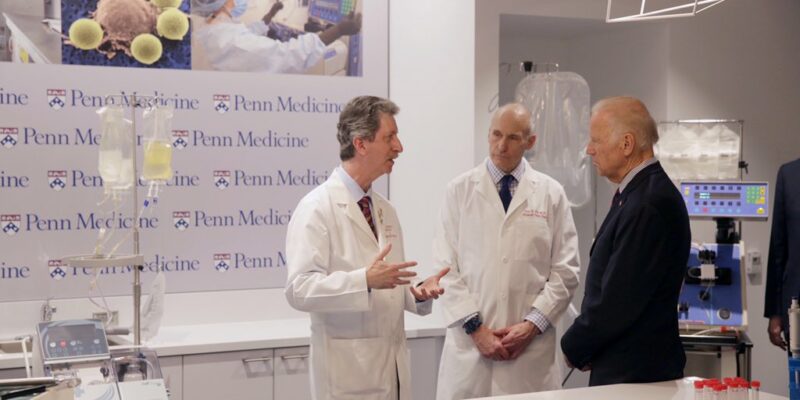 Joe Biden's alleged mishandling of classified documents continues to cause problems for the White House. The Associated Press broke the news that "lawyers for President Joe Biden found more classified documents at his home in Wilmington, Delaware, than previously known, the White House acknowledged Saturday.
White House lawyer Richard Sauber said in a statement that a total of six pages of classified documents were found during a search of Biden's private library. The White House had said previously that only a single page was found there.
The latest disclosure is in addition to the discovery of documents found in December in Biden's garage and in November at his former offices at the Penn Biden Center in Washington, from his time as vice president."
When Republican Donald Trump mishandled classified documents, Biden called it "irresponsible" and Democrats claimed it was one of the most dangerous things ever done by a former president. 
They're not saying much now. 
As more investigators look at Biden's shadiness, the think tank at the University of Pennsylvania is getting more scrutiny. Biden Center for Diplomacy and Global Engagement has been labeled a "dark money nightmare" because it received millions of dollars from communist China in the form of "anonymous" donors. 
The Republican leading the charge recently told Fox News that Biden's deep connections to China was "unprecedented."
The New York Post reported, "The Department of Justice is probing how "a small number" of classified documents from President Biden's years as vice president ended up at the Washington, DC, think tank that bears his name, the White House confirmed Monday. A second batch of papers was found at an additional location, it was reported Wednesday.

The University of Pennsylvania received more than $30 million from Chinese donors shortly after the Penn Biden Center for Diplomacy and Global Engagement, which functioned as an office for Joe Biden before he was elected president, was announced in 2017, according to public records.

"The Penn Biden Center is a dark-money, revolving-door nightmare where foreign competitors like China donated millions of dollars to the university so that they could have access to future high-ranking officials," said Tom Anderson, director of the Government Integrity Project at the Virginia-based National Legal and Policy Center.

Meanwhile, former fellows and administrators of the Penn Biden Center now have key positions in the Biden administration. Michael Carpenter, the former managing director of the Penn Biden Center, was named the US ambassador to the Organization for Security and Cooperation in Europe, based in Vienna, in 2021. Secretary of State Antony Blinken also briefly served as director of the think tank before joining the Biden administration in January 2021. Before that, Blinken was a policy adviser for Biden's 2020 campaign."
In September, Biden called on Republicans in Congress to support limiting "dark money" to campaign organizations, saying "erodes public trust." Think tanks and family members, though, are fine.
Biden has previously benefited "from a record-breaking amount of donations from anonymous donors to outside groups backing him, meaning the public will never have a full accounting of who helped him win the White House," according to Bloomberg.
Unsurprisingly, Hunter Biden sits in the middle of the controversial money coming to Biden's "think tank." 
Fox News noted, "Within weeks of leaving the vice presidency under former President Barack Obama in January 2017, Biden became the "Benjamin Franklin Presidential Practice Professor" at the University of Pennsylvania, an honorary position, and the "Penn Biden Center for Diplomacy and Global Engagement" was launched in Washington, D.C., the next year.
However, discussions about the elder Biden's future involvement with Penn long predated the end of the Obama presidency, according to emails from Hunter Biden's infamous abandoned laptop, which have been verified by Fox News Digital.
On April 25, 2016, Creative Artists Agency (CAA) agent Craig Gering emailed Hunter with "confidential notes from our meeting," in which Gering listed apparent plans that were discussed for the vice president upon leaving office. 
One of those plans included "wealth creation," with no further explanation, and another included an apparent reference to the Penn Biden Center in Washington, D.C., with a possible job opportunity for Hunter."
This is not the first time that the Biden's have been proven to hold deep ties to China. Hunter, according to reports, is facing potential charges because of his ties to China and as president, Joe Biden has shown an affinity for the communist nation.
When gas was crushing the middle class in the United States this past summer, the White House was selling our strategic reserve to China through a company connected to the president's son. More recently, Biden's Department of Energy gave millions of dollars to a battery company that has admitted it is controlled by the Communist Party in China. 
Republicans have taken Biden to task for his hypocrisy regarding the classified documents. 
To be clear, when they say classified documents "found at Biden's private office," they mean found at Penn Biden Center for Diplomacy and Global Engagement, a think tank funded with millions of dollars from China. https://t.co/DwULesJ6hu

— Thomas Massie (@RepThomasMassie) January 12, 2023
KENNEDY: "The Penn Biden Center is not some normal Ivy League think tank…and allegedly it is funded with tens of millions of dollars from China! What's up with that?" pic.twitter.com/izA6ce99jw

— Townhall.com (@townhallcom) January 12, 2023
Tucker Carlson recently took Biden and Penn to task for their shadiness and connections to China. 
Penn is not the only university who have taken millions of dollars from China. NPR has reported, "The Department of Education said Yale failed to disclose a total of $375 million in foreign money and that it was concerned that Harvard may not have fully complied with reporting requirements.
 The investigation of Yale and Harvard is part of a larger examination by the DOE, which says its enforcement efforts, since July, have triggered the reporting of approximately $6.5 billion in previously undisclosed foreign money, much of it from China, Saudi Arabia, Qatar and the United Arab Emirates, according to the department."
[Read More: Democrats Refuse to Vote 'Born Alive' Act or Condemn Violence Against Pro-Life Organizations]