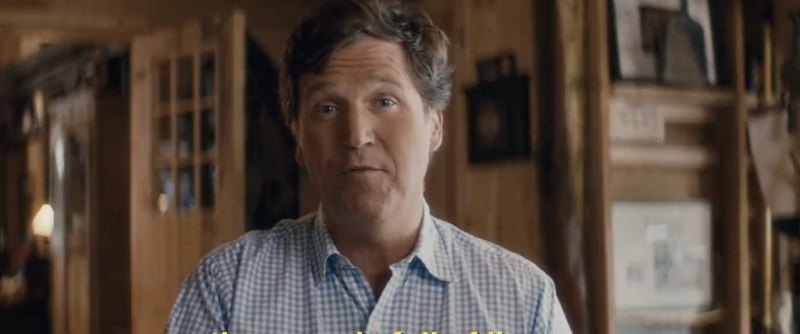 Tucker Carlson is back. The fired Fox News host posted a video on Twitter announcing that he will be launching a show on the social media app. 
Mediate writes, "In the clip, while accusing the media of telling lies, Carlson announced he will be bringing his show to Twitter, which he called the only 'free speech' platform left in the world.
Carlson's announcement came after he reportedly sent Fox News a host of demands regarding his old contract and accused the network of "fraud and breach of contract," an apparent attempt to strengthen his position ahead of a legal battle regarding his non-compete clause."
'Amazingly, as of tonight, there aren't many platforms left that allow free speech. The last big one remaining in the world. The only one is Twitter. Where we are now,' Carlson says after ripping into the media for well over a minute.
We're back. pic.twitter.com/sG5t9gr60O

— Tucker Carlson (@TuckerCarlson) May 9, 2023
Carlson is preparing to unleash allies to attack Fox News in an effort to bully the network into letting him work for — or start — a right-wing rival, sources close to him told Axios.
Bryan Freedman, the high-powered Hollywood lawyer Carlson retained for the contract dispute, told Axios: "The idea that anyone is going to silence Tucker and prevent him from speaking to his audience is beyond preposterous."

The outlet notes that Tucker vs. Fox could reshape the conservative news world. Fox, which has seen its ratings plunge in Carlson's slot since he was let go 13 days ago, wants to sideline him by paying him $20 million a year not to work.

Axios has learned Carlson is busy plotting a media empire of his own. But he needs Fox to let him out of his contract, which expires in January 2025 — after the presidential election.

Axios also revealed that Carlson and Elon Musk "had a conversation about working together, but didn't discuss specifics."

Carlson confidants say he also is contemplating building a direct-to-consumer media outlet where his millions of fans could pay to watch him. Carlson's predecessor in his Fox slot, Bill O'Reilly, created a blueprint for this.
In late April, Fox News Channel ended its highest-rated show almost out of the blue. "The abrupt departure of the controversial prime time host comes a week after Fox News reached a $787.5 million settlement with Dominion Voting Systems for over the network's promotion of former President Donald Trump's false 2020 election claims," writes Mediate.
"That bombshell settlement — the biggest media payout in history — prompted many to question if Rupert Murdoch would make major changes at the network."
A couple days later, Carlson released a message on Twitter at the same time of his former time slot, 8 PM, talking about the corruption of American media.
The former host said, "The undeniably big topics — the ones that will define our future — get virtually no discussion at all," Carlson said. "War, civil liberties, emerging science, demographic change, corporate power, natural resources. When was the last time you heard a legitimate debate about any of those issues? It's been a long time. Debates like that are not permitted in American media." 
'Both political parties and their donors have reached consensus on what benefits them and they actively collude to shut down any conversation about it. Suddenly the United States looks very much like a one-party state. That's a depressing realization but it's not permanent. Our current orthodoxies won't last, they're brain-dead, nobody actually believes them,' he continued.
He concluded by saying, "See you soon." The two-minute video has racked up over 24 million views.
Tucker's final line raised eyebrows because it's widely known that FNC intends to keep him sidelined, potentially at the request of Volodymyr Zelensky. The Ukrainian president has created and shared a blacklist of people in American media considered to be "Russian propaganda," and Tucker was allegedly on the top of the list, which gave Fox News owner Rupert Murdoch some heartburn. 
Carlson's contract with Fox could sideline him until after the presidential election in 2024, but he's not intending to take the muzzle lying down. 
Business Insider reported that "rival outlets — including right-wing Rumble and Newsmax — have reached out offering to pay Carlson more than his Fox contract, Axios reported. In the days following his dismissal, Fox News lost half of its 8 p.m. audience.
"The idea that anyone is going to silence Tucker and prevent him from speaking to his audience is beyond preposterous," attorney Bryan Freedman, Carlson's legal counsel on the contract dispute, told Axios.
Now, sources say Carlson's right-wing allies are rallying around him in the aftermath of the abrupt firing. Some even suggest he's considering a direct-to-consumer outlet on which his supporters can pay for Carlson's content.
[Read More: Biden Accused Of Second Bribery As New Potential Biden Cover Up Revealed]