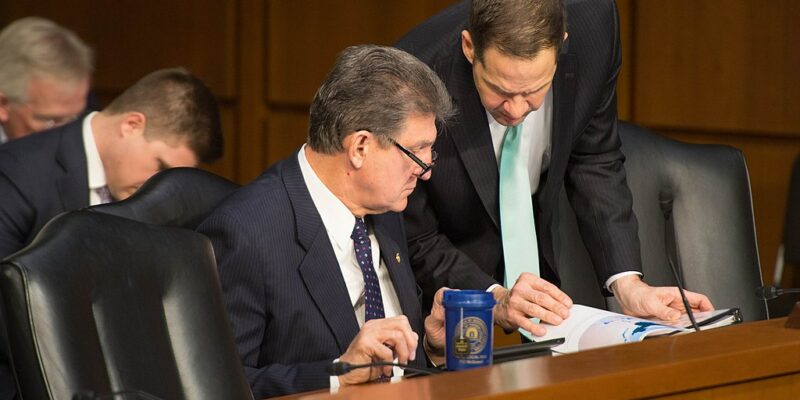 He might be a slow learner, but Senator Manchin has caught on to the fact that his Democratic colleagues and the White House misled him to get his crucial vote during discussion of Biden's signature accomplishment, the Inflation Reduction Act. Now to get back at the White House, Manchin has announced that he's opposing Biden's pick for the next IRS commissioner, Daniel Werfel. 
Newsmax writes that "Manchin, who has often blocked Biden's legislative priorities, said he was opposing Werfel on the basis of the Biden administration's implementation of the Inflation Reduction Act, a sprawling tax and climate bill that Manchin was key in passing."
The West Virginia Senator said, "At every turn, this Administration has ignored Congressional intent when implementing the Inflation Reduction Act. First and foremost, the IRA is an energy security bill with clear and direct guidelines to ensure we are able to onshore our supply and manufacturing chains. But instead of adhering to Congressional intent and prioritizing our nation's energy and national security, the Treasury Department has pandered to automakers and progressive extremist groups and continued to sacrifice the national security of the United States of America. While Daniel Werfel is supremely qualified to serve as the IRS Commissioner, I have zero faith he will be given the autonomy to perform the job in accordance with the law and for that reason, I cannot support his nomination."
Who could have seen that coming?  
Manchin's vote was decisive because Democrats only control the Senate by a thin 51-49 margin and two Senate Democrats, Senators John Fetterman and Dianne Feinstein, are currently out of commission due to medical issues. 
Biden's signature accomplishment, which passed only with the help of Manchin, added over 80,000 IRS agents to the rolls of the tax bureaucracy. Biden pledged that the tens of thousands of new agents would not attack the middle class, but study after study has shown that to be a false promise.
The IRS recently announced that it plans to go after tips given to workers at restaurants.
The West Virginian seems to be coming to grips with the fact that his party has moved left, away from his moderate stances, over the past few years. With his help, Republicans are working to pass a rolling back of a regulation that would encourage pension plans to dump money into leftwing causes. 
Bloomberg explained that "under President Joe Biden, the US Department of Labor put in place a rule that would allow managers of retirement plans to weigh climate change and other environmental, social and governance (ESG) issues in their investment decisions. The move undid an effort under then-President Donald Trump to block such investments. The rule has become a focus in a fight over what proponents call sustainable investing and opponents call 'woke capitalism.'" 
Republicans lambasted Biden's move, calling it "an ideological push on corporations," Rep. Glenn Grothman from Wisconsin told Fox News. "This to further push down on them and say, 'Here you are, Mr. Big Corporation, we'll give you a nice pat on the back if we use all of your stockholders' money to promote a political agenda.'"
"It's this pound, pound, pound that we already get from the universities, we already get from the popular culture in Hollywood, now we've got to get it from big business," he continued.
The news channel noted that "Republicans also argued that companies that promote ESG policies generally underperform compared to those that don't and carry much higher fees. Rep. Andy Barr, R-Ky., who sponsored the resolution, said Democrats are threatening Americans' retirement funds by 'plowing them into less diversified, higher fees and lower performing portfolios at precisely the time that we need to maximize financial security for Americans approaching retirement.'"
Even worse, ESG plans have nothing to do with saving the planet or creating more "justice." Harvard Business Review writes, "Most people assume that ESG Investing is designed to reward companies that are helping the planet. In fact, ESG ratings which underlie ESG fund selection are based on "single materiality" — the impact of the changing world on a company P&L, not the reverse. Asset management firms have been happy to let the confusion go uncorrected — ESG funds are highly popular and come with higher management fees." 
Manchin has also opposed Joe Biden's radical pick to be the deciding vote over at the FEC, Gigi Sohn, who has been accused of trying to buy her way onto the board that regulations telecommunications.
The New York Post reported, "Manchin cited Sohn's "years of partisan activism, inflammatory statements online and work with far-left groups" for refusing to back her to fill the open spot on the five-member FCC.
The progressive telecom lawyer had previously suggested that the FCC should examine whether right-leaning Sinclair Broadcast Group was "qualified" for a broadcast license and retweeted posts that called for defunding the police.
Manchin (D-W.Va.) said the FCC needed a commissioner who would 'remain above the toxic partisanship that Americans are sick and tired of, and Ms. Sohn has clearly shown she is not the person to do that.'
Sohn's exit marks another setback for the Biden administration as it attempts to pursue sweeping internet-related reforms, including a reinstatement of 'net neutrality' rules that were unwound under former President Donald Trump." 
Maybe Joe Manchin has begun listening to his voters in West Virginia rather than to the sweet nothings promised to him inside the Beltway of Washington. 
[Read More: A Rising Conservative Thinks About Entering The Race for 2024]