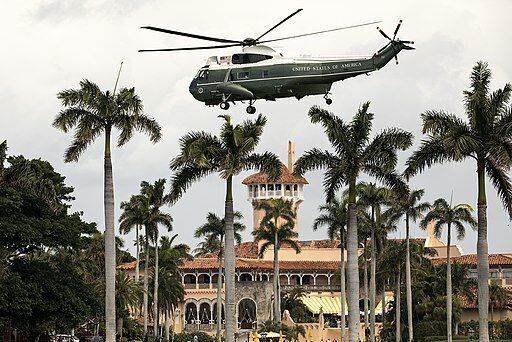 Update 8/12/2022: More details have come our regarding the Mar-a-Lago raid earlier in the week, and it's a doozy. The Washington Post is reporting, "Classified documents relating to nuclear weapons were among the items FBI agents sought in a search of former president Donald Trump's Florida residence on Monday, according to people familiar with the investigation."
"The people who described some of the material that agents were seeking spoke on the condition of anonymity to discuss an ongoing investigation. They did not offer additional details about what type of information the agents were seeking, including whether it involved weapons belonging to the United States or some other nation. Nor did they say if such documents were recovered as part of the search. A Trump spokesman did not immediately respond to a request for comment. The Justice Department and FBI declined to comment."
If Trump did take nuclear related materials with him to his home after leaving the White House, that would be a justifiable in searching Mar-a-Largo for them. But, it also does not leave much confidence in the DOJ and the FBI that it took 18 months to realize the material was missing, as well.
Update 8/11/2022: Former President Donald Trump apparently believes that some of his associates are "wearing a wire" and that his phones may be tapped. Rolling Stone reports, "This summer, Trump has asked close associates if they think his communications are being monitored by the feds, or — per his phrasing — 'by Biden.' As a source close to Trump describes it to Rolling Stone: 'He has asked me and others, 'Do you think our phones are tapped?' Given the sheer volume of investigations going on into the [former] president, I do not think he's assuming anything is outside the realm of possibility."
Moreover, on at least a couple of occasions since May, the former president has wondered aloud if there were any Republicans visiting his clubs who could be 'wearing a wire,' according to another person close to Trump and a different source familiar with the matter. Trump and his allies are baselessly floating the idea that federal agents could be guilty of 'planting' incriminating evidence at his private resort. And the ex-president and several of his longtime advisers are trying to figure out if they have, in their terminology, a 'mole' or a 'rat' in Trump's inner sanctum who is slipping his secrets to the feds."
At his lawyer's insistence, Trump recently used the right protected by the 5th Amendment against self-incrimination yesterday in a deposition in New York related to investigations into the taxes his golf resorts paid, or didn't pay. NBC News wrote, "Former President Donald Trump invoked his Fifth Amendment right more than 440 times Wednesday in refusing to answer questions at a deposition by lawyers for New York Attorney General Letitia James, who is investigating the Trump Organization's business practices, a source with knowledge of the session told NBC News."
Original Story
Trump lawyer Lindsey Halligan told CBS News what she saw after she received a phone call that morning about the raid and rushed to Mar-a-Lago. 
"Over the next eight hours," Halligan told the outlet, "30-40 FBI personnel conducted the search. There were a handful dressed in suits, but most wore t-shirts, cargo pants, masks and gloves. Halligan estimates 10-15 FBI vehicles went in and out of the property, including a Ryder truck."
She also said "she spoke with Trump who expressed shock about the FBI search. He said he thought he'd complied with investigators' requests. He told Halligan that the Justice Department has an open line to his attorneys and said that he's instructed them to turn over responsive documents if they have them. She said that the former president raised concerns about abuse of power by the Biden administration."
The New York Post has also gathered details. The newspaper "learned that the search warrant used by the FBI to enter the palatial Palm Beach property focused solely on presidential records and evidence of classified information being stored there.

A source close to the former president expressed concern that FBI agents or DOJ lawyers conducting the search could have "planted stuff" because they would not allow Trump's attorneys inside the 128-room building to observe the operation, which lasted more than nine hours.

The raid by over 30 plain clothes agents from the Southern District of Florida and the FBI's Washington Field Office extended through the Trump family's entire 3,000-square-foot private quarters, as well as to a separate office and safe, and a locked basement storage room in which 15 cardboard boxes of material from the White House were stored.

The boxes contain documents and mementos from Trump's presidency, reportedly including letters from Barack Obama and Kim Jong Un, and other correspondence with world leaders. A legal source said that the boxes had been packed up by the General Services Administration and shipped to Mar-a-Lago when Trump left office in January 2020.
The FBI agents, according to reports, also rifled through former First Lady Melania Trump's wardrobe during their nearly 10-hour raid of the Trump mansion in Florida. The 76-year-old former president was spending time in New York City when it all went down. He was told what was happening by his son, Eric. 
In a statement afterward, the former president said, "These are dark times for our Nation, as my beautiful home, Mar-A-Lago in Palm Beach, Florida, is currently under siege, raided, and occupied by a large group of FBI agents. Nothing like this has ever happened to a President of the United States before. After working and cooperating with the relevant Government agencies, this unannounced raid on my home was not necessary or appropriate." 
He continued: "It is prosecutorial misconduct, the weaponization of the Justice System, and an attack by Radical Left Democrats who desperately don't want me to run for President in 2024, especially based on recent polls, and who will likewise do anything to stop Republicans and in the upcoming Midterm Elections. Such an assault could only take place in broken, Third-World Countries. Sadly, America has now become one of those Countries, corrupt at a level not seen before. They even broke into my safe! What is the difference between this and Watergate, where operatives broke into the Democrat National Committee? Here, in reverse, Democrats broke into the home of the 45th President of the United States."
Along with speculating that false incriminating evidence was being planted on the former president, which is rarely a good sign for someone being investigated to say, Axios disclosed that "Trumpworld is abuzz with speculation about which close aide or aides has 'flipped' and provided additional sensitive information to the FBI about what former President Trump was keeping at Mar-a-Lago."
Newsweek has since confirmed their suspicions in an exclusive report, writing, "The raid on Mar-a-Lago was based largely on information from an FBI confidential human source, one who was able to identify what classified documents former President Trump was still hiding and even the location of those documents….The officials, who have direct knowledge of the FBI's deliberations and were granted anonymity in order to discuss sensitive matters, said the raid of Donald Trump's Florida residence was deliberately timed to occur when the former president was away."
For his part, Joe Biden is keeping mum on the raid. The White House has insisted he "had no prior knowledge of the FBI raid on former President Donald Trump's home at Mar-a-Lago," according to Breitbart.
White House press secretary Karine Jean-Pierre claimed during a press conference that "the president was not briefed, was not aware of it. No one from the White House was given a head's up."  
She also pushed the idea that the Justice Department was "independent" from the White House and that any moves by the DOJ came from Attorney General Merrick Garland. The president had previously stated that he heard about the raid from the news "just like the American people."  
Conservatives aren't buying it. 
In The American Spectator, Daniel Flynn noted how "the FBI's history involving Trump includes eyebrow-raising raids on the offices of his lawyers Michael Cohen and Rudy Giuliani that seemed to upend the tradition of attorney-client privilege; electronic surveillance of 2016 campaign aides; the bureau's lawyer Kevin Clinesmith pleading guilty to altering language to the court issuing a warrant for that surveillance to make it look as though Carter Page, a CIA source… and agent Peter Strzok texting his mistress "we can't take that risk" of Trump winning, which made the Russia probe necessary as 'an insurance policy.'"
He continued by saying for many conservatives, "it appears to be an ominous escalation in the use of the apparatus of the state to criminalize opposition."
The Tallahassee Democrat noted that Republicans in Trump's home state of Florida had rallied to defend the former president. "Led by Gov. Ron DeSantis, Florida Republicans rallied around former President Donald Trump in the wake of an FBI search of his Palm Beach property Monday, echoing a claim made by Trump that it was something that 'could only take place in broken, Third-World Countries'
DeSantis compared the FBI's action to what happens in a 'Banana Republic,' while U.S. Sen. Marco Rubio tweeted it is akin to 'something we have seen many times from 3rd world Marxist dictatorships' and U.S. Sen. Rick Scott tweeted 'This is 3rd World country stuff.'"
Nationally, House Minority Leader Kevin McCarthy told AG Garland to "clear his calendar" because he's "seen enough. The Department of Justice has reached an intolerable state of weaponized politicization. When Republicans take back the House, we will conduct immediate oversight of this department, follow the facts, and leave no stone unturned."
Conservative columnist Michael Goodwin summed up the way Democrats are playing with political fire: "Whatever the FBI was looking for in its raid of Donald Trump's home, it better be big. Really, really big, and important enough to justify this radical and unprecedented action against a former president.
If this were a murder case, even a smoking gun wouldn't be enough. There would also need to be a corpse.
Because if Democrats didn't find enough evidence to send Trump to jail, they've probably handed him a return trip to the Oval Office."
[Read More: Nancy Pelosi Takes Her Son To Taiwan To Make New Business Friends]