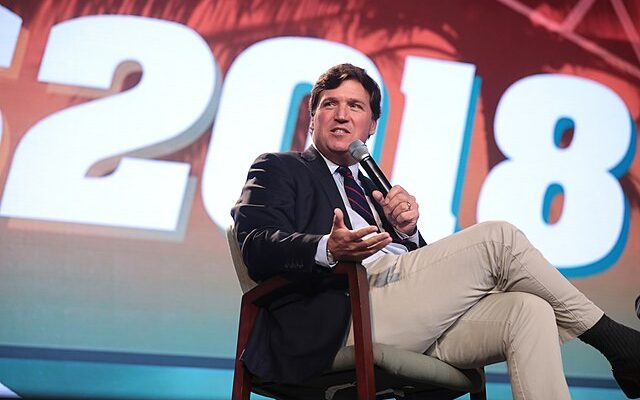 If you ever wanted to see what side Fox News is truly on, their actions regarding Tucker Carlson will serve as clear evidence. In a great help to Joe Biden's reelection campaign, Fox News Channel, according to a new report, intends to keep their former top-rated host on the sidelines through the 2024 election, silencing an articulate and powerful conservative voice that will surely help liberals maintain power in the next election. 
Breitbart writes that Carlson's current contract runs through December 2024, and as of now three sources familiar with the matter told Breitbart News that executives at the network are trying to keep Carlson on contract and not release him until after the 2024 election. The shocking decision to cancel Carlson's top-rated weeknight program came just days after the network shut down its top-rated weekend program with host Dan Bongino. What follows here is an insider account from people actually in the know after Breitbart News spent the past several days interviewing key players in the personnel matters at Fox News, asking what really happened.

Two things are clear from speaking to people who actually know what's happening on the inside: First, the official narrative from the network is untrue. Second, and perhaps more importantly, many of the leaks and speculation that have poured out in the past couple days since the bombshell news of Carlson's show getting canceled was announced are also simply untrue.

Nobody would speak on the record, for a number of reasons. First off, Fox News and the broader Murdoch empire are known for their ruthlessness against anyone who speaks the truth about what is actually happening there. Network spokeswoman Irena Briganti is believed to use outlets also owned by the Murdochs like the New York Post and Wall Street Journal to plant pieces that reflect poorly on foes of News Corporation.

Secondly, both Carlson and Bongino are technically still under contract by the network. Bongino's contract runs through the end of April and Carlson's through the 2024 general election. Both are, sources say, trying to negotiate exit packages—and even after they formally have those agreements in place, there will be non-disparagement clauses that prevent them from ever speaking the truth about this.

"As of right now, the plan remains the same: pay out Carlson's contract and keep him on the sidelines through the 2024 elections," one source close to Fox News senior executives told Breitbart News. "They knew they would take a beating for this, but everyone — and I mean everyone — is pretty rattled. They weren't expecting the blowback to be this bad. Hate to say it, but it's clear that Rupert has lost a step or two."
Megyn Kelly explained how the silencing of Carlson could work.
BREAKING NEWS?:

Tucker still works for FOX…
So, according to Megyn Kelly, a former host on Fox News and possibly the best at getting inside information, is saying Tucker isn't fired from Fox. That's not all… listen pic.twitter.com/qHFmuvGgch

— 1776 (@TheWakeninq) April 26, 2023
Getting rid of their top host looks to be Fox to be cutting off its nose to spite its face. The ratings this week have been disastrous for the channel. Mediate reported, "MSNBC's Chris Hayes won the 8 p.m. hour on cable news Wednesday night. Hayes's win comes on the heels of Monday's firing of Tucker Carlson — who long reigned during the hour.
Hayes beat Carlson's temporary replacement, Brian Kilmeade, with 1.38 million total viewers to 1.33 million viewers.
Kilmeade's two recent programs have struggled to retain all of Carlson's audience in prime time. Where Carlson averaged 3.25 million total viewers and 443,000 viewers in the key 25-54 age demographic last quarter, Kilmeade's Wednesday night show brought in only 1.7 million viewers and 149,000 demo viewers – which landed the network behind both CNN and MSNBC in the demo."
According to a source that spoke to Breitbart, the changes in programming at Fox News have less to do with the current growing battle between Donald Trump and Ron DeSantis for the 2024 nomination and more to do with protecting established figures on Capitol Hill, such as Mitch McConnell and John Thune. 
The source told Breitbart's Matt Boyle that controversial bills going through Congress would no longer be discussed on the air, resulting in more generic, patriotic content and flag-waving and less controversial criticism of what's happening in Washington that affects all of our lives. 
[Read More: Media Breaks Protocol To Help Biden]