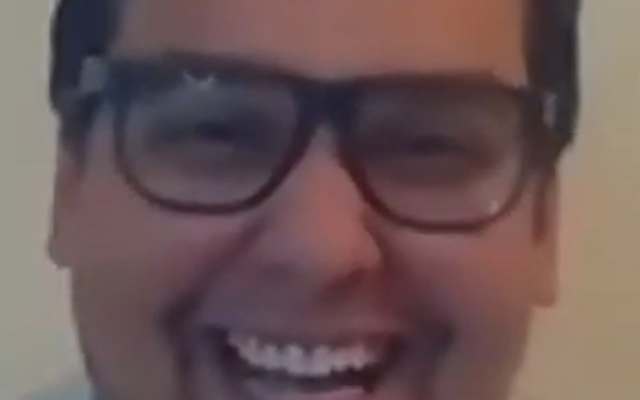 Federal prosecutors have charged Representative George Santos, a Republican Congressman from New York City, with crimes, according to reports. He is expected to appear in court during the middle of the week. 
CNN writes, "The exact nature of the charges couldn't immediately be learned but the FBI and the Justice Department public integrity prosecutors in New York and Washington have been examining allegations of false statements in Santos' campaign finance filings and other claims.

The congressman's attorney declined to comment. Spokespeople for the Brooklyn US Attorney's Office, the Justice Department and the FBI declined to comment.

A spokeswoman for Santos, Naysa Woomer, would not respond to shouted questions from reporters Tuesday afternoon and abruptly departed the congressman's DC office with her backpack when asked about the federal charges against him. Prior to her departure from the office, CNN witnessed three staffers for Santos abruptly depart with their bags. They wouldn't talk when pressed for comment.

The freshman congressman, who was elected last year to represent a district that includes parts of Long Island and Queens, has been under investigation in multiple jurisdictions and by the House Ethics Committee.
Over the past year, Santos has been the subject of several investigations examining his his personal and campaign finances after evidence showed that the congressman's biography was fabricated.
His hometown newspaper writes that "the charges come after months of investigation by the Eastern District of the U.S. attorney's office, which has been conducting one of the inquiries into Mr. Santos's financial and campaign activities.
Mr. Santos has been subject to intense scrutiny in the wake of reporting published by The New York Times last year that found he had lied about his biography, education and work history to voters and that raised questions about his personal wealth and campaign finances.
Subsequent reporting uncovered evidence of possible misconduct, including an unregistered fund that purported to be raising huge amounts for Mr. Santos's campaign seemingly in violation of campaign finance laws, hundreds of thousands of dollars in unexplained spending and a strange string of payments for $199.99, just below the threshold where receipts would be required.
The F.B.I., federal prosecutors and the Nassau County district attorney's office have also been investigating Mr. Santos's role in brokering a $19 million luxury yacht deal between two of his wealthy donors. And the Securities and Exchange Commission has made inquiries into the work that Mr. Santos did for the troubled financial firm Harbor City Capital, which the government accused of operating as a Ponzi scheme."
In March, Santos admitted that in 2010, he told police that he wrote bad checks from a stolen checkbook belonging to an elderly man his mother cared for to purchase the items. 
Politico noted, "In New York, the GOP and the conservative parties don't expect him to resign, according to a Republican familiar with their thinking who spoke candidly on condition of anonymity. Instead, this person said they expect Santos to try and use resignation as a bargaining chip, as they presume he is guilty of the charges set to be filed.
But Speaker Kevin McCarthy has been far more quiet, particularly given that Santos' vote is integral to his four-seat majority as he wages a major fight with the Biden administration over the debt ceiling.
Speaking to reporters Tuesday night, the California Republican declined to put pressure on Santos. McCarthy noted that the New Yorker has already ceded his committees, adding that in past cases he has waited until a guilty verdict before calling on a member to resign."
[Read More: Tucker Carlson Launches New Show On….]