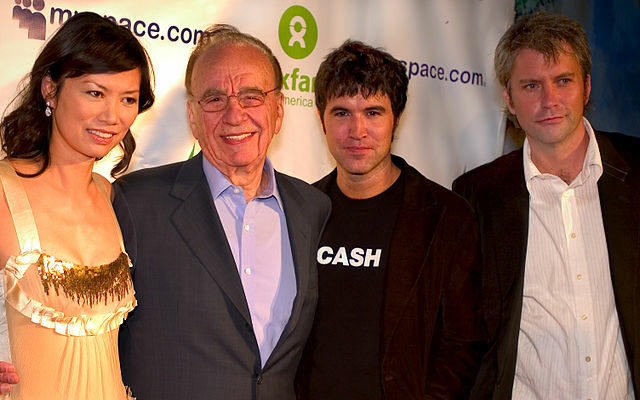 If the rumors are true, it looks like Fox News did in fact bow to censorship calls from a politician, just not the one most of us thought. News Corp executive chairman Rupert Murdoch and Fox Corporation CEO Lachlan Murdoch both reportedly spoke with Ukrainian President Volodymyr Zelensky in the months before Fox News host and outspoken Zelensky critic Tucker Carlson was fired from their news network.
Semafor reported on Monday that the senior Murdoch held an "unreported" call with Zelensky in spring of this year. During their call, the two men reportedly discussed Ukraine's ongoing conflict with Russia and the death of Fox News journalists Pierre Zakrzewski and Oleksandra Kuvshynova in Ukraine in March 2022. Semafor also reported that Murdoch's son Lachlan held a separate call with Zelensky on March 15, where the two discussed similar topics.
While both meetings were held just weeks before Carlson's sudden and unexpected departure from Fox News on April 24, Zelensky reportedly did not speak to either Murdoch about the Fox News host, according to Mediate.
Semafor noted that "the Murdoch's have not revealed which of Carlson's many provocations triggered his firing, and there's no particular suggestion that Zelenskyy — whom Carlson had called a "dictator" — delivered the final blow.
But Carlson's firing will immediately relieve pressure on key Capitol Hill Ukraine supporters whom Carlson had criticized on air — and sometimes pressed behind the scenes to change their positions on the war."
Zelensky's government has created a blacklist of Americans who they believe need to be shut up.
The Week writes, "Ukraine's Center for Countering Disinformation announced Monday that it had compiled a list of American citizens who have been "promoting Russian propaganda."

The center, which Ukrainian President Volodymyr Zelensky created in 2021, named Sen. Rand Paul (R-Ky.), former Rep. Tulsi Gabbard (D-Hawaii), journalist Glenn Greenwald, retired U.S. Army Colonel Douglas MacGregor, academic John Mearsheimer, and military historian Edward Luttwak.

Gabbard and Greenwald have endorsed the theory — which Russia promotes and Ukraine denies — that there are dozens of U.S.-funded biolabs in Ukraine. In the early days of the invasion, MacGregor told Fox News that Zelensky was a "puppet" and was "putting huge numbers of his own population at unnecessary risk" by refusing to cave to Russian President Vladimir Putin's demands.

Mearsheimer delivered a lecture in 2015 with the title "Why is Ukraine the West's Fault?" in which he argued that NATO and the EU had driven Ukraine into conflict with Russia by teasing the possibility of membership without ever intending to grant it. Paul made similar statements and has voted against military aid for Ukraine. In April, Luttwak called for a peace deal that would allow disputed territories in the Donbas to hold referendums on whether to join with Russia or remain part of Ukraine."
The Ukrainian Government issued an official blacklist of Americans, Brazilians and others it accused of being Kremlin assets due to our opposition to the US proxy war – including Tulsi Gabbard, Tucker, Lula da Silva, Rand Paul, me and John Mearsheimer, https://t.co/mRXqDDN0ER https://t.co/NtfaD51VNA

— Glenn Greenwald (@ggreenwald) May 1, 2023
It did not take too much of a push to get Rupert Murdoch to acquiesce. The Washington Post reported last week that "according to people familiar with their conversation and Murdoch's thinking, the 92-year-old billionaire founder of Fox News had grown weary of some of Carlson's increasingly far-right commentary on his nightly prime-time show — as well as some of the swaggering host's behind-the-scenes attitude.
At that particular moment, he was disturbed by Carlson's stance on Ukraine. A graphic on Carlson's show had referred to Volodymyr Zelensky, president of the besieged nation, as a "Ukrainian pimp," and the host had repeatedly excoriated the U.S. government for providing aid to its defense against Russian attacks.
These stances had made Carlson a star on Russian state-controlled TV. But they had drawn furious blowback from powerful Republicans who see U.S. support for Ukraine as a bulwark in a fight for freedom and democracy — some of whom had Murdoch's ear. After one such on-air segment in mid-March, Murdoch joined a Fox newsroom meeting to loudly challenge Carlson's message, according to people familiar with the meeting, who spoke on the condition of anonymity because of newsroom confidentiality policies.
Two days after Fox News abruptly fired its top-rated host, ambiguity still swirled around the question of how exactly Carlson, a major influencer in GOP politics, had fallen from grace so quickly within a network that soared to success by catering to conservative audiences."
Carlson has been a major critic of the spending of American money in Ukraine and has often connected not only the apparent corrupt connections between the troubled country and the Biden family, but also between Ukraine and American corporations who seem to be making money from the war. 
In January, Tucker Carlson reacted to a video of Zelensky thanking BlackRock, J.P. Morgan and Goldman Sachs for "rebuilding" Ukraine.

Tucker Carlson has consistently covered the corruption in Ukraine. He has also said that BlackRock is pushing ESG.

Well, in February of this… pic.twitter.com/6DxpF9WJcP

— Liam McCollum (@MLiamMcCollum) April 25, 2023
Last month, Carlson attacked Zelensky as a "destructive force." He said, "Zelenskyy himself is a very dark force. That is obvious if you watch him. It is unmistakable. Who could not see that? This man is a destroyer. He banned a Christian faith in his country and arrested nuns and priests. Oh, but he's a hero, claim our leaders from Chuck Schumer to Mitch McConnell. No, Zelenskyy is not a hero. He is an instrument of total destruction. That is not a defense of his enemies. It's just true and maybe that's why Joe Biden is drawn to him. Biden landed in Kyiv today to promote another world war. 
Note the air raid sirens in the background. What's strange is there didn't seem to be any air raids in Kyiv this morning. We checked. There were just air raid sirens at precisely the moment that Joe Biden appeared for a photo op. Even CNN's reporters on the ground in Kyiv know that they've been in the city for the past five days and didn't hear any bombs or missile strikes or any sirens until the moment that Biden walked out for the cameras.  
REPORTER: I've been here for the past five days. I have not heard any explosions. I have not heard any air sirens until about half an hour ago, right when President Biden was in the center of Kyiv. 
Right. So, here you have Potemkin air raid sirens, just the touch required in this, the most tightly scripted, most completely dishonest war in history, the fakest war and the point, of course, is to sell Americans on yet another $500 million in tax dollars for Ukraine for the Zelenskyy government."
 In a short video after his firing, Carlson said, "When honest people say what's true, calmly and without embarrassment, they become powerful. At the same time, the liars who have been trying to silence them, shrink and they became weaker. That's the iron law of the universe, true things prevail," Carlson stated.
'As long as you can hear the words, there is hope. See you soon.'"
Is Zelensky the reason why Murdoch is looking to keep Carlson off the air until the end of the next election? 
[Read More: Hunter Finally Goes To Court]