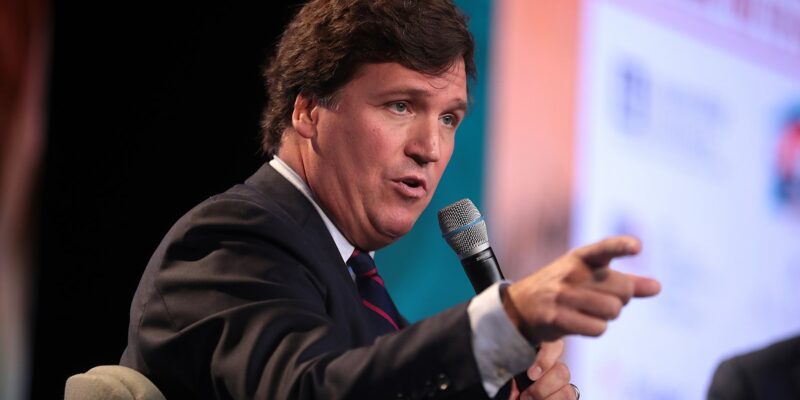 Another shoe has dropped in the aftermath of the Dominion Voting Machines lawsuit that cost Fox News lawsuit hundreds of millions of dollars. Tucker Carlson, a longtime contributor and star of one of the channel's most popular shows, has been let go. 
The Speaker of the House had given Tucker Carlson 41,000 hours of footage of the January 6, 2021, riot at the Capitol, but nothing much came from it. 
The news channel released the following statement: FOX News Media and Tucker Carlson have agreed to part ways. We thank him for his service to the network as a host and prior to that as a contributor.

Mr. Carlson's last program was Friday April 21st. Fox News Tonight will air live at 8 PM/ET starting this evening as an interim show helmed by rotating FOX News personalities until a new host is named.

FOX News Media operates the FOX News Channel (FNC), FOX Business Network (FBN), FOX News Digital, FOX News Audio, FOX News Books, the direct-to-consumer streaming services FOX Nation and FOX News International and the free ad-supported television service FOX Weather. Currently the number one network in all of cable, FNC has also been the most watched television news channel for more than 21 consecutive years, while FBN ranks among the top business channels on cable. Owned by Fox Corporation, FOX News Media reaches nearly 200 million people each month.
"The abrupt departure of the controversial prime time host comes a week after Fox News reached a $787.5 million settlement with Dominion Voting Systems for over the network's promotion of former President Donald Trump's false 2020 election claims," writes Mediate.
"That bombshell settlement — the biggest media payout in history — prompted many to question if Rupert Murdoch would make major changes at the network."
News of Carlson's canning follows the announcement that another conservative favorite, Dan Bongino, would not be returning to the network.
Forbes reports that "Fox News has ended its relationship with Dan Bongino, who hosted the Saturday night show Unfiltered with Dan Bongino. 'Folks, regretfully, last week was my last show on Fox News on the Fox News Channel,' Bongino said on his podcast Thursday. 'It's tough. It's tough to say that. You know, I've been there doing hits and working there for ten years…so the show ending was tough. And I want you to know it's not some big conspiracy. I promise you. There's no acrimony. This wasn't some WWE brawl that happened. We just couldn't come to terms on an extension.'
Bongino's Canceled in the USA show, which has streamed on Fox's streaming service, Fox Nation, will end as well. In a statement, Fox News said, 'We thank Dan for his contributions and wish him success in his future endeavors.' The last episode of Bongino's Saturday night program aired on April 15th.
'It's a sad day,' Bongino said on his podcast, noting that he was given the chance to do one final episode of the show, but he decided not to. 'The most important events in my life I learned about on Fox News,' Bongino said, reflecting on his long ties to the network. Fox will air Lawrence Jones Cross Country in place of Bongino's show this Saturday, and the network says a new schedule will be announced 'in the coming weeks.'
Bongino's show, which aired at 9 p.m. ET on Saturdays, was a ratings success for Fox News, with last Saturday's episode of Unfiltered—the final episode—drawing 1.179 million viewers. It ranked as the highest-rated show of the day Saturday." 
The discovery process for the Dominion case against Fox News revealed that while Carlson would often defend Donald Trump on air, he privately detested the former president. In one surprising text message, Carlson wrote that he hates Trump "passionately." 
Carlson's show "Tucker Carlson Tonight" launched in 2016 and was one of the top-rated shows over its six seasons. 
Some commentators online are already asking the obvious follow up: Is Sean Hannity next?
If you're dumping Carlson, there's really no way you can keep Hannity. Let's see if/when that shoe drops.

— Varad Mehta (@varadmehta) April 24, 2023
[Read More: Biden's Plan To Force Those With Good Credit To Pay More]