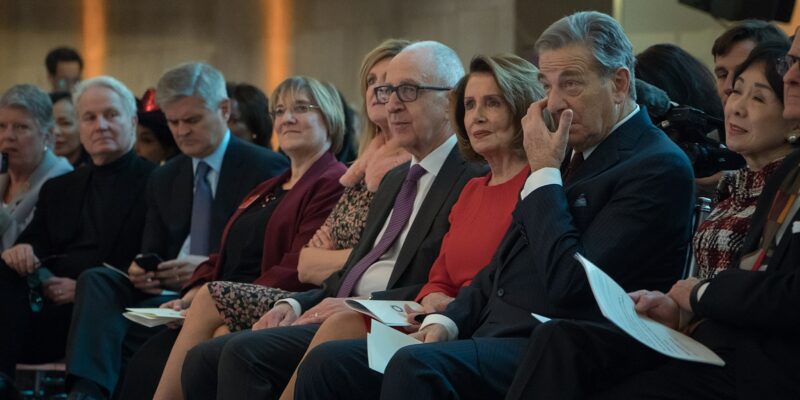 While the Speaker of the House was in Washington, an assailant broke into Nancy Pelosi's home in San Francisco and attacked her husband, Paul, with a hammer. He was sent to the hospital but is expected to make a full recovery, a spokesman for Pelosi said in a statement.
"The US Capitol Police released a statement saying that they are assisting the FBI and the San Francisco Police 'with a joint investigation' into the break-in at the Pelosi residence in California," according to CNN.
The White House said that Joe Biden said that he spoke with Speaker Pelosi. "The President is praying for Paul Pelosi and for Speaker Pelosi's whole family. This morning he called Speaker Pelosi to express his support after this horrible attack," press secretary Karine Jean-Pierre said in a written statement. "He is also very glad that a full recovery is expected. The President continues to condemn all violence, and asks that the family's desire for privacy be respected."
The New York Times reported, "Early this morning, an assailant broke into the Pelosi residence in San Francisco and violently assaulted Mr. Pelosi," Drew Hammill, the spokesman, said in a statement on Friday. "The assailant is in custody and the motivation for the attack is under investigation."

The San Francisco Police Department responded to a report of a home break-in at about 2:27 a.m. on Friday, a spokesman for the department, Officer Robert Rueca, said in a statement. "During this incident an 82-year-old male victim was attacked, and the suspect was taken into custody," he said.

The Pelosis have owned a three-floor red brick townhouse in San Francisco's exclusive Pacific Heights neighborhood since 1987. In January 2021, after Congress passed a stimulus bill, their home was vandalized with graffiti, and a pig's head was left on the sidewalk. The vandalism occurred before the Jan. 6, 2021, attack on the U.S. Capitol."

Mr. Pelosi is a real estate and technology investor. He met Ms. Pelosi at Georgetown University in Washington, and they married in 1963.
AP stated, "The intruder who attacked House Speaker Nancy Pelosi's husband in their San Francisco home was searching for the Democratic leader, shouting 'Where is Nancy, where is Nancy?' before assaulting Paul Pelosi with a hammer.
That was a chilling echo of the chants during the Jan. 6, 2021, insurrection at the Capitol, when rioters trying to stop Joe Biden's election searched menacingly through the halls for the speaker." The suspect had allegedly posted conspiracy theories related to the 2020 election and COVID-19.
In May, Paul Pelosi was arrested over the weekend in Napa County, California. He had been allegedly driving his sports car drunk and crashed it. California Highway Patrol stated that Paul Pelosi "was booked into the Napa County Detention Center on two DUI-related counts." It was suggested that he might have been leaving the massive vineyard he owns with the Speaker of the House. 
Violence against politicians has risen over the past few years. In June 2017, as members of Congress practiced for the annual Congressional Baseball Game for Charity, a man asked then-congressmen Ron DeSantis and Jeff Duncan "if the players in red shirts on the field were Republicans or Democrats." When one of them answered Republican, the man walked onto the field and opened fire on the politicians, nearly killing then-House GOP Whip Steve Scalise.
In 2020, Senate Majority Leader Chuck Schumer stood in front of the Supreme Court and threatened members of the Supreme Court, "I want to tell you Neil Gorusch, and you Brett Kavanaugh, you have unleashed a whirlwind, and you will pay the price. You won't know what hit you, if you go forward with these awful decisions."
In May, Chicago Mayor Lori Lightfoot called for "taking back arms" following a leaked draft of a Supreme Court decision to overturn Roe v Wade. During the same month, Supreme Court Justice Samuel Alito, who wrote the leaked draft opinion in Dobbs v. Jackson, was reportedly moved to an "undisclosed location with his family due to concerns for their safety" and an assassin tried to break into the home of Justice Brett Kavanaugh.
Just a few weeks ago, a shooting occurred outside of the home of the Republican nominee for governor of New York, Lee Zeldin, but his daughters, who were home at the time, left the scene unharmed.  
The last two presidents have done all they could to raise the temperature in terms of instigating violence from their supporters. A former White House aid testified, according to CNBC, that "when former President Donald Trump heard his supporters chanting 'hang Mike Pence' during the Jan. 6 Capitol riot, White House aides said he told them the vice president 'deserves' it."
Joe Biden has only made matters worse. Ridiculted by foreign press, he labeled anyone who disagrees with him as "semi-fascists" and gave an ominous speech described as a "picturesque setting with a dark twist" while backed by two Marines at Independence Hall in which he called Republicans "extremists" who want to "take us backward" and "live in the shadow of lies." 
A poll showed that nearly 57 percent of likely general election voters said Biden's speech represented "a dangerous escalation in rhetoric and [was] designed to incite conflict amongst Americans." Almost 63 percent of independent voters found the speech to be a "dangerous escalation."
A string of recent arrests of pro-life activists, along with declaring protesters at a school boards terrorists, has led to the president, and Attorney General Merrick Garland, to accused of using the FBI to attack political opposition.
Joe Biden continues to be one of the most disliked presidents in modern history. As his Democratic Party looks more and more likely to face a backlash in the upcoming midterm elections, party leaders and allies have begun spouting conspiracy theories about elections and called for foreign governments to monitor vote counting. 
Recent polling has shown that most Americans do not want Biden or Trump to run for president in 2024.
[Read More: Leading Democrat Senator Facing New Federal Investigation]