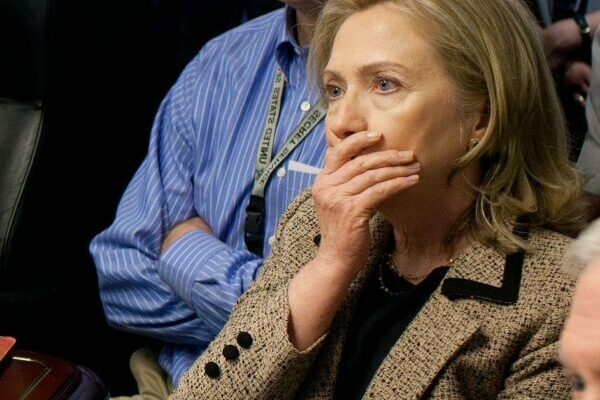 You can tell that Democrats are worried about the midterms because they all of a sudden support the filibuster again, have begun talking about elections being stolen, and have started demanding more monitoring of the polls. 
After calling it "a relic of the Jim Crow era" and said "it gave too much power to small states, thwarting the popular will of the country." because it's a "tool that obstructionists," The Washington Post reported, "Senate Democrats are cooling to the idea of weakening the filibuster with many forecasters giving Republicans the edge to control the House." 
The Daily Caller wrote, "Forty-eight Senate Democrats voted in January to eliminate the filibuster to pass elections nationalization legislation, although Joe Manchin of West Virginia and Kyrsten Sinema of Arizona joined with Republicans to save the procedure. Although Democratic Senate nominees Tim Ryan of Ohio, Mandela Barnes of Wisconsin and John Fetterman of Pennsylvania have pledged to blow up the filibuster, polling shows the party is unlikely to have the votes necessary to do so.

"It doesn't have the same impact because they'll kill it over in the House, so it becomes less of a priority," Democratic Rhode Island Sen. Sheldon Whitehouse told The Washington Post. One of 30 Democratic senators who signed a letter to then-Majority Leader Mitch McConnell urging him to keep the filibuster, Whitehouse later argued his party might need "to find some extraordinary measure" to stop Republican "intransigence."

Democratic Wisconsin Sen. Tammy Baldwin added that eliminating the filibuster is a "moot point" if Republicans take control, and that she would continue to work across the aisle to pass a bill affirming the legality of gay marriage.

Arizona Sen. Mark Kelly, one of the last Democrats to come out in favor of blowing up the filibuster, appeared to walk back his support for ending the procedure. He will "take a look at any proposed changes and make a decision based on what's in the best interest of Arizona and the country," he told The Washington Post."
As often happens when Republicans are winning, Democrats and their allies in the media have begun to cast doubts on the integrity of our elections. Legal Insurrection noted, "Remember, when the Democrats lose, it's because of cheating and intimidation by the Republican Party and their dictator friends.
MSNBC's Nicole Wallace spread the lie about all kinds of threats surrounding the 2020 election, including violence. She used the lie to suggest that we need to have our' friends and allies' to monitor the election."
TWO YEARS AGO: "This was the most secure election ever, and anyone questioning the integrity is a traitor!"

TODAY (facing a red wave): "We are basically a third-world nation and cannot handle our own elections so we need others to come in and hold us accountable." https://t.co/NJ0K8raupr

— Brad Slager: Polling For Soup (@MartiniShark) October 25, 2022
Congressman Jim Himes out of Connecticut, Wallace's guest, went even further down the rabbit hole of conspiracy theory, babbling about Republicans with assault weapons scaring Democrats at the polls. 
MSNBC's Nicolle Wallace: "The threats to our elections in two-and-a-half weeks are so pervasive and so dire — they include violence — do you think it's time to ask for friends and allies to come over and help us monitor our elections?" pic.twitter.com/kDAzqSHR8F

— Justin Baragona (@justinbaragona) October 24, 2022
Former Senator Claire McCaskill agreed with Wallace's nutty idea that we should have foreign countries monitoring our elections should Democrats not be allowed to continue holding power. "If people don't show up and vote in November in these midterms, we will have to have other countries sending monitors to America to watch our votes."
Claire McCaskill on MSNBC earlier this month:

"If people don't show up and vote in November in these midterms, we will have to have other countries sending monitors to America to watch our votes." pic.twitter.com/232oomw5JR

— Townhall.com (@townhallcom) October 25, 2022
No one, however, plays a conspiracy theory for power quite like Hillary Clinton. Fox News reported, "Former Secretary of State Hillary Clinton is accusing Republicans of plotting to 'steal the next presidential election.'
Clinton, whose 2016 White House hopes were dashed by former President Donald Trump, made the accusation last week in a promotional video for the progressive advocacy group Indivisible.
'Right-wing extremists already have a plan to literally steal the next presidential election. And they're not making a secret of it,' said Clinton. 'The right-wing-controlled Supreme Court may be poised to rule on giving state legislatures the power to overturn presidential elections.'"
Clinton's absurd video can be seen below:
Hillary Clinton says that "Right wing extremists already have a plan to literally steal the next presidential election."pic.twitter.com/7zjmDgMjOW

— The Post Millennial (@TPostMillennial) October 25, 2022
In 2019, the former Secretary of State went on television to complain about the Trump presidency and her terrible campaign's shocking defeat, calling the 45th president's victory "illegitimate." 
As for the doddering old man currently in the White House, he has blamed the future Republican Congress for today's economic woes rather than his massive spending, which has driven up inflation. 
There have been warning signs for months that Democrats are going to be crushed at the polls. For example, the Daily Caller recently discussed polling among a reliably Democratic voting base that seems to be sick of them: "Among black voters, 52% believe the U.S. is headed in the wrong direction, and 18% say they will vote for the Republican candidate if the election were held today, according to the New York Times/ Siena Poll.
The number of black voters supporting GOP candidates has been trending upward since the 2016 elections when former President Donald Trump received just 8% of black voter support. Trump fared better in the 2020 presidential election, with the exit polls showing him gaining 4-points among black voters, garnering 12% of the vote, CBS News reported."
Democrats better have their excuses in order come two weeks. 
[Read More: Report: Stacey Abrams 'Voting Rights' Org Funneled Money To Pals]