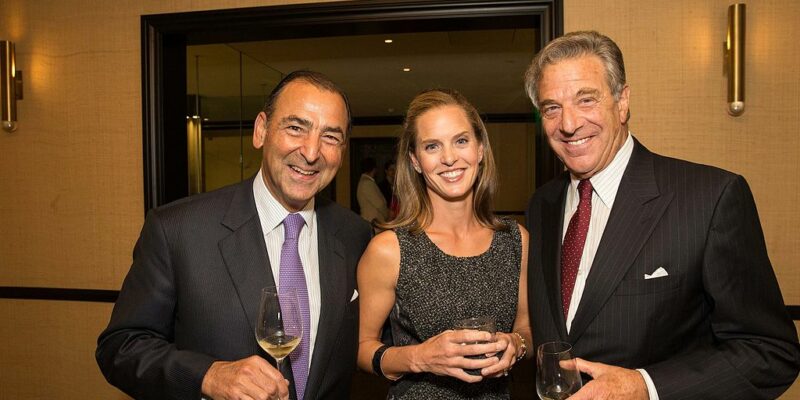 The husband of Speaker Nancy Pelosi was arrested over the weekend in Napa County, California. He was allegedly driving his sports car drunk and crashed it. California Highway Patrol stated that Paul Pelosi "was booked into the Napa County Detention Center on two DUI-related counts."
The New York Times reported, "Bail for Mr. Pelosi, 82, was set at $5,000. County records show he was released from custody on Sunday morning. The charge he faces is a misdemeanor.

Mr. Pelosi was driving a 2021 Porsche and attempted to cross State Route 29 when his car was struck by another vehicle, a Jeep, at 10:26 p.m., according to a California Highway Patrol report. No one was injured, according to the report.

Ms. Pelosi, a Democrat, has not addressed the arrest publicly. On Sunday, she delivered a commencement address at Brown University."
TMZ offered more details: "Paul was involved in a car crash, and that's how officers spotted him. At 10:26 PM Saturday night, the CHP got a call about a 2-car crash in the Napa area, this according to the collision report obtained by TMZ. Paul was driving a 2021 Porsche when his car was struck by a Jeep. He was arrested at 11:44 PM and booked into the Napa County Detention Center for DUI. No one was injured in the crash."
This is the second time in recent months that alcohol-related problems have been in the same headlines as Nancy Pelosi. Back in March, theories cropped up online that the Speaker was drunk at a press conference after she gave an odd and garbled press conference about the Ukraine-Russia War. "A North Carolina member of the House of Representatives suggested that 'The theories of alcoholism are very true, and it's very sad.' For her part, the Speaker's Office has responded to these accusations by saying she does not drink alcohol, and others have labeled her as a teetotaler."
Labeling Pelosi as a "teetotaler" has always seemed odd. In 2015 she became the fourth-richest member of Congress because of the value of the vineyard that she owns in Napa Valley. In 2014, the Los Angeles Times noted, "the Pelosi estate on Zinfandel Lane, for example, is valued between $5,000,001 and $25 million." Such a broad range is allowed in financial disclosures under House rules. It has been reported that the Speaker doesn't produce her own wine but is "a top supplier of grapes to winemakers."
In 2010, the Congresswoman Michelle Bachmann claimed, "Nancy Pelosi's bill for alcohol on her flights from Washington to San Fran every week? We pay for it," Woolery tweeted Jan. 17. '1000 dollars. On average 52,000 Bucks, a year for BOOZE. Taxpayer money." Politifact said that is was baseless because the $100,000 also included food expenses. No really, that's what they said. 
The rumors of Pelosi's alleged drunkenness became so persistent over the decades that back in 2020 Politifact did a deep dive on whether or not Nancy Pelosi was a drunk. They determined that she wasn't. 
California law states mandatory jail time for getting a DUI. One site states, "Under Section 23536 of the Vehicle Code, an individual convicted of a DUI offense for the first time is mandated to spend 96 hours in county jail. The section specifies that at least 48 hours must be continuous. It allows the judge some discretion to schedule the sentence around the individual's working hours.
Taken alone, this suggests that a DUI offense carries mandatory jail time. However, Section 23538 allows judges some room to modify the minimum jail time for individuals who are granted probation. For those individuals, it is possible to spend only 48 hours in jail instead of 96.
In practice, it may be possible to avoid jail time together for a first offense. Judges can agree to waive the jail sentence for individuals who successfully complete the three to five years of probation, including any mandatory DUI education classes. In many cases, individuals only receive this sort of treatment because they have a strong advocate in their corner."
I suppose being married to the Speaker of the House, along with being worth well over 100 million dollars, means that Paul will "have a strong advocate in his corner." 
[Read More: The Most Expensive Memorial Day Ever]