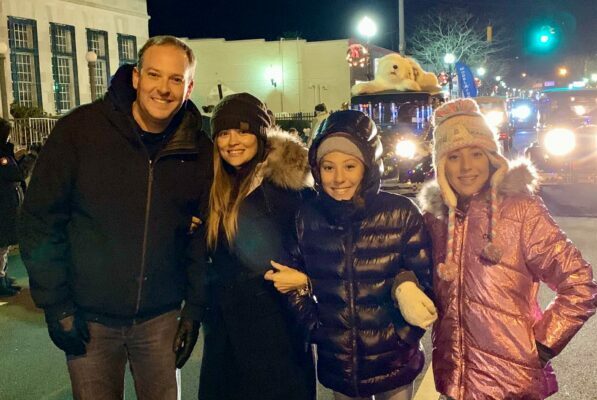 In yet another scary scene, the Republican candidate for governor of New York, Congressman Lee Zeldin, announced that his family experienced another act of violence when two teens were shot outside of his Long Island residence over the weekend. Luckily his family was missed by a bullet that landed near his daughters as they did their homework.
According to CBS, "The boys, both 17, were walking with a third teenager on the street in Shirley, New York, where Zeldin lives when they were hit by gunfire from a moving car, Suffolk County Police said.
The wounded teens then tried to hide in Zeldin's yard, ducking under his porch and into the bushes, while the person who was with them fled.
The congressman and his wife were not at home at the time of the shooting but their teenage daughters were in the kitchen doing homework when they heard gunshots and screaming, Zeldin said."
"The Suffolk County Police Department said that detectives were investigating the shooting, outside a home in Shirley on Long Island at 2:20 p.m. The two 17-year-old boys, who are from Mastic and Mastic Beach, were taken to a hospital with injuries that were not life threatening, the department said," wrote the New York Times.

"At a news conference late Sunday, Mr. Zeldin said that the teenagers could be seen on security-camera footage hiding underneath his porch and near a bush in front of his porch. Mr. Zeldin said that they were likely shot before they entered the frame of his security cameras.

Mr. Zeldin said that he did not know the teenagers. The authorities also said there was no connection between the injured and the residents of the home.

Suffolk County police said late Sunday that three teenagers were walking on Saint George Drive West when someone in a dark-colored vehicle fired multiple gunshots and hit two of the teenagers. The police said the wounded boys tried to hide in the yard of a residence on the street and that the third teen fled the scene on foot."
In a statement, Zeldin thanked "everyone who reached out expressing concern regarding the shooting outside my home this afternoon around 2:18 p.m.
My 16 year old daughters, Mikayla and Arianna, were at our house doing homework, while my wife, Diana, and I were in the car, having just departed the Bronk Columbus Day Parade in Morris Park. 
After my daughters heard the gunshots and the screaming, they ran upstairs, locked themselves in the bathroom and immediately called 911. They acted very swiftly and smartly every step of the way and Diana and I are extremely proud of them. 
The two individuals who were shot were laying down under my front porch and the bushes in front of our porch. My understanding is that they have been transported to area hospitals. I do not know their identities. 
Law enforcement is currently at our house. My entire family is at home working with the investigators and providing the security footage from our home cameras.
My daughters are shaken, but ok. Like so many New Yorkers, crime has literally made its way to our front door. My family is grateful to all who have reached our and we will provide another update when we can."
Zeldin's twin daughters recently celebrated their 16th birthday just a two weeks ago.
Happy Sweet 16 to my baby girls, Mikayla and Arianna! From fighting for their lives in the NICU to now thriving as high schoolers with bright futures ahead, Mama and I couldn't possibly be more proud! 🎉❤️ pic.twitter.com/05R4xOuLuW

— Lee Zeldin (@RepLeeZeldin) September 29, 2022
The New York Post reported, "A Bloods gang beef may have prompted the shooting outside the Long Island home of gubernatorial candidate Lee Zeldin, police sources said Monday — as troubling new details about the broad-daylight gunplay surfaced.
Neighbors described the pandemonium that broke out — including how one of the victims cried and screamed, 'Oh, my God!' as bullets flew on the typically bucolic Shirley street around 2:20 p.m. Sunday, injuring two teens.
A third teen targeted in the gang-related drive-by shooting, a local high-school sophomore, escaped unharmed, running home in a panic after his near-miss, his brother said. 
'At first we didn't believe him,' Tyvon Smith, 26, told The Post of his 15-year-old brother, Tyler. 'Tyler came over in shock. He was crying, saying that his friends, his brothers, got shot.'" 
Zeldin has been mocked by liberals with their heads in the sand for taking a tough-on-crime approach to the campaign. For example, just days before the shooting at Zeldin's house, Mother Jones wrote, "Republicans Are Going All In to Convince You Crime Is Out of Control. They Don't Have Any Proof." 
The proof is in the statistics, however. Overall crime has increased by 31.1 percent in New York City over the past year.
In a separate interview with The Post, the Republican said more about the shooting near his house, "It hits us close to home when you read stories of other families being impacted by crime, when young innocent kids have been exposed to crime that they'll never forget for the rest of their lives. 
Something bold and significant needs to be done to make life in New York safe again. It's not just a story we read about every few days or weeks. This is happening throughout the day, every day, in New York. It hits as close as it gets when it shows up at your front doorstep." 
The newspaper wrote that Zeldin backs up his tough language with clear evidence and policy. When talking about crime, he stated, "We need to roll back the pro-criminal laws. We need to hold DAs accountable who are refusing to enforce the law. And we need to unapologetically back our men and women in blue. I believe that if you're a DA who refuses to do your job … the governor's job constitutionally is to remove that DA who refuses to enforce the law."
This was not the first time that Zeldin has experienced violence as he's run for governor. In July, a man climbed onto the stage where he was speaking and tried to stab him before the Iraq War veteran stopped him and avoided the weapon.
Zeldin was unharmed by the attack. He told reporters, "His words as he tried to stab me a few hours ago were 'you're done'. I'm ok…fortunately, I was able to grab his wrist and stop him for a few moments until others tackled him."
New York has not elected a Republican as governor in 20 years. The Trafalgar polling outfit has the race as neck-in-neck, with the Democrat leading Zeldin by just two points. 
[PayPal Says It's The Thought Police, Wants To 'Fine' You For Speech It Doesn't Like]