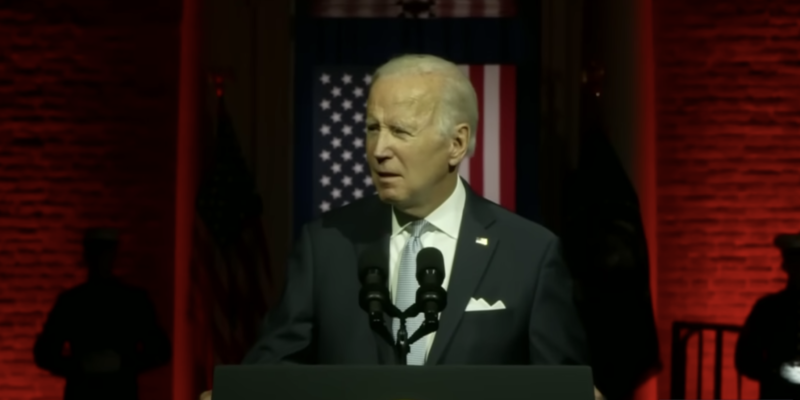 Just over a year and a half ago, a Joe Biden took the stage as the new president and said, "With unity we can do great things, important things. Without unity, there is no peace. Only bitterness and fury. No progress, only exhausting outrage. No nation, only a state of chaos. This is our historic moment of crisis and challenge, and unity is the path forward."
Things have certainly changed as President Biden has become one of the most unpopular presidents in modern history. 
The president's "Soul of the Nation" speech last Monday followed up one of the most bizarre speeches ever given by an occupant of the White House. Standing in front of two Marines with creepy red lighting, Biden labeled the over half of the United States who oppose him as "MAGA Republicans" who, if they don't work with him, are "extreme" and want to "take us backward." Earlier in the week, he labeled the same people as semi-fascists. 
Liberals, of course, lavished praise on the president's attacks on half the country. "Democratic strategist Michael Starr Hopkins ran with the war comparison on MSNBC later on Friday morning. 'I've been critical of the president, his unwillingness to really take it to Republicans and call them what they are, which is fascist," he said. "And I think now we're seeing a president who's ready to go to battle, he's ready for the midterms.'"
Others pretended that America was already at war with itself. Washington Post columnist Eugene Robinson, for example, said that the speech "sounded like a president delivering a war-time address."  
The speech was not without its many critics. Commentator Ben Shapiro called it "the most demagogic, outrageous, and divisive speech I have ever seen from an American president. Joe Biden essentially declared all those who oppose him and his agenda enemies of the republic. Truly shameful."
The negative responses were bipartisan. Scott Street, a liberal lawyer wrote in The Federalist, "I am a lifelong Democrat. I even worked for Joe Biden at one time. Thus, nothing that has happened in America since January 2021 has surprised me. But the president's speech in Philadelphia last week marked a new low for America and a new low for a party that I once idolized.
To me, the Democratic Party was the party of hope, tolerance, and opportunity. Indeed, those themes echoed through Bill Clinton's speeches in 1992. Clinton's presidency was the high-water mark of the post-war Democratic Party. He blended JFK's idealism with Reagan's folksiness. He embodied America's middle class, the greatest political force at the time, and pulled the country into a new century that our leaders promised would be peaceful and safe.
That has all vanished. Biden's speech in Philadelphia last Thursday confirmed it."
The founder of Barstool Sports, Dave Portnoy summed up the imagery for many: "The man looks like Nazi Germany, with a dash of Cold War Soviet Union." 
The public agrees that Biden has gone too far and is working to divide the country and get us to fight each other. Public polling shows it. 
The Post Millennial broke down a recent poll, conducted by the Trafalgar Group for the Convention of States Action, found that 56.8 percent of likely general election voters said that Biden's speech in which he designated MAGA Republicans extremists "represents a dangerous escalation in rhetoric and is designed to incite conflict amongst Americans."

35.5 percent of Americans said that the speech "is acceptable campaign messaging that is expected in an election year."

70.8 percent of Democrats said that the speech was "acceptable campaign messaging," while 18.7 percent said that it was "designed to incite conflict."

A vast majority of Republicans, 89.1 percent, said that Biden's speech "represents a dangerous escalation," with just 4.7 percent saying it was "acceptable," and 6.2 percent saying they weren't sure.

62.4 percent of independent voters said the speech was a "dangerous escalation," while 31.2 percent said it was "acceptable."
Biden was also heavily criticized for breaking his promise to not use the military as political props. During the 2020 campaign, then-candidate Biden told the National Guard, "But I promise you as president, I'll never put you in the middle of politics or personal vendettas. I'll never use the military as a prop or as a private militia to violate the rights of fellow citizens. That's not law and order. You don't deserve that."
Fox News reported, "Concerned Veterans for America deputy director and U.S. Marine Corps veteran John Byrnes blasted Biden for having Marines visibly positioned behind him during his inflammatory speech on Thursday, in which he said that the influence of 'MAGA Republicans' on the GOP "is a threat to this country.'
Byrnes said that American' men and women in uniform serve the country, not a party' and 'take a solemn oath that should not be taken lightly or taken advantage of.'
'When elected officials use our troops as props in political and partisan messaging, it undermines the nonpartisan nature of our military and erodes trust in the institution,' Byrnes warned."
The Washington Times noted that the president is only following the radicalism of his party. The newspaper wrote, "Democratic lawmakers are far ahead of Mr. Biden when it comes to tagging Republicans with extreme labels. They have been making the case all summer that the Republican Party is steering the country toward violence, fascism and the resurgence of the Nazi flag. 
House Democrats, threatened with losing their majority in the November elections, are working to define Republicans as downright dangerous.
Rep. Eric Swalwell, California Democrat, posted a series of tweets Tuesday describing a disturbing phone call to his district office. He said the caller, who identified himself as a gay man, threatened to bring his AR-15 rifle to Swalwell's office and kill him."
In another tweet, The Times continued, "Mr. Swalwell blamed Republican 'fascists' for trying to overthrow the government and force women to have babies. 'I hesitate to share this," Mr. Swalwell tweeted to his 1.4 million followers, "but how else do I tell you we are in violent times & the architects are Trump & McCarthy. Bloodshed is coming.'"
Jonah Goldberg, hardly a Trump supporter, even called out Biden and the Democrats for their ridiculous sliming of Republicans. He tweeted, "Every day you squander your credibility on this whole "MAGA Republicans" campaign a little bit more by recycling the same talking points you used against noted MAGA Republican …<checks notes> Mitt Romney 10 years ago."
For their part, the White House has spent the week trying to walk back the radically divisive speech Biden gave. After seeing the nation's reaction, the president said, "I don't consider any Trump supporters a threat to the country." 
However, later on, while delivering a Labor Day speech in Wisconsin, he labeled a regular American who heckled his speech as someone "looking to destroy democracy." 
[Read More: Census Botched To Give Democrats More Power]