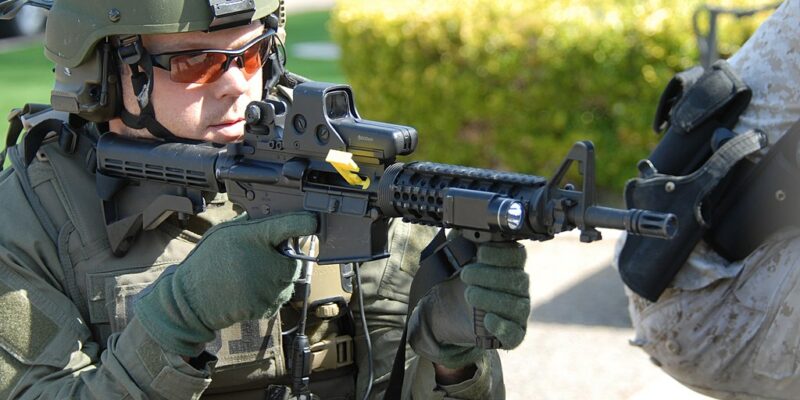 You can add another whistleblower complaint against the FBI, and this time it's coming from a SWAT Team member who's been called a "hero" in the media.
The New York Post reports that "large numbers" of rank-and-file agents at the FBI are sickened by how Bureau leaders have politicized the January 6 investigation. However, most do not want to lose their job as leadership relentlessly goes after those who disagree. 
Steve Friend, an FBI Special Agent, has been made an example of the price you have to pay to stand up for the Constitution rather than the Bureau's political bent. On Monday, the 12-year veteran was "stripped of his gun and badge, and escorted out of the FBI field office in Daytona Beach, Fla.," after conscientiously objecting to taking part in the Bureau's harassment of conservatives. 
He told supervisors, "I have an oath to uphold the Constitution" before claiming his conscientious objection to taking part in an August raid on a suspect who allegedly participated in the mobbing of the Capitol on January 6, 2021. He continued: "I have a moral objection and want to be considered a conscientious objector."
The Post also said that Friend is not a fan of Trump and did not vote for him in the 2020 election. "He told his direct managers twice that he thought the raid and the investigative process that sparked it were constitutional violations of the subject's rights to a fair trial and against cruel and unusual punishment. 
"The whistleblower was told in a letter from the head of FBI human resources on Sept. 16, that he was losing his security clearance also because he "espoused beliefs which demonstrate questionable judgment [and demonstrated] an unwillingness to comply with rules and regulations,'" according to American Greatness.
The National Review noted last week that Biden "doubled down on his administration's assertion that white supremacy-inspired domestic terrorism is the greatest threat to America, announcing an initiative to combat 'hate-fueled violence.'
During a theatrical summit titled 'United We Stand,' themed to suggest that right-wing hate is rampant in the country, Biden said the White House is launching a new strategy to stop domestic terrorism, "prevent people from being mobilized to violence," and "counter exploitation of the internet.'"
Biden has spent much of his term calling those who oppose his policies "extremists," "threats to democracy," or "semi-fascists." In front of a creepy red-lit background at Independence Hall, he stated, "MAGA Republicans" who, if they don't work with him, are "extreme" and want to "take us backward." 
In 2021, Attorney General Merrick Garland called parents who protested school board meetings after the district covered up the rape of a young girl "domestic terrorists," making them subject to the protocols allowed under the Patriot Act.
Although most Americans think Biden is trying to "incite conflict amongst Americans," the FBI seems to have taken those words to heart. 
Friend alleges the following, according to the bombshell report from The New York Post:
The Washington, DC, field office is "manipulating" FBI case management protocol and farming out J6 cases to field offices across the country to create the false impression that right-wing domestic violence is a widespread national problem that goes far beyond the "black swan" event of Jan. 6, 2021.
As a result, he was listed as lead agent in cases he had not investigated and which his supervisor had not signed off on, in violation of FBI policy.
FBI domestic terrorism cases are being opened on innocent American citizens who were nowhere near the Capitol on Jan. 6, 2021, based on anonymous tips to an FBI hotline or from Facebook spying on their messages. These tips are turned into investigative tools called "guardians," after the FBI software that collates them.
The FBI has post-facto designated a grassy area outside the Capitol as a restricted zone, when it was not restricted on Jan. 6, 2021, in order to widen the net of prosecutions.
The FBI intends to prosecute everyone even peripherally associated with J6 and another wave of J6 subjects are about to be referred to the FBI's Daytona Beach resident agency "for investigation and arrest."
The Jacksonville area was "inundated" with "guardian" notifications and FBI agents were dispatched to conduct surveillance and knock on people's doors, including people who had not been in Washington, DC, on Jan. 6, 2021, or who had been to the Trump rally that day but did not go ­inside the Capitol.
Steve Friend is 37 and has two children. He has lost his security clearance and potentially his "dream job."
This is not the first whistleblower complaint lodged against the Bureau. We reported that an anti-Trump FBI agent abruptly resigned from the Bureau earlier last month and is facing an internal investigation for being a political hatchet man while working with the Bureau. Timothy Thibault, who Republican Senators have criticized for bias and political partisanship while protecting the Biden family from investigations, "retired" on August 26th. 
"Thibault, who worked in the FBI headquarters in Washington, D.C., had recently been removed from his position as assistant special agent in charge at the FBI's Washington Field Office, which covers all of the District of Columbia and Northern Virginia," according to CBS.
The ranking member of the Senate Judiciary, Senator Chuck Grassley of Iowa, recently sent a letter to Attorney General Merrick Garland and FBI Director Christopher Wray that makes some pretty strong allegations. The senator believes that the Department of Justice and the FBI intentionally underplayed damaging information about Joe Biden's son and his brother James to help swing the 2020 election.
"Among the examples Grassley cited in his letter to Wray and Garland, Thibault retweeted a statement from an anti-Trump GOP group saying, 'Donald Trump is a psychologically broken, embittered, and deeply unhappy man.' He also responded to a tweet from GOP Rep. Liz Cheney of Wyoming by saying, 'Your dad was a disgrace,' according to CNN.
Ron Johnson recently told Maria Bartiromo that "Joe Biden would not be president" had the FBI not pressured tech companies like Facebook and Twitter to censor the Hunter Biden scandal to help the then-Democratic nominee unseat the incumbent president.
The ranking member of the Permanent Subcommittee on Investigations, the Wisconsinite, sent a letter to Inspector General Michael E. Horowitz at the Department of Justice, asking him to take "take immediate steps to investigate the FBI's actions regarding the laptop" because "whistleblowers have recently contacted my office to share serious concerns about the Federal Bureau of Investigation's (FBI) handling of Hunter Biden's laptop."
The November midterm will likely decide who gets investigated and who gets a free pass on their corruption. Election Day is Tuesday, November 8, 2022.
[Read More: Vandy Hospital Supporting Gender Reassignment On Minors For Typical Reason]