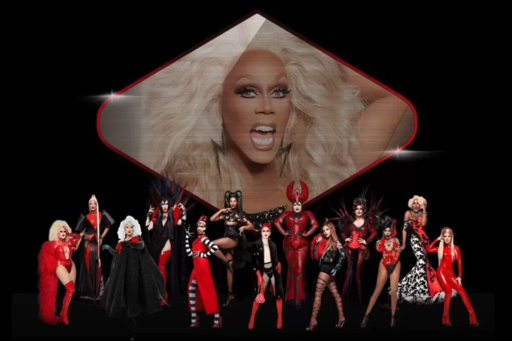 With inflation climbing rapidly, increased predictions that the stock market will crash, the administration being unprepared to even answer questions about the ongoing baby formula shortage, and the President of the United States ranting about Russia causing high gas prices despite promising such an increase during the 2020 campaign, it's nice to know the Speaker of the House has her eyes on the ball. RealClearPolitics.com reported, "Speaker of the House of Representatives Nancy Pelosi made an appearance on the television show 'RuPaul's Drag Race,' a weekly program on VH1 that features drag queens."
The Hill detailed her appearance. Speaker Nancy Pelosi (D-Calif.) expressed her support for the drag community and encouraged Americans to vote while appearing on the reality show "RuPaul's Drag Race" over the weekend.

On Saturday, Pelosi made a surprise appearance on the seventh season of "RuPaul's Drag Race All Stars," walking out onto the center stage in front of contestants before giving a quick speech in support of the competing drag queens and the show at large.

"My honor to be here, to say to all of you how we proud we are of you," Pelosi said. "Thank you for the joy and beauty you bring to the world. Your freedom of expression of yourselves in drag is what America is all about."

RuPaul Andre Charles, the host of the competition show, thanked Pelosi "for the work you've done and the work you continue to do tirelessly for our freedom. Your tenacity is something that we all look up to," Charles said.

"RuPaul's Drag Race All Stars" pits drag queens in competition against one another to become "Queen of All Queens" and earn a $200,000 prize. The latest season premiered on Paramount+ on May 20.
Drag shows have been prevalent in American cities for over a century, especially in Pelosi's hometown of San Francisco. During the 1920s, Finocchio's Club began having "female impersonation acts," but it was often viewed as subversive, a subculture. In 1936, just a few years before Nancy Pelosi's birth, the bar was raided by police.
Over the past few decades, drag shows have grown in popularity, especially among liberals, to the point that some performers worry about it being a "double-edged sword." This was Pelosi's second appearance since 2018 on RuPaul's program. 
Worries about losing their subculture aside, many proponents of drag shows have pushed its mainstreaming into hyperdrive, sometimes including the sexualization of children, and not without controversy. Corporate media has been glad to join the act. People recently gave an "exclusive first look" about the new television show "Generation Drag" on the Discovery+ Channel, which "shows fabulousness doesn't have an age limit." The show continues a recent trend of media companies like Netflix receiving criticism for putting children in sexual situations.
The magazine describes the show: "Generation Drag follows five teens and tweens who — with the support of their families — are preparing for Dragutante, a first-of-its-kind drag ball event for younger queens and kings who have just started their drag journeys." 
Many LGBTQ activists, such as Michelle Tea, have come to see drag queens as a way to influence culture and social mores. Libraries all over the country, but especially in Pelosi's California, have begun promoting "Drag Queen Storytime" or "Drag Story Time," children's events where men dressed as women read kids' books often focused on gender and sexuality. This has been supported by liberal leaders and their allies on the right, such as conservative writer David French, who once called these events one of "the blessings of liberty."
The Washington Examiner has noted that as "Drag Queen Story Hour has been the most recognizable and organized drag event for children, some schools have gone further and hosted drag shows that involved scantily clad cross-dressers engaging in provocative dance routines." 
The New York Post broke the news that New York City has spent over $200,000 on various drag queen events since 2018. The newspaper wrote, "The tally includes $50,000 from New York State through its Council on the Arts, along with $157,000 from the city's Departments of Education, Cultural Affairs, Youth and Community Development, and even the Department of Transportation, city data shows."
The group involved, Drag Story Hour NYC, wrote on its website that in 2022 they have "produced 49 Drag Story Hour programs for 34 individual public schools and special needs schools in English, Spanish, and Cantonese. In May, we launched Reading with Royalty, our new middle grade and YA book discussion program for middle and high school students, with discussion questions on five of our favorite queer middle grade and YA books." 
The revelation in New York and other cities has caused significant pushback from conservatives. State Assembly candidate Helen Qiu, who has an 11-year-old son attending a Manhattan middle school, said, "I can't believe this. I am shocked…I would be furious if he was exposed without my consent. This is not part of the curriculum." 
Florida Governor Ron DeSantis stated that he was considering a ban on taking children to drag shows. "You had these very young kids, they must have been 9, 10 years old at a quote' drag show' where they were putting money in the underwear. That is totally inappropriate," he said, according to The Advocate. "That is not something that children should be exposed to. So we probably may have the ability to deal with that if something like that happens. There is also very graphic language in that thing, and people got a lot of video and a lot of stuff from it. I think that was really, really disturbing."
Democrats have pushed back against such bans. Florida Democrat Rep. Anna Eskamani, for example, told Florida Politics that the recent push for family values "is grounded in homophobia and transphobia." She said, "If you have concerns about sexualized content being available to those under the age of 18, then why are we not talking about Hooters or cheerleading or beauty pageants or billboards in our communities or magazines at the store or internet ads?" It's just a continuation of homophobic rhetoric disguised as safety concerns." 
Another Democratic television commentator compared drag shows to attending church, writing, "Parents need to stop subjecting kids to these drag shows where men dress up like women, play loud music, ask for money, and indoctrinate kids before they are even old enough to understand" after posting a picture of a priest in full vestment.  
Documenting these provocative events has caused a stir on social media. The New York Post reported earlier this month that "The creator of 'Libs of TikTok,' the controversial, right-leaning Twitter account, has been locked out by Twitter over a series of tweets detailing drag shows that target young children." 
The owner of the account, Chaya Raichik, also declared that she has received death threats for posting videos of drag events involving children parading in drag and putting money in the bras of dancers, but that Twitter failed to take action. The revelation sparked the ire of the social media company's probable new owner, Elon Musk, against his potential new employees. He asked why Twitter wouldn't take action to protect its users. 
Fox News noted, "The billionaire's tweets generated a wave of response on the platform, including support from conservatives and ire from liberals. Musk's tweets seemed to particularly annoy liberal Washington Post writer Taylor Lorenz, the woman who wrote a prominent hit piece on Libs of TikTok in April, which accused the account of spreading hate."  
Musk later tweeted, "A platform cannot be considered inclusive or fair if it is biased against half the country."
[Read More: Trump Signals Fear About One 2024 Republican Rival]