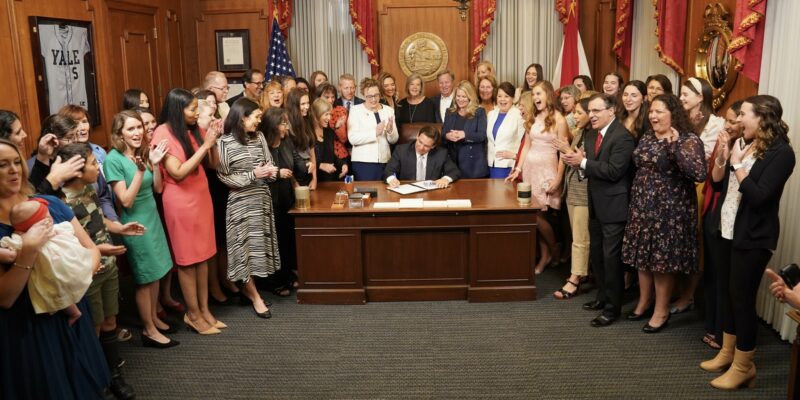 Florida Governor Ron DeSantis once again made news by fulfilling a conservative promise and signing one of the most significant pro-life pieces of legislation in the nation. The legislation bans abortion, with exceptions for health of the mother among others, at the moment a heartbeat can be heard. 
"DeSantis said as far back as last month that he would sign the measure shepherded through the GOP-dominated Legislature, even as most public polling indicates a ban on abortions at six weeks of pregnancy is unpopular in both political parties," according to NBC News.
The Florida law bans abortions at six weeks but creates new exemptions for rape and incest up to 15 weeks of pregnancy. It does not change existing exemptions for life and the health of the mother up to 15 weeks.
DeSantis signed the measure just hours after the Legislature passed it Thursday afternoon. But he didn't announce publicly that he did so until after 11 p.m.
Signed the Heartbeat Protection Act, which expands pro-life protections and devotes resources to help young mothers and families. pic.twitter.com/quZpSj1ZPk

— Ron DeSantis (@GovRonDeSantis) April 14, 2023
"We are proud to support life and family in the state of Florida," the governor said in a statement. "I applaud the Legislature for passing the Heartbeat Protection Act that expands pro-life protections and provides additional resources for young mothers and families."
The pro-life bill has given some Republican commentators heartburn, however, especially among Trump supporters who blamed the overturning of Roe v Wade, long said to be a Republican goal, as the reason the Republicans underperformed in the 2022 midterms. Others have noted that Trump supporters might have said that because the former president's primary endorsements struggled and likely cost the GOP control of the Senate.
The legislation might be a significant wedge issue between the two leaders in the 2024 presidential primary.
Politico noted that "DeSantis is banking on support in the primary from anti-abortion voters, particularly those angry at Donald Trump. The former president faced a backlash from some conservatives when he complained that the party's far-right position on abortion hurt the GOP in last year's midterm election.
But a six-week ban pushes the outer boundary of anti-abortion rights proposals. And it could spell trouble for DeSantis among independents and suburban voters in a general election, if he makes it that far.
"We're going to make him own this, and his agenda, everywhere he goes," said a national Democratic operative granted anonymity to discuss party strategy. "Goes to Michigan? Abortion ban. Goes to Ohio next week? Abortion ban. And that will take different forms but we'll hang this incredibly toxic abortion ban and his agenda around his neck with different tactics."
The operative added that this is one of many points on which to attack DeSantis who has taken several stances on social issues that Democrats believe won't sit well with swing voters."
Electability is likely to be an important factor in the primary as Republicans look to unseat President Biden. Polling has shown that Trump consistently loses to Biden. 
Recent reports have shown that DeSantis is beginning to build a campaign for the White House. The Daily Caller reported that "at least two dozen of Republican Florida Gov. Ron DeSantis' 2022 campaign employees are currently on the payroll of the Florida Republican Party, according to the party's Q1 2023 expenditure report.
DeSantis and his team have been coy about the governor's presidential aspirations, with the governor speaking in hypothetical terms about his candidacy and declining to directly confront front-runner former President Donald Trump. The Florida GOP's filings with Secretary of State Cord Byrd's office tell a different story, however. The state party's expenditures list includes payroll for 24 current or former employees of the DeSantis campaign, including former state press secretary Christina Pushaw.
The Florida GOP's hiring of speechwriter Nate Hochman and former DeSantis congressional aide Dustin Carmack have been previously reported, but the DeSantis team's broader staffing strategy has not. The Daily Caller was tipped to the story when one Florida Republican staffer emailed from a rondesantis.com email address while purporting to do business for the state GOP.
DeSantis has traveled to early primary states Iowa, Nevada, and New Hampshire, ostensibly to promote his new book. He has also met with major GOP donors while reportedly emphasizing his no-nonsense approach to governing. In an interview with Piers Morgan, DeSantis said that his administration has "no daily drama, focus[es] on the big picture and put[s] points on the board."
The governor recently visited New Hampshire to attend a fundraising gala for the state party there. The event sold out, saying that the event was "a bonanza" for the New Hampshire GOP. 
"Without divulging specifics, New Hampshire Republican Party Chairman Chris Ager teased that fundraising for the Amos Tuck Dinner event Friday has been "unusually successful" amid anticipation over DeSantis. Heading into his speech, many of the Florida governor's rivals have gained ground in the key early state, setting high stakes for him.
'From the beginning, we had planned for 500 [people]' Ager said, noting that ticket sales stopped this week. 'We squeezed into two more tables. … It's been at least 10 years since we've had a dinner event that big,'" he told The Washington Examiner.
The event wasn't without a hitch, though. A DeSantis protestor rushed the stage as the governor was giving his speech.
"You gotta have a little spice in the speech! You gotta have a little fun!" 😂

DeSantis handled it great when a couple of loonies stormed the stage.pic.twitter.com/Je3LsyKKUA

— Chris Nelson 🇺🇸 🏝 (@ReOpenChris) April 14, 2023
The former Navy JAG officer played it cool, though, saying, "You gotta have a little spice in the speech! You gotta have a little fun!"  
Whatever DeSantis may do in the future is still anyone's guess, but you can assume he'll at least have fun doing it. 
[Read More: Obama Staffer Claims He Saw Biden Pull Strings For Hunter While In Ukraine]