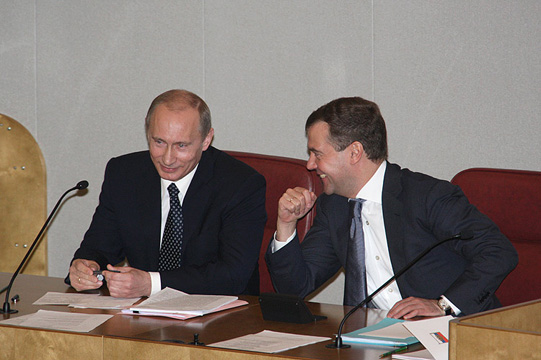 On Friday, Vladimir Putin announced the Russian annexation of nearly a fifth of Ukraine, an egregious violation of international law that, according to the tyrant, turns the millions living there into Russian citizens "forever."
After Putin's plan goes official, the Kremlin will formally recognize four Ukrainian areas as Russian territory: Luhansk and Donetsk, two parts of the invaded nation that have formed "breakaway governments," along with Kherson and Zaporizhzhia, two areas in the south of Ukraine that Russian forces have occupied since shortly after the fighting started.
"The ruthless land grab was made official at the Georgievsky Hall of the Great Kremlin Palace in a signing ceremony," according to the U.S. Sun. "Putin was late showing up to the huge gathering of his cronies and then issued a long, rambling, nonsensical diatribe" in front of a "crowds [that] looked glum and appeared to clap on cue as the tyrant droned on for nearly an hour before the separatist leaders signed the decrees, joined hands and chanted 'Russia!'"
 The Daily Mail had more on Vladimir Putin's crazed speech. He "accused the United States of creating a nuclear weapons' precedent' by bombing Japan at the end of the second World War in an unhinged speech calling the West' satanists' and accusing 'Anglo Saxons' of blowing up the Nord Stream pipelines.
He blamed the West for his invasion of Ukraine because they believe Russia is a 'colony' and a 'band of slaves, and wants to break it up into smaller states who 'will be fighting against each other.'"
The Russian despot ranted about sex-change operations, claimed America is occupying Germany and Korea and vowed to 'smash' the West in the disturbing remarks as he announced the annexation of four regions in Ukraine." He also said that the West recently blew up a vital pipeline between Europe and Russia.
Following his speech the Russians held a concert where they sang sea shanties for some reason. 
CNN reported, "Putin's annexation announcement, made in a formal speech at the Kremlin's opulent St. George's Hall on Friday, follows so-called referendums in the regions that were universally dismissed as "shams" by Ukraine and Western nations.

Putin, however, attempted to claim that the referendums reflected the will of "millions" of people, despite reports from the ground suggesting that voting took place essentially – and in some cases, literally – at gunpoint. Western leaders have slammed the polls, saying that they in no way met internationally recognized standards of free and fair elections.

The annexation announcement was met with a similar outcry. The United States, United Kingdom and European Union have vowed to never recognize Russian sovereignty over the regions. U.S. Secretary of State Antony Blinken said Washington would place visa restrictions on 910 individuals in Russia and Belarus, while a Biden administration official said the White House would impose "swift and severe costs" on Russia.

Ukraine President Volodymyr Zelensky called the move a "farce" in a pre-recorded video statement released shortly after Putin's speech and vowed that "the entire territory of our country will be liberated." Zelensky also said his country would apply for NATO membership "under an accelerated procedure," but it's unclear how long such a process would take. New NATO members must meet a series of criteria for membership and be unanimously approved by current alliance members.
Putin's land grab is the largest annexation of land by one nation since the end of World War II.
Max Seddon, the Moscow Bureau Chief for The Financial Times, wrote, "I've watched a lot of Putin speeches over the last 10-15 years and this is the most anti-US one by a really long way. If I were a western policymaker wondering if he'd really use nuclear weapons – and he hasn't even got to them yet – I'd be very concerned."
Ukrainian President Volodymyr Zelensky, in an effort to pressure the West to join his war, "announced a surprise bid for fast-track membership of the NATO military alliance on Friday and ruled out talks with President Vladimir Putin, striking back at Moscow after it said it had annexed four Ukrainian regions.
Zelensky signed the NATO application papers in an online video clearly intended as a forceful rebuttal to the Kremlin after Putin held a ceremony in Moscow to proclaim the four partially occupied regions as annexed Russian land.
"We are taking our decisive step by signing Ukraine's application for accelerated accession to NATO," Zelensky said in the video on the Telegram app.
The video showed Zelenskiy in combat fatigues announcing the membership bid and signing a document flanked by his prime minister and the speaker of parliament," Reuters reported. 
NATO's acceptance of Ukraine would essentially launch World War III as all NATO members, including the United States, are obligated to retaliate to an attack against a member state.  
Reuters also noted, "Recent actions by Russia constitute the most serious escalation of the conflict since Moscow invaded Ukraine in February, NATO Secretary-General Jens Stoltenberg said on Friday.
'Putin has mobilised hundreds of thousands of more troops, engaged in irresponsible nuclear sabre-rattling and now illegally annexed more Ukrainian territory. Together, this represents the most serious escalation since the start of the war,' Stoltenberg told a news conference.
He said NATO reaffirmed its 'unwavering support' for Ukraine's independence, sovereignty and territorial integrity, and would not be deterred by Russian President Vladimir Putin from supporting the country in defending itself against Russia." 
He stopped short of calling for Ukraine to join NATO. 
Russia's expanded aggression comes at a time in which it looks like they are losing the war. The Moscow Times reported that the conscripts that have been sent to Ukraine are woefully unprepared to fight. The newspaper said, "the Kremlin is rushing to deploy new recruits to the frontlines in Ukraine with minimal training and, in some cases, subpar equipment and supplies.
Rather than redress Russia's manpower shortage in Ukraine, analysts told The Moscow Times that such an approach would likely cause a whole range of new problems for the Kremlin — from low morale to troop unreliability and high death rates." 
The Ukrainians have stated that Russia's actions would not deter their plans to "liberate" the areas controlled by Putin's forces. One military advisor told Politico, "This army is being replaced by absolutely untrained people. A living resource has been thrown onto the front lines, and it will simply be exterminated."
 [Read More: Liberals Silent As WH Condemned For Mistreating Migrant Children, Going After Whistleblowers]