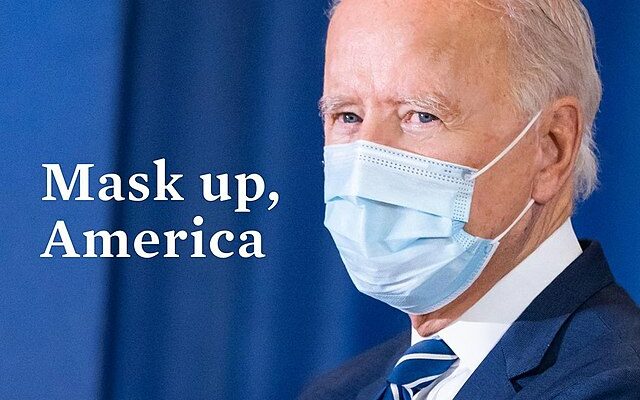 In April, President Joe Biden seemed to make clear on his promise to "shut down the virus," and despite 197 Democrats in the House and 23 in the Senate voting against it, Congress passed an end to the emergency measures put in place by Donald Trump during the pandemic. 
While he has patted himself on the back, it turns out that Biden couldn't even shut down the virus in his own house, and, unsurprisingly, masks are now back at the White House. 
"This evening, the First Lady tested positive for COVID-19. She is currently experiencing only mild symptoms. She will remain at their home in Rehoboth Beach, Delaware," the first lady's spokesperson Elizabeth Alexander said in a statement.

The White House said President Joe Biden so far has tested negative.

"Following the First Lady's positive test for COVID-19, President Biden was administered a COVID test this evening. The President tested negative," White House press secretary Karine Jean-Pierre said. "The President will test at a regular cadence this week and monitor for symptoms," reports Just The News.

Jill Biden is fully vaccinated, along with having two booster shots. This is her second time having COVID-19.
Karine Jean-Pierre says Biden will be wearing a mask indoors again pic.twitter.com/3NZqnP36N2

— RNC Research (@RNCResearch) September 5, 2023
President Joe Biden tested negative for COVID-19 on Tuesday following first lady Jill Biden testing positive Monday night, the White House said.
"He is not experiencing any symptoms," press secretary Karine Jean-Pierre told reporters at her daily White House briefing, noting that the first couple had last been together on Monday.
"As far as the steps that he's taking since the president was with the first lady yesterday — he will be masking while indoors and around people in alignment with CDC guidance," she told ABC News.
The White House is only following the lead of its activist base like they do with everything else. 
Last month, New Conservative Post noted that liberal-leaning institutions had begun pushing mask mandates. "A new strain of COVID-19 has popped up in the media reports and it's beginning to stress out Democrats again, especially as school begins. Labeled EG.5, the COVID strain as caused a slight increase in COVID-19 cases across the country, which of course means that some are pushing mask mandates again.
Morris Brown College began classes just last week, but will require all students and employees to wear face masks, writes Yahoo.
Officials say there have been no confirmed COVID-19 cases among its students, but they have received reports from other schools in the Atlanta University Center.
Hollywood has also begun to adopt mask mandates again. Movie giant Lionsgate recently "sent an email to staff asking them to mask up on certain floors of its Santa Monica office after several employees caught the virus. The studio is also asking employees to conduct self-screening before coming to the office….the move comes amid some national buzz about whether mask mandates might be returning as variant EG.5 has become dominant in the United States," according to The Hollywood Reporter."
Former medical adviser to Donald Trump and Joe Biden, Anthony Fauci, took to the airwaves to support masking over the weekend. 
In an interview on CNN, "Fauci said he is worried Americans won't listen to recommendations from the Centers for Disease Control and Prevention (CDC) — even if masking becomes necessary again.
"I am concerned that people will not abide by recommendations," he said. "I would hope that if we get to the point that the volume of cases is such and organizations like the CDC recommends — CDC does not mandate anything — recommends that people wear masks, I would hope that people abide by that recommendation and take into account the risks to themselves and their families."
"A small number of companies have already started asking employees to wear masks again, raising concerns that national recommendations may be needed again soon, wrote The Hill.
Fauci, who served as the face of the COVID response in the U.S. under the Trump and Biden administrations, said a study from earlier this year which claims masking is ineffective was actually misleading."
"When you're talking about the effect on the pandemic as a whole, the data is less strong," Fauci, who retired from his senior health post last year, said. "But when you talk about an individual basis of someone protecting themselves… There's no doubt that there's many studies that show that there is an advantage [to masks]."
Remember: We must trust the science the way Joe Biden does.
"The Science" pic.twitter.com/kySfXEOtOl

— Anthony LaMesa (@ajlamesa) September 5, 2023
The bringing back of masking has sparked a furious debate online about whether or not Democrats are going to push COVID-19 restriction as the election season heats up, viewing it as the best way to win the election in 2024. 
The Daily Beast compiled some of the chatter: 
Eric Spacklen, a former spokesperson for Project Veritas, tweeted that the first lady's positive test was "all part of the plan" and implied that the "plan" is to get Americans back in masks.
Others went even further. Kyle Becker, a former Fox News producer turned podcaster, shared a clip from ABC's The View, noting that host Whoopi Goldberg did not appear Tuesday morning since she has tested positive for COVID.
"First Jill Biden, now Whoopi has Covid. This is how they're priming America to bring back Covid lockdowns for the election, Becker wrote. "Everything is a script."
"They're prepping you for 'the need for mail in ballots' in 2024," conservative blogger Collin Rugg tweeted, "It's happening again."
The most prominent voice discussing the theory, however, is former President Donald Trump. Last week he released a video saying, "The left-wing lunatics are trying very hard to bring back COVID lockdowns and mandates with their sudden fear-mongering about the new variants that are coming. They want to restart the COVID hysteria so they can justify smore lockdowns, more censorship, more illegal dropboxes, more mail-in ballots."
COVID Tyrants want to take away our Freedom.

Hear my words— WE WILL NOT COMPLY. pic.twitter.com/Kql1YaxuO0

— Team Trump (Text TRUMP to 88022) (@TeamTrump) August 30, 2023
Trump famously botched the 2020 election by telling Republicans, who skewed older, not to use mail-in ballots. 43 percent of voters used mail ballots in the election. 
Biden may need to do everything he can to keep the White House, whether by hook or by crook. 
The New York Times recently ran a poll that has shaken the Democratic Party to its core, quite literally. The Paper of Record wrote, "President Biden is underperforming among nonwhite voters in New York Times/Siena College national polls over the last year, helping to keep the race close in a hypothetical rematch against Donald J. Trump.
On average, Mr. Biden leads Mr. Trump by just 53 percent to 28 percent among registered nonwhite voters in a compilation of Times/Siena polls from 2022 and 2023, which includes over 1,500 nonwhite respondents.
The results represent a marked deterioration in Mr. Biden's support compared with 2020, when he won more than 70 percent of nonwhite voters. If he's unable to revitalize this support by next November, it will continue a decade-long trend of declining Democratic strength among voters considered to be the foundation of the party."
These are not the first portion of the typical Democratic coalition that this current White House has annoyed by letting leftwing, low-level staffers make important decisions. 
In June, his administration managed to tick off the UAW, a traditional Democratic ally, but handing out "green" money without consulting them.