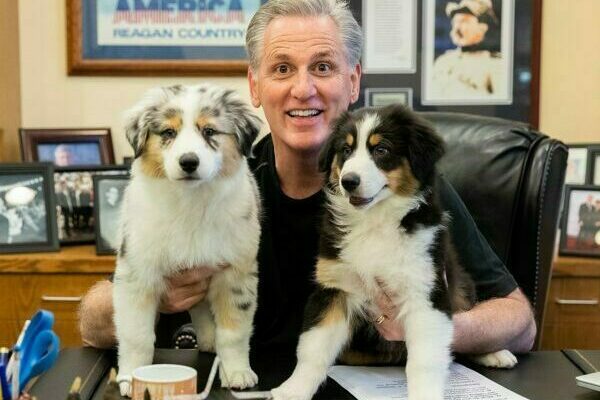 During a Sunday interview, Speaker Nancy Pelosi threw some cold water on the idea that current House Minority Leader Kevin McCarthy would be the next Speaker of the House. Although the Republican Party looks like it will have a narrow majority in the House, the California Democrat said she does not think McCarthy's own party will let him be their leader.  
Yahoo reported, When asked if she thinks McCarthy has what it takes to be Speaker, Pelosi suggested to Dana Bash, Host of CNN's State of the Union, that McCarty does not have the votes he needs.

"Why would I make a judgment about something that may or may not ever happen?" Pelosi asked Dana Bash, host of CNN's "State of the Union." "No, I don't think he has it. But that's up to his own people to make a decision as to how they want to be led or otherwise.

Many Democrats say far-right House members will be running the show as Kevin McCarthy struggles to control them.
Several House GOP sources tell CBS after midnight tonight that they are now increasingly worried that if GOP wins a narrow House majority, it'll be utter chaos for McCarthy/leadership team. Rep. MTG & her allies would have much more sway in a tight GOP House, the sources predict.

— Robert Costa (@costareports) November 9, 2022
We noted earlier in the week that the pro-Trump House Freedom Caucus is believed to be withholding their support for McCarthy's speakership bid until they have demands met. Both former President Trump and Senator Minority Leader Mitch McConnell are also facing challengers. 
CNN reported, "McCarthy and his team are confident he will ultimately get the votes to be Speaker. But the conservative hardliners are emboldened by the likelihood of a narrow House GOP majority and are threatening to withhold their support – something that could imperil his bid or force him to make deals to weaken the speakership, something he has long resisted.
Rep. Chip Roy of Texas told reporters that "no one currently has 218" votes for speaker, which is the magic number McCarthy would need to secure the speaker's gavel on the House floor in January, and said he wants McCarthy to list in greater detail his plans for a wide array of investigations into the Biden administration. And Rep. Andy Biggs of Arizona complained that McCarthy seemed to backpedal on whether he'd be willing to launch impeachment proceedings into President Joe Biden or members of his Cabinet.
'I've heard from multiple of my constituents who question the wisdom of proceeding forward with that leadership,' Biggs said, adding that there needs to be a 'frank conversation' about who they elect for the top job." 
Second GOP source sees below tweet, texts me "Knives are out for Kevin McCarthy, if he is under 225, expect Scalise to make a move quickly for speaker" https://t.co/AQF55yZaGM

— Jacqui Heinrich (@JacquiHeinrich) November 9, 2022
For her part, Pelosi made it appear that she has no plans to leave anytime soon. The Speaker stated, "People are campaigning, and that's a beautiful thing, and I'm not asking anyone for anything." But, "My members are asking me to consider [remaining leader of the Democrats in the House of Representatives]."
Pelosi also threw her weight behind the president. She said she "believed that President Joe Biden should run for a second term, citing his legislative accomplishments such as the bipartisan infrastructure law and the Inflation Reduction Act as well as the creation of millions of jobs under his watch.
'He has been a great president and he has a great record to run on,' she said.
The 82-year-old Pelosi, who has led Democrats in the House since 2003 and is the first female speaker, had struck a deal with House members to serve for two more terms as leader — or four years — after Democrats won control of the chamber in 2018. But she hasn't announced her plans, nor have her top two deputies, Majority Leader Steny Hoyer, D-Md., and Whip Jim Clyburn, D-S.C. There has been some pressure from younger House members to pass the torch to new leaders."
Democrats are giddy about Republicans having the slimmest majority possible in the House. They do not believe that McCarthy will be able to "control his fringiest far-right ranks and whose leadership style is at odds with his Senate counterpart, Mitch McConnell.
Josh Schwerin, a former spokesperson for the Democratic Congressional Campaign Committee and Hillary Clinton, for example, asked Insider, "If you're Mitch McConnell, why are you talking to Kevin McCarthy? Why aren't you talking to Marjorie Taylor Greene?"  
Insider continued: "Democrats are counting on House Republicans to give them all the political ammunition they need over the next two years to defeat them in 2024.
Schwerin suggested that if Republicans move to repeal popular provisions of the Inflation Reduction Act, such as a cap on insulin payments or tax rebates for home energy improvements, such measures wouldn't go anywhere in the Senate because they wouldn't have the 60 votes needed to overcome a filibuster. 'So while we're implementing these good things, Republicans are trying to take them away from you — which is a messaging opportunity,' Schwerin said.
It's also not a bad thing if Biden has to flex his veto power, Mollineau said. That will allow him to show a "clear delineation" between the parties on the economy. 'Let's have that fight,' he said."
Speculation is growing that Steve Scalise of Louisiana may be the next Speaker of the House if McCarthy fails to secure the top spot in the House of Representatives. Scalise became nationally famous after a liberal activist shot him while Republican members of Congress practiced for the Congressional Baseball Game. He has declared his intentions to run for Majority Leader in the House rather than Speaker, but, as we all know, things can change quickly in Washington. 
[Read More: Dem Mega Donor Who Funded Midterms Faces Trouble]