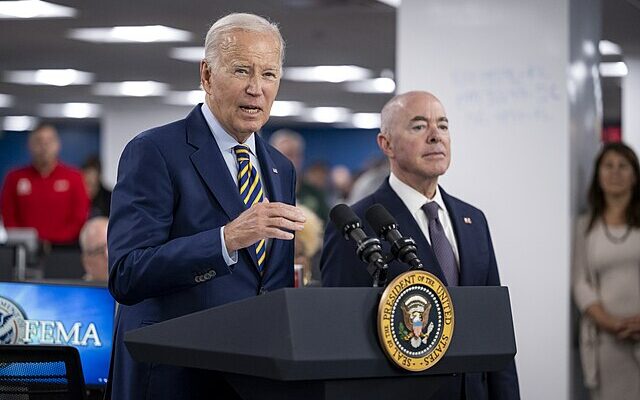 House Republicans investigating the White House's use of power to protect Hunter Biden from his many legal problems have uncovered more corruption, and now they're issuing subpoenas to see how far the rot goes down. 
"House Oversight Chair James Comer is compelling Department of Homeland Security and Secret Service officials to hand over records and provide closed-door testimony as part of a sweeping GOP investigation into the handling of a years-long federal Hunter Biden investigation," writes Politico."
Comer, Judiciary Chair Jim Jordan, and Ways & Means Chair Jason Smith, previously sent a letter to Secret Service Director Kimberly Cheatle requesting transcribed interviews with Secret Service employees.
But Comer accused DHS of 'obstructing our investigation by muzzling the Secret Service from providing a response to Congress' in response to their request for interviews. In a letter to DHS Secretary Alejandro Mayorkas, Comer said that the panel had learned that the department's legislative affairs office had 'instructed the Secret Service to withhold a response the Secret Service had prepared for the Committees.'"
At root of the issue is whether or not Secretary Mayorkas tipped off Hunter Biden that he was being investigated for his tax crimes. 
The six subpoenas serve dual inquiries, seeking information surrounding how the Secret Service as well as the Biden transition team was notified about plans to interview the president's son, along with alleging improper conduct by the agencies as committees aim to get that information.

Beyond the details sought about the Secret Service's discussions with the Justice Department, the subpoena includes demands regarding DHS's Office of Legislative affairs and includes an allegation that DHS blocked the Secret Service from responding to a previous request for interviews regarding claims from IRS whistleblower Gary Shapley, according to The Hill.

Shapley, an IRS agent who previously led the investigation into Hunter Biden's tax issues, testified that Secret Service headquarters was improperly tipped off about a planned Dec. 8, 2020, attempt to seek an interview with Biden, foiling those plans.
Comer did not hold back in calling out Mayorkas for his role in protecting the president's son. 
"The Department of Justice initiated the Biden family coverup and now DHS under the leadership of Secretary Mayorkas is complicit in it. Investigators were never able to interview Hunter Biden during the criminal investigation because Secret Service headquarters and the Biden transition team were tipped off about the planned interview. This is just one of many examples of the misconduct and politicization during the Department of Justice's investigation. The Oversight Committee – along with the Judiciary and Ways and Means Committees – is seeking interviews with key witnesses, including employees at the Secret Service. The Department of Homeland Security is obstructing our investigation by muzzling the Secret Service from providing a response to Congress. The American people deserve transparency, not obstruction. House Republicans will hold the Biden Administration accountable for running interference for the Biden family's corruption and criminal activity," said Chairman Comer.
His statement argues that "IRS whistleblower Gary Shapley's sworn testimony reveals that FBI and IRS investigators sought to interview Hunter Biden on December 8, 2020, without giving notice that the interview would occur. However, on December 7, 2020, FBI headquarters tipped off Secret Service headquarters and the Biden transition team about the planned actions the following day. This account was confirmed to the Oversight Committee during a transcribed interview with a former FBI Supervisory Special Agent who accompanied the IRS whistleblower during the attempt to interview Hunter Biden. Following these actions by FBI and the Secret Service, the interview of Hunter Biden did not occur. 
In June 2023, Chairman Comer – along with Judiciary Committee Chairman Jim Jordan (R-Ohio) and Ways and Means Committee Chairman Jason Smith (R-Mo.) – wrote to Secret Service Director Kimberly Cheatle requesting the agency make all Secret Service employees who received the December 7, 2020 tip-off from FBI and all Secret Service employees who may have passed this information along to the Biden family or presidential transition team available for transcribed interviews. The Secret Service sought to provide a more substantive response to the three congressional committees, but DHS blocked the agency from providing it."
This is not the first time that Mayorkas has felt heat from Republicans in Congress. In June, the Homeland Security Secretary was accused of supporting child slavery by Senator Josh Hawley and several members of the GOP have called for his impeachment over the incompetence that has happened at the southern border. 
"I tell you what I'm tired of: I've had Secretary Mayorkas sit in front of me in a different committee, the Homeland Security Committee, where I asked him at length about the outrage of 250,000 migrant children, unaccompanied, crossing the border in the last two years and tens of thousands of them being sold into slavery," Hawley said. "Let's not mince words: they've been sold into slavery. When kids are being put into factories, forced to work overnight, forced to work in terrible conditions, they're not getting paid, they're not going to school, sometimes they're not getting fed, that's slavery"
"And what I've heard from Secretary Mayorkas — don't take my word for it; you go look at the record, read the transcript — what he told me was, 'Oh it's not my problem. We don't have anything to do with it. Not my problem.' Now we have a new report from [the Department of Health and Human Services] where they say it's not their problem," the Missouri senator continued. "Amazing how this works. Nobody's responsible, these kids are literally being sold as slaves in the United States of America in the year of 2023 and nobody's responsible. They don't want you to come and testify to this committee. You bet they don't. They don't want to be put under oath. They don't want to answer any questions. They don't want cameras here. They don't want to take any responsibility. Well I tell you, it's somebody's fault. It's not the kids' fault."
Hawley then praised the New York Times for its reporting, citing the story of one teen, 15-year-old Carolina Yoc of Guatemala, who works at a Cheerios factory. Yoc told the Times that her stomach often hurts and she's tired due to the lack of sleep and stress.
Let the record reflect that this administration has let tens of thousands of children be sold into slavery, and they are doing nothing about it," Hawley said. "We need to figure out what in the world is going on and who's to be held accountable for this, because I tell you what's not an acceptable answer: it's not acceptable to say, 'It's not my problem; we wish the kids the best.' The kids are in danger, the kids are in slavery, the kids are being exploited, and it should not happen in the United States of America!"
Along with Mayorkas, K. Shiek Pal, director of oversight, Office of Legislative Affairs, Department of Homeland Security; Stephen Jonas, senior adviser to the general counsel, Department of Homeland Security;
Zephranie Buetow, assistant secretary, Office of Legislative Affairs, Department of Homeland Security; Vincent Tutoni, assistant director, Office of Intergovernmental and Legislative Affairs; U.S. Secret Service
David McKeown, acting special agent in charge, Congressional Affairs Program, U.S. Secret Service all received subpoenas compelling them to testify to congressional investigators. 
Politico also noted that "Jordan and Smith previously issued subpoenas to IRS and FBI officials who were "present at or with direct knowledge" of an Oct. 7, 2022 meeting, during which IRS whistleblower Gary Shapley has alleged that U.S. Attorney David Weiss said he wasn't the ultimate decision maker on bringing charges in the Hunter Biden probe outside of his Delaware district. DOJ and Weiss have denied the allegation."
[Read More: Biden Brings Masks Back]