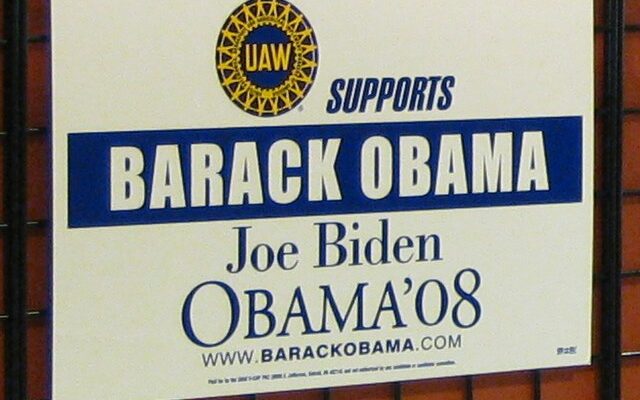 With Joe Biden being one of the most unpopular presidents in history, he cannot afford to burn bridges with some of his allies. That's exactly what he did recently by throwing billions of taxpayer dollars into another green energy, electric vehicle initiative. 
The Department of Energy announced on Friday that it "is loaning Ford and its battery manufacturing partner $9.2 billion to finance the construction of three electric vehicle battery plants in Tennessee and Kentucky, a massive cash infusion meant to ramp up domestic battery manufacturing capabilities to compete with China.
The conditional loan agreement, granted to Ford and its Korean battery manufacturing partner by DOE's Loan Programs Office, is the largest government loan made to a U.S. automaker since the 2009 financial crisis and subsequent bailout of the auto industry.
The Biden administration has raced to build out the electric vehicle and battery manufacturing supply chain in a bid to compete against China and deliver on its goal of having 50% of all new cars sold in the United States be electric vehicles by the year 2030. EVs currently account for roughly 7% of all cars sold in the U.S.
The Loan Programs Office was tasked by the Inflation Reduction Act with overseeing the distribution of roughly $400 billion in new loans."
The historic F-150 maker stated that the loan would create roughly 5,000 construction jobs and maintain 7,500 operating jobs once the plants are up and running. 
Jigar Shah, head of the Energy Department's Loan Programs Office, told Reuters that the DOE wants to "have people choose to put these supply chains here in the United States, not in other countries, and to do them faster and more confidently here."
In 2011, Ford and SK announced an investment of $11.4 billion to build a F-150 electric vehicle (EV) assembly plant and three battery plants in the United States with Ford investing $7 billion. 
While the DOE and Ford were all smiles, one group–one that is supposed to be most loyal to Ol' Working Class Joe–was not happy. The United Autoworkers slammed the White House for what they considered a giveaway. 
The Detroit Free Press writes, "The head of the UAW on Friday bashed the Biden administration's decision this week to give conditional approval for a multibillion-dollar loan package to a joint venture between Ford Motor and a South Korean battery maker without including wage, work conditions and retirement demands upfront.

"We have been absolutely clear that the switch to electric engine jobs, battery production and other EV (electric vehicle) manufacturing cannot become a race to the bottom," UAW President Shawn Fain said. "Not only is the federal government not using its power to turn the tide — they're actively funding the race to the bottom with billions in public money."

"Why is Joe Biden's administration facilitating this corporate greed with taxpayer money?" Fain continued in the statement, which also called the loan a "handout."

Fain and the UAW have made it clear they want to organize EV battery plants, since the move to manufacturing EVs will likely result in fewer line workers being needed to assemble the cars and trucks. As part of that, they have been pressuring the Biden administration and Democrats in Congress to link the availability of loans and other awards to companies' willingness to be organized by labor and otherwise hit wage and benefit demands.
"These companies are extremely profitable and will continue to make money hand over fist whether they're selling combustion engines or EVs. Yet the workers get a smaller and smaller piece of the pie," Fain tweeted. "Why is Joe Biden's administration facilitating this corporate greed with taxpayer money?"
The Detroit News noted that "the strongly-worded statement was the latest example of the UAW's new, more militant leadership being willing to publicly criticize Democratic leadership that historically has had friendly ties with the Detroit union — an unanticipated rebuke of the president's re-election campaign.
In May, Fain said in a letter first reported by The Detroit News that the union would withhold endorsing Biden in the 2024 election until the administration supported a 'just transition' to EVs with 'top wages' for workers."
UAW also took to social media to slam the White House: 
"In the past five years, workers who build GM products in Lordstown, Ohio, have had their lives turned upside down as they were forced to retire, quit or uproot their families and move all over the United States when GM closed their plants despite massive profits."

— UAW (@UAW) June 23, 2023
"Autoworkers and our families took the hit in 2009 in the name of saving the industry. We were never made whole, and it's an absolute shame to see another Democratic administration doubling down on a taxpayer-funded corporate giveaway." END

— UAW (@UAW) June 23, 2023
Union workers, especially the rank-and-file, have been shifting away from the Democrats over the last few elections, but their votes propelled Biden over Trump in the crucial swing states of Wisconsin and Pennsylvania during the 2020 election. Polls have recently shown that this time around, Biden would easily defeat Trump, however.  
Ford is excited about the new project, calling it "a transformative moment where Ford will lead America's transition to electric vehicles and usher in a new era of clean, carbon-neutral manufacturing." 
A couple weeks ago, the car company announced a ramp up in production of the F-150 Lighting trucks to reduce wait times between order and delivery. "To achieve faster fulfillment, the automaker will be increasing its previous target goal of building 130,000 electric trucks annually to 150,000.
Ford is specifically increasing production of its mainline Lightning XLT versions, which will be deliverable by early September if ordered today. The automaker states that XLT is its highest-demand model, The Verge reported.
Many customers have waited over a year to get their preorders fulfilled, and reservations were coming in so hot that the car manufacturer had to pause them throughout most of 2022 to catch up on 200,000 preorders.
[Read More: Heat Getting Turned Up On Trump Some More]