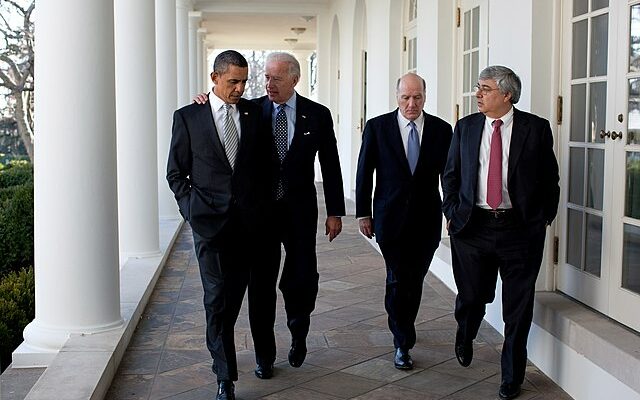 As has been noted, Democrats are getting more and more nervous about Joe Biden's age as the 2024 election comes closer and closer. Axios reported earlier in the week that "some top Democrats have privately been saying for months that they're nervous about Biden tripping again on the trail. Today he did."
Despite those fears, no major challenger has risen to the occasion to stop Biden from cruising to the nomination in the primary. Currently, the president is only being challenged by Robert F. Kennedy, Jr., who's raised eyebrows by getting 20 percent in some polls, and 2020 candidate Marianne Williamson. 
With no one wanting to step up, some despairing Democrats have begun looking for other ways to strengthen their chances in 2024, but what former Deputy Solicitor General Philip Allen Lacovara recently pitched may take the cake in the desperation derby. 
Are you ready for Vice President Barack Obama? 
In The Messenger, Lacovara asserts that Biden could "rescue" his chances at reelection by "asking the highly popular, former President Barack Obama to step in to replace Harris on the 2024 ticket."
He writes, "I think that Obama has been wrongly excluded from discussion about the 2024 race because it is simply assumed that he is constitutionally barred from running as a candidate on the national ticket. That is a mistake. As I will explain, the Constitution permits this kind of gambit — and, despite the apparent unlikelihood of it happening, both Biden and Obama owe it to the country to consider using it.

Biden continues to sink in the polls, with a recent Washington Post/ABC poll showing him actually behind Donald Trump, something considered almost unthinkable even before Trump's indictment in New York three months ago. Biden has two crucial but connected problems — his age and his vice president. Harris's unpopularity compounds voters' concerns about Biden's stamina and even his survival through a new term.

Since Biden shows no sign of willingness to step aside himself, both his low approval ratings and the danger to the country from Trump's potential return to the White House make it imperative that Biden select a running mate who best enhances his chances for reelection. Obama is the only person who could practically guarantee Biden's reelection, whose qualifications cannot be disputed, and who could replace Harris without alienating a major constituency.

While the idea of Obama running as Biden's vice president would, at first, not appeal to either of them, their concern for the good of the country suggests that they should carefully consider this course. When Biden agreed to sign on as Obama's vice-presidential running mate in 2008, Biden was the veteran with decades of service in the Senate, including chairmanships of both the judiciary and the foreign affairs committees. By contrast, Obama was a junior senator in his first term. But Biden took the subordinate slot. Now, turn-about should be fair play, and Obama should be willing to run in second place along with the incumbent president. Their prior relationship should enable them to come to an acceptable understanding about significant responsibilities for Obama as vice-president."
The tortured logic deployed by Lacovara is something to behold and really reveals how anguished Democrats feel about their chances at holding the White House with a Biden-Harris ticket in next year's election.
He argues that the 22nd Amendment "is thought" to exclude Barack Obama from serving a third term is president, but in reality it just says that he cannot be "elected" to the White House. "While Obama is precluded from ever running again for election as president, the amendment does not prohibit him from running for any other office, including vice-president." 
"Nor," he continued, "does the last sentence of the 12th Amendment disqualify him. It stipulates that "no person constitutionally ineligible to the office of President shall be eligible to that of Vice-President of the United States" (emphasis added). For several reasons, this requirement does not expand Obama's inability under the 22nd Amendment to run for election as president." 
As for the first woman to ever serve as vice president? Lacovara essentially says what everyone is thinking: she stinks. He contends that she should just accept reality and acquiesce to Obama, "especially if she is assured of some significant post in the new administration, giving her additional time and opportunity to burnish her credentials."
To be fair, Lacovara isn't the only Democrat to suggest Kamala Harris needs to be replaced. In February, Harris dismissed her unpopularity among Democrats as "political chatter" during an interview with MSNBC.  
"Dozens of Democratic leaders are saying that they not only don't think that he's the strongest candidate, you know, considering the larger field that could be possible given his age and other defects, but they don't think that you're the right person to be on the ticket. Why do you think that?" Mitchell asked. 
The vice president said it was important to focus on the needs of the American people and not on "political chatter" coming from Washington, D.C. 
Since she became the country's Number 2, Harris has struggled to give coherent speeches. 
Every Kamala Harris speech is like a high school paper that she's trying to hit the word limit on: pic.twitter.com/OEqedHSBHp

— Clay Travis (@ClayTravis) March 23, 2023
Her difficulties aside, it's hard to imagine that Barack Obama, currently living the life in Martha's Vineyard and serving as a movie producer for Netflix, would want to take on a demotion under his former vice president, regardless of how unpopular Biden becomes. 
[Read More: Fox News In Full Collapse Following Firing Of Tucker Carlson]