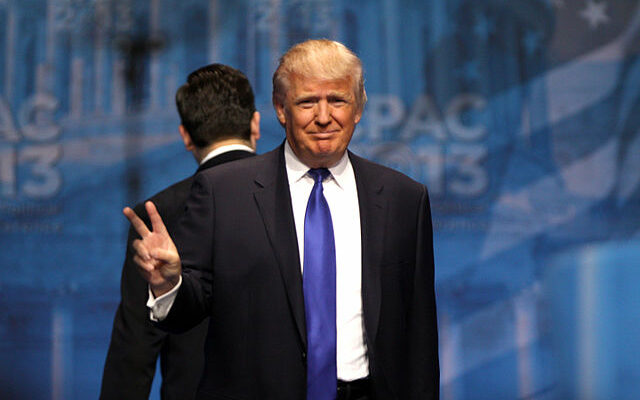 Former President Donald Trump may be looking at more legal trouble. According to reports, Trump's attorneys paid a visit to the Justice Department on Monday in an effort to prevent the former president for being charged for taking classified documents with him after he left the White House in 2021. 
The legal meeting occurred as the special counsel's investigation into Trump's handling of classified documents, along with potential obstruction of justice, looks to be nearing completion. Trump's lawyers have publicly asked to meet with Attorney General Merrick Garland, but reports said that he did not attend this morning's confab. 
[Read More: Trump Lawyer Says Former POTUS Looking At Jail]
The Washington Post reported that in late May, the former president's legal team mailed a letter to Attorney General Merrick Garland demanding a meeting to discuss the unfair treatment of Trump by special counsel Jack Smith, the DOJ prosecutor leading the investigation. 
The newspaper writes that "in Trump's case, a meeting with the attorney general would be even more unusual and problematic because the investigation is being led by Smith, whose special counsel appointment gives him greater autonomy than other prosecutors in the Justice Department. Under department regulations, the attorney general may overrule the special counsel only if the special counsel has failed to follow Justice Department policies and practices.

Smith was appointed to lead the case in November, after Trump launched his 2024 bid for president. His team of federal prosecutors is investigating whether Trump or those close to him mishandled classified documents the former president kept after leaving office, or obstructed government efforts to retrieve them.

A grand jury has been hearing testimony from dozens of witnesses in recent months at the federal courthouse in downtown Washington. Investigators also have surveillance video showing boxes of documents being moved at Mar-a-Lago, Trump's Florida residence and private club, and an audio recording of Trump talking about having an apparently classified document in his possession.

The classified documents case is one of four criminal probes involving the former president. Smith is separately investigating the conduct of Trump and his inner circle in connection to efforts to block results of the 2020 presidential election. The district attorney in Fulton County, Ga., is doing the same. And Trump has been indicted in New York on charges of falsifying business records connected to hush money payments during the 2016 election."
The former president has denied the allegations and has repeatedly argued that, as president, he had the power to declassify all of the documents he took with him. 
Over the weekend, news broke that "federal prosecutors have obtained an audio recording of a summer 2021 meeting in which former President Donald Trump acknowledges he held onto a classified Pentagon document about a potential attack on Iran, multiple sources told CNN, undercutting his argument that he declassified everything.
The recording indicates Trump understood he retained classified material after leaving the White House, according to multiple sources familiar with the investigation. On the recording, Trump's comments suggest he would like to share the information but he's aware of limitations on his ability post-presidency to declassify records, two of the sources said.
CNN has not listened to the recording, but multiple sources described it. One source said the relevant portion on the Iran document is about two minutes long, and another source said the discussion is a small part of a much longer meeting."
He took to his social media website, Truth Social, to attack the Department of Justice. 
The Trump meeting follows the announcement by the Department of Justice that Vice President Mike Pence will not be charged for mishandling classified documents. The AP wrote, "The department sent a letter to Pence's attorney Thursday informing his team that, after an investigation into the potential mishandling of classified information, no criminal charges will be sought. A Justice Department official confirmed the authenticity of the letter, which was obtained by The Associated Press.
The news comes days before Pence is set to launch his campaign for the Republican nomination for president in Iowa Wednesday — a race that will put him in direct competition with his old boss, former President Donald Trump.
No evidence has ever emerged to suggest that Pence intentionally hid documents from the government or even knew they were in his home, so there was never an expectation that he would face charges. But that decision and timing were nonetheless welcome news for the former vice president and his political team as he prepares to enter the crowded GOP primary field and contrast himself with Trump."
Like Trump and Pence, President Joe Biden has also been found to have mishandled classified documents. Unlike the other two, however, Biden's son Hunter has been accused of sharing documents related to Ukraine with Ukrainian "business contacts." 
Update: Do you believe in coincidences? CNN reports that the material related to Ukraine … which is where Hunter Biden was cutting deals at the same time. https://t.co/LmSEMHmAkd

— Ed Morrissey (@EdMorrissey) January 10, 2023
In April, a former Obama staffer stated that he saw Joe Biden pull strings for his son in Ukraine while serving as vice president. 
Last week, during a town hall on Fox News with Sean Hannity, former President Donald Trump pointed the finger at Joe Biden, saying that while he was transparent with the FBI, the current occupant of the White House "stored in Chinatown."
Along with focusing on the millions of dollars given to the Biden family by foreign contacts from "influence peddling," Chairman of the House Oversight Committee James Comer has also focused on Biden's mishandling of classified information. 
Many conservatives have argued that The Department of Justice, especially since it's run by someone as partisan as Merrick Garland, can not treat Donald Trump fairly nor investigate Joe Biden thoroughly. 
We will likely know Trump's legal fate soon. NBC News reported that "The federal grand jury that has been hearing evidence in the Justice Department's investigation of former President Donald Trump's handling of classified documents is expected to meet again this coming week in Washington, according to multiple people familiar with the investigation.
Prosecutors working for special counsel Jack Smith have been presenting the grand jury with evidence and witness testimony for months, but activity appeared to have slowed in recent weeks based on observations at the courthouse and sources.
It's unclear whether prosecutors are prepared to seek an indictment at this point. The Justice Department would not comment on the status of the investigation." 
[Read More: Democrat Replace Kamala With The Impossible]