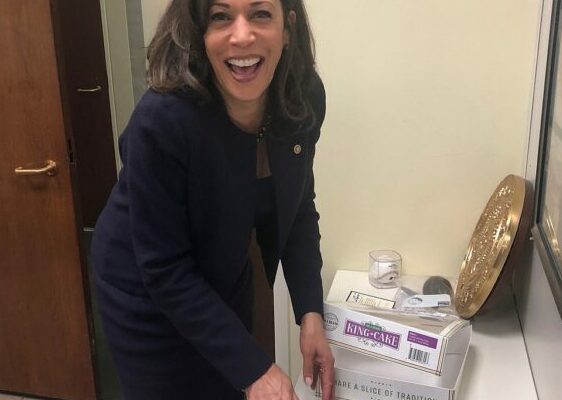 When it comes to the 2024 Democratic ticket, Joe Biden seems bound to someone he doesn't respect or have confidence in to succeed him. Reuters reports, "U.S. Vice President Kamala Harris may not have won over America in her first two years in office, but she is staying put at President Joe Biden's side.
The first woman vice president is gearing up for another national campaign despite low poll ratings, a failure to win over the Washington establishment and concern among fellow Democrats about an underwhelming start in the job.
Harris heads into a high pressure situation as Biden, now 80, moves toward an unprecedented run for a second term as the first octogenarian in the Oval Office.
'A point of tension in their relationship is that I don't think that the president sees her as somebody who takes anything off of his plate,' a second former White House official said, adding a 'fear of messing up' had led Harris to be late to the game on important issues." 
This isn't the first time that White House officials, both those working in the Oval Office or staffing the vice president, have declared Kamala Harris to be unwilling to do the hard work of helping lead the nation.
One former White House official said, "If he did not think she was capable, he would not have picked her. But it is a question of consistently rising to the occasion."
Reuters also noted that Biden is seeking re-election because he does not believe that Harris would be able to beat Donald Trump in a presidential contest. 
The president has apparently become resigned to the fact that he's stuck with Kamala Harris as his running mate and has become focused on making her palatable to the rest of the nation. 
The New York Post writes, "Biden has made a point of praising Harris recently — after prior reports that he's been frustrated with her apparent reluctance to embrace an assignment to reduce record-breaking illegal immigration.

"You know, our outstanding vice president, you've shattered so many barriers and did it mostly on your own," Biden told Harris on Wednesday evening at a Women's History Month event.

"You know, San Francisco, first woman district attorney. California's first woman attorney general. Doug, you have had such an incredible partner in this historic progress."

On Thursday, Biden said at an event celebrating the 13th anniversary of former President Barack Obama's healthcare reform law, "Kamala, I want to thank you for everything you've done to defend this law as vice president," without specifying what that was.
The vice president's speeches have become a subject of constant ridicule. Commentator Clay Travis collected some of the most recent gaffes. 
Kamala Harris is the worst public speaker on the planet. She addressed the Howard basketball team yesterday after their loss to Kansas. And it sounds like me talking to my five year old team when the little league season ends: pic.twitter.com/a5nWuarGQF

— Clay Travis (@ClayTravis) March 17, 2023
Every Kamala Harris speech is like a high school paper that she's trying to hit the word limit on: pic.twitter.com/OEqedHSBHp

— Clay Travis (@ClayTravis) March 23, 2023
Earlier in the month, reports claimed that Harris and Elizabeth Warren were no longer on speaking terms because the Massachusetts senator refused to endorse Harris.
Despite the president's best efforts. Harris remains deeply unpopular with much of the country. In February, Fox News noted, "Vice President Kamala Harris dismissed her unpopularity among Democrats as well as President Biden's as 'political chatter' during an interview with MSNBC's Andrea Mitchell on Friday.  
"Dozens of Democratic leaders are saying that they not only don't think that he's the strongest candidate, you know, considering the larger field that could be possible given his age and other defects, but they don't think that you're the right person to be on the ticket. Why do you think that?" Mitchell asked. 
Harris said it was important to focus on the needs of the American people and not on "political chatter" coming from Washington, D.C. 
Democrats are afraid to express concern over Biden's age ahead of the 2024 presidential election publicly because they fear the alternative, Vice President Harris."   
Both Biden and Harris continue to receive low marks from the general public, even if Democrats remain mostly loyal to them. NBC News said, "A new poll from Monmouth University finds a stagnant job approval rating for President Joe Biden and a low approval rating for Vice President Kamala Harris, although both still have high marks among Democrats.
The survey, released Tuesday, finds 41% of Americans approve of Biden's job as president, while 51% disapprove, which is only a slight dip from Biden's 43% approval rating in January (though the change is well within the poll's margin of error). Just over a third of those surveyed — 36% — approve of Harris' job as vice president, while 53% disapprove."
[Read More: Hunter Allegedly Has A 'Mole' In the FBI]