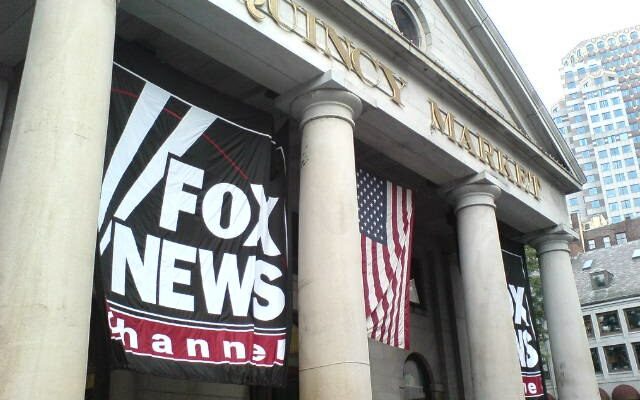 Conservatives are tired of being pushed around by corporations, and they've begun hitting them in the pocketbook. While Bud Light might be the starkest example of a conservative boycott crushing a brand, Fox News might be the most at risk by alienating its audience. 
Although still the highest-rated cable news channel compared to the struggling CNN and the leftwing madhouse that is MSNBC, FNC has seen a dramatic tumble in viewers since the firing of Tucker Carlson in April. 
Forbes noted, "In May 2023 Fox News ratings felt the impact of the suddenly departed Tucker Carlson, whose last telecast was April 21. For May, Fox News averaged 1.42 million viewers in primetime, a 32% decline from April, when the network averaged 2.08 million viewers. (All ratings are based on live + same day from Nielsen.) In May, Fox News ranked third in primetime viewership behind TNT and ESPN, both had benefited from their month-long coverage of the NBA postseason.
For the total day, in May, Fox News had an average audience of 1.09 million viewers, compared to 1.29 million in April, a fall-off of 16%. Despite the audience decline, May 2023 marked the 27th straight month Fox News has been the top-rated cable news network in daypart.
In April, Tucker Carlson Tonight, benefiting from several high-profile interviews, had been the top-rated on cable news averaging 3.06 million viewers. (Carlson's program aired in the first three weeks of the month.) For the time being, Fox has replaced Carlson's 8 p.m. show with Fox News Tonight and rotating hosts. In May, the program averaged 1.52 million viewers. Despite a monthly time period decline of 50%, Fox News Tonight ranked seventh among cable programs." 
Last week, Fox News tried to call in the closer to help it bring back some of its viewers. Donald Trump sat down with Sean Hannity for a town hall in Iowa, but even the former president couldn't help the sinking ship. 
Mediaite reports that "GOP presidential frontrunner and former president, Donald Trump, landed one of his lowest-rated townhall events in recent years on Thursday night on Fox News.

The town hall event hosted by Sean Hannity in Iowa brought in 2.78 million total average viewers at 9 p.m. and 320,000 viewers in the key 25-54 age demographic, almost half a million fewer viewers than Trump's CNN town hall on May 10th. The hour led cable news for the day, however.

Trump's CNN town hall, hosted by Kaitlin Collins, scored 3.31 million total viewers and 781,000 demo viewers – a major boost for the ratings-beleaguered network.

For context, Fox's last six Trump town hall events outperformed CNN delivering 5.1 million, 4.4 million, 4.2 million, 3.8 million, 3.5 million, and 3.2 million — with Hannity's June 2020 event leading the way.

The Trump Fox event still led to a solid ratings win for Fox News's prime time, which scored 2.06 million total viewers and 229,000 demo viewers – beat CNN and MSNBC combined. Notably, however, Fox averaged 2.07 million prime time viewers in April and 1.42 million viewers in May — the first full month since Tucker Carlson's firing.
One channel that has seen a boom since Fox's canning of Carlson has been Newsmax, which saw its ratings surge after the firing. The Washington Post wrote, "While the biggest beneficiary has been Newsmax's 8 p.m. host Eric Bolling, a former Fox News personality whose ratings have increased by 142 percent in the time slot once dominated by Carlson, the entire prime-time lineups for both channels are showing the effects of a viewer migration.
In the four weeks before Carlson's firing, Bolling's Newsmax show averaged 202,000 total viewers. Since Carlson was ousted, Newsmax has averaged 489,000 viewers, according to Nielsen ratings data obtained by The Washington Post. Carlson's show on Fox averaged 3.27 million in his last four weeks as a host. The hosts who have replaced him at 8 p.m. have averaged just 1.49 million.
Even Carlson's fellow prime-time stars who have stayed with the network are suffering weaker ratings. In the past month, Fox's overall prime-time ratings have declined by 39 percent — from an average of 2.6 million viewers to 1.6 million — while Newsmax's prime-time ratings have increased by 135 percent.
Newsmax's surge comes amid an overall scramble in cable news viewership that has also been marked by sharp declines for CNN. For three consecutive nights last week, Bolling pulled more viewers than the rival offering hosted by CNN's veteran anchor Anderson Cooper, arguably the biggest star on the network. Before Carlson's firing, Newsmax rarely came close to matching CNN at 8 p.m."
In May, Tucker Carlson announced that he'd be launching a new show on Twitter. The top host in cable news has been reported to be in a major fight with Fox News. The network allegedly plans to try and keep one of conservatism's most prominent voices sidelined through the 2024 election next November. 
[Read More: Biden's Fall Is Making Dems Nervous]