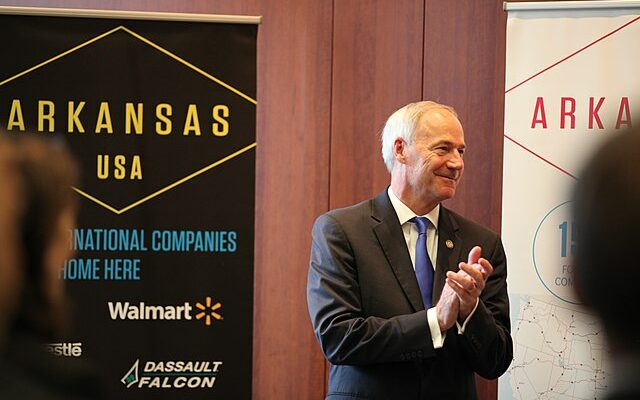 In the wake of Donald Trump's indictment, a two-term governor from a southern state finally announced that he's running for president. 
No, it's not the guy you're thinking. 
For some reason, Asa Hutchinson, the former governor of Arkansas best known for blocking a bill to prohibit children from receiving sex changes, has launched a bid for the White House. 
The Associated Press writes that Hutchinson, who announced his candidacy on ABC's "This Week," said he was running because "I believe that I am the right time for America, the right candidate for our country and its future." He added: "I'm convinced that people want leaders that appeal to the best of America and not simply appeal to our worst instincts."

He is the first Republican to enter the race since Trump became the only former U.S. president to ever face criminal charges. Hutchinson's candidacy will test the GOP's appetite for those who speak out against Trump. Others who have criticized Trump, including former Maryland Gov. Larry Hogan, have opted against a campaign, sensing the difficulty of prevailing in a primary.

Hutchinson, in an Associated Press interview later Sunday, said it was important for voters to have an alternative leader and "not simply go by default to somebody who is really wrapped around what happened in the past."

"I don't think you have to be blustery. I think you can be honest and authentic, and that's what I want to be able to offer," he said.
During his interview with ABC, the former Arkansas governor said, "What struck me as I was in Orange County, California, and as I was in Iowa for three days this week, was that the Trump factor really didn't come up." The voters, he continued, "are talking about things that matter to them, which is the economy, which is the fentanyl crisis that we have, and the relationship and leadership of America on the world stage."
"They're asking tough questions," he added, "but it's not about the political dynamics of Trump."
Hutchinson has been making pre-campaign trips all over the country to gauge interest in whether he should run for president. According to him, the people demand a 72-year-old former governor who was best known for vetoing a bill that "would have prohibited doctors from providing gender confirming hormone treatment, puberty blockers or surgery to anyone under 18 years old, or from referring them to other providers for the treatment."
He "has made several trips to Iowa, where he has tested out what he has called a message of "consistent conservatism" to Republican voters who have flocked to Mr. Trump in the past two elections. Recent polling has shown Mr. Trump's lead among primary voters surging as his legal peril has grown. The former president is expected to be arraigned on Tuesday in Manhattan on charges that he falsified business records and violated New York campaign finance law to cover up hush-money payments to a pornographic film actress in the final days of the 2016 election," The New York Times said.
"With several other cases pending, Mr. Hutchinson appears to be betting that external forces will trip up Mr. Trump's third run for the White House. Other anti-Trump Republicans, such as the former Maryland governor Larry Hogan, have declined to run. And the Republicans who have jumped in or are preparing to — Nikki Haley, the former governor of South Carolina, the entrepreneur Vivek Ramaswamy, and Ron DeSantis, the Florida governor — have carefully avoided direct criticism of the front-runner."
The Hill reported that "former President Trump is set to appear in court on Tuesday to be arraigned after his indictment last week made him the first U.S. president — current or former — to face criminal charges. 
Trump was indicted for his alleged role in organizing hush money payments to adult film star Stormy Daniels during his 2016 presidential campaign. Now a 2024 presidential candidate, Trump is expected to turn himself in Tuesday morning before the arraignment later that afternoon. The exact charges he'll face are still unknown, even to his own lawyers, as the indictment is sealed. 
Former President Trump is set to appear in court on Tuesday to be arraigned after his indictment last week made him the first U.S. president — current or former — to face criminal charges. 
Trump was indicted for his alleged role in organizing hush money payments to adult film star Stormy Daniels during his 2016 presidential campaign. Now a 2024 presidential candidate, Trump is expected to turn himself in Tuesday morning before the arraignment later that afternoon. The exact charges he'll face are still unknown, even to his own lawyers, as the indictment is sealed." 
[Read More: Fox Facing HUGE Financial Trouble]