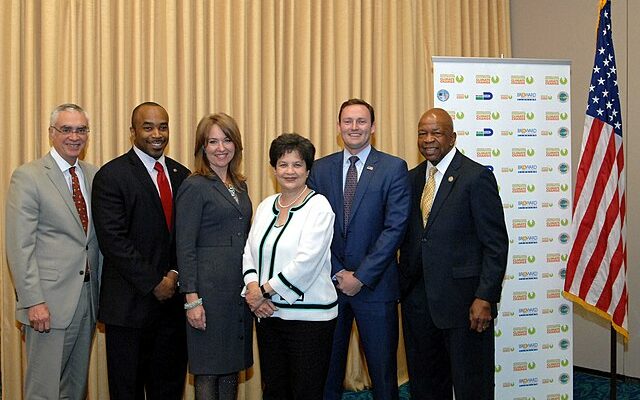 There are many things we know about Democrats. They are in favor of active government, for example. They love spending, for example. But did you know that they are often amazing stock traders? 
No one does it better than Nancy Pelosi. We reported last year that the former Speaker of the House and her husband Paul should be considered some of the greatest stock traders of all time. 
The New York Post claimed that the Pelosis "have raked in as much as $30 million from bets on the Big Tech firms Pelosi is responsible for regulating. Late last month, the House Speaker disclosed that the Pelosis scooped up millions in bullish call options for stocks including Google, Salesforce, Micron Technology and Roblox." 
Later, Paul Pelosi placed millions of dollars on stock for semiconductor companies, and what do know, Nancy pushed a bill that provides billions to the same companies. That year she wrote, "The #AmericaCOMPETES Act will supercharge our investment in CHIPS, advance manufacturing at home, strengthen our supply chain, transform our research capacity and advance our competitiveness and leadership abroad, plus many other key provisions." 
Now the former Speaker's proteges are getting in on the act.
When Pelosi retired from the Speakership, Lois Frankel, a Democrat from Florida wrote, "From breaking the marble ceiling by becoming the first woman to hold the Speaker's office, to expertly navigating narrow majorities to pass some of the most critical pieces of legislation in our nation's history, her legacy as a leader and trailblazer is unparalleled. I want to thank her deeply for her determination, courage, and dedication to fighting for women and our country, and I look forward to continuing to work with her as a valued member of the Democratic Women's Caucus."
Now the congresswoman is making waves as a genius stock picker. The Daily Caller reports, " Democratic Florida Rep. Lois Frankel sold stock in First Republic Bank as its share price plummeted, and bought JPMorgan stock soon before it purchased First Republic, disclosure forms show.

Frankel sold between $1,001 and $15,000 in First Republic stock on March 16 and purchased between $1,001 and $15,000 in JPMorgan stock on March 22, according to a periodic transaction report filed April 28. The transaction reports are mandated to be filed in a timely manner by the Stop Trading on Congressional Knowledge (STOCK) Act of 2012 designed to prevent insider trading by Congressional lawmakers.

Her First Republic stock was a subholding of a Morgan Stanley IRA account managed by MFS Investment Management, the report says. The JPMorgan stock is a subholding of a different Morgan Stanley IRA overseen by Anchor Capital Advisors LLC.

"My account is managed independently by a money manager who buys and sells stocks at his discretion," Rep. Frankel told the Daily Caller through a spokesperson.
"Regulators took possession of First Republic on Monday, resulting in the third failure of an American bank since March, after a last-ditch effort to persuade rival lenders to keep the ailing bank afloat failed," CNBC wrote.
"JPMorgan Chase, already the largest U.S. bank by several measures, emerged as winner of the weekend auction for First Republic. It will get all of the ailing bank's deposits and a 'substantial majority of assets,' the New York-based bank said."
First Republic was the 14th largest commercial bank in the U.S. The bank's collapse is the second-largest financial meltdown in American history, surpassing the Silicon Valley Bank closure from a couple of months ago.
What an amazing and fortunate coincidence for Frankel to sell right before the collapse of First Republic but get into JPMorgan before they took over. 
Congresswoman Lois Frankel sold First Republic Bank in March before the stock dropped 80%

After she sold First Republic, she bought JP Morgan Chase which just bought First Republic. She clearly had inside information.

If me or you did this then we would be in prison. pic.twitter.com/blvDMF2ag6

— Matt Allen (@investmattallen) May 1, 2023
"Calls have mounted for members of Congress to be banned from being able to purchase and sell stocks, as critics say allowing them to do so opens up the possibility of politicians profiting from the industries they are supposed to regulate.
Several members of Congress have introduced bills aimed at cracking down on stock trading among their colleagues. Representative Abigail Spanberger, a Virginia Democrat, has introduced legislation that would require lawmakers and their families to place assets in a blind trust during their time in office.
Senator Elizabeth Warren, a Massachusetts Democrat, and Steve Daines, a Montana Republican, last year introduced a bill that would ban members of Congress and their spouses from owning and trading stock, according to Newsweek.
Pelosi, however, shut any of that talk down. In December of 2021, CNBC noted that she "scoffed at the idea of banning congressional lawmakers and their spouses from owning shares of individual companies."
"We're a free market economy," she said. "They should be able to participate in that."
I guess it's nice to see a time when Democrats will support the free market for once.
[Read More: Did Zelensky Get Murdoch To Can Tucker?]