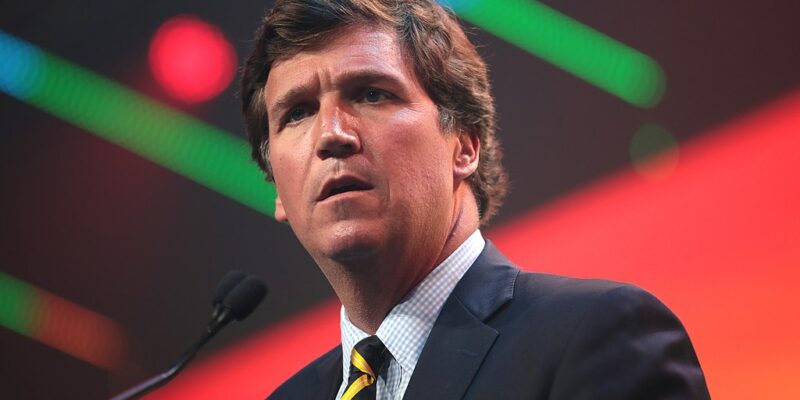 Tucker Carlson has finally spoken out after being fired from Fox News earlier in the week. The top-rated former host of 'Tucker Carlson Tonight' took to Twitter to post a video about what happened and where we all can go from here. 
The Daily Caller, which Carlson helped create in 2010, wrote that he began by highlighting how many 'genuinely nice people' who 'really care about what's true' live in America. Carlson then pivoted and spoke about how 'unbelievably stupid most' television debates are. He called them 'irrelevant' and said they 'mean nothing' in the long run.
"The undeniably big topics — the ones that will define our future — get virtually no discussion at all," Carlson said. "War, civil liberties, emerging science, demographic change, corporate power, natural resources. When was the last time you heard a legitimate debate about any of those issues? It's been a long time. Debates like that are not permitted in American media," Carlson said.
'Both political parties and their donors have reached consensus on what benefits them and they actively collude to shut down any conversation about it. Suddenly the United States looks very much like a one-party state. That's a depressing realization but it's not permanent. Our current orthodoxies won't last, they're brain-dead, nobody actually believes them,' he continued.
He closed his statement with a hopeful message for viewers. "When honest people say what's true, calmly and without embarrassment, they become powerful. At the same time, the liars who have been trying to silence them, shrink and they became weaker. That's the iron law of the universe, true things prevail," Carlson stated.
'As long as you can hear the words, there is hope. See you soon,' he concluded.
Good evening pic.twitter.com/SPrsYKWKCE

— Tucker Carlson (@TuckerCarlson) April 27, 2023
Carlson has been a significant figure in the world of political media, scoring huge ratings while at Fox News. He has been a fixture on cable news for over a decade, either hosting his own show and appearing as a commentator on other programs. His departure from the network had other former Fox News stars commenting about how the channel has changed over the past five years or so. 
Bill O'Reilly told Chris Cuomo that he believed Carlson being named as a defendant in a recent harassment lawsuit filed by a former producer, in combination with the recent settlement with Dominion for over $760 million, played a major role in Tucker being sent packing. 
'"There's nothing good about this,' for Fox, O'Reilly said Monday on NewsNation's "CUOMO," wrote News Nation. 
O'Reilly, in an exclusive interview with NewsNation, said Carlson and his staff were stunned to learn of the news Monday morning.
'(Monday), as every day in the TV news business, the producers of the Tucker Carlson program and all other news shows were having their morning meeting, laying out what was going to be on (Monday night), and in the middle of that meeting they got word that their host was not coming to work. Ever again,"'O'Reilly said.
'(The thinking from executives) was get out ahead of these lawsuits because we're going to lose them, and we're going to get hammered, and it's never going to stop, so we'll start the purge,' he said."
Former Fox News hosts Glenn Beck and Megyn Kelly also bashed FNC for how they treated Carlson, calling his sudden departure a "suicidal" and "terrible" move for the network. 
"Tucker Carlson is out at Fox News. Now, I don't know what that means. You know, we're in wild speculation territory," Beck, who left Fox News in 2011, said on his BlazeTV program on Monday. 
"To me, this is a suicidal move for Fox," Beck said, adding, "If it's their move." 
.@glennbeck invites @TuckerCarlson to join The Blaze in the wake of departure from Fox News:

"We would love to have you here, you won't miss a beat, and together the two of us will tear it up." pic.twitter.com/7IfP7HQaFA

— TheBlaze (@theblaze) April 24, 2023
Megyn Kelly, who left the channel in 2017, said she thought Fox pushed the issue with Carlson, though she acknowledged it was "supposition" on her part.
"This is a terrible move by Fox, and it's a great thing for Tucker Carlson," Kelly said on SiriusXM's "The Megyn Kelly Show."
"I don't know what drove Fox News to make this decision. And it was clearly Fox News' decision because they're not letting him say goodbye," she said. "That's my supposition. That's not inside knowledge.…Talk about misjudging your audience yet again," according to The Hill.
On Monday, Fox News announced that the network and Carlson had parted ways. Several sources have said Carlson was fired, but Fox made the announcement without any specifics. 
[Read More: Billionaire Trying To Keep DeSantis From Entering Race For White House]