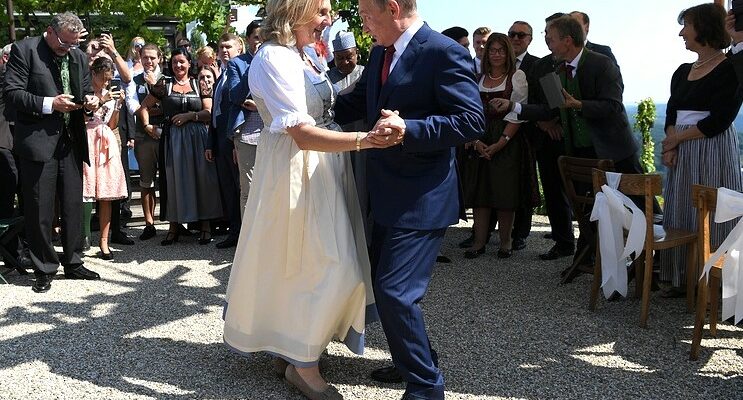 The world has become less safe during Joe Biden's time as Leader of the Free World, but now it looks like it may soon become more destabilized and dangerous. News Nation writes, "As the war in Ukraine continues, militia groups in Russia are at odds, leaving some to suggest there's a possibility the country might be facing a civil war.
Russia's Wagner Group, a paramilitary organization, has been on the front lines of fighting in Ukraine throughout the conflict. But as the fighting drags on, leaders in Moscow have begun sidelining the group's leader.
At the same time, Russia's state-owned energy company has been given the go-ahead to create its own security force, leading to speculation that another paramilitary group will emerge. Ramzan Kadyrov, ally to Russian President Vladimir Putin and leader of Chechnya, has also said he wants to create his own private militia.
National security and global affairs expert Laura Ballman said the fact that the drama is playing out publicly works against the idea that it's a calculated move from Putin.
'Until recently, one might assess that this is actually Vladimir Putin, so sowing divisions behind the scenes in order to keep his own power,' she said.
Ballman isn't the only one who looks at what's happening and Russia and thinks a civil war might be on the horizon. Former Russian commander Igor Girkin has said that Vladimir Putin could "disappear at any moment,' sparking an even bigger crisis in one of the world's largest nuclear powers. 
Newsweek reported that Girkin, also known as Igor Strelkov, rose to prominence for his role in the Russian annexation of Crimea in 2014. He has become increasingly critical of Kremlin leadership as its military struggles to achieve substantial military gains in Ukraine nearly a year after Putin launched the "special military operation." Although he supports the goals of the Russian military, he has recently offered grim assessments of the war for Putin.

During a recent discussion, Girkin weighed in on whether a change in Kremlin leadership would benefit Russia's military operation in Ukraine, acknowledging that there is a chance Putin could "disappear" amid longstanding questions about his health. A video of his remarks was posted to Twitter by Anton Gerashchenko, adviser to the Ukrainian Internal Affairs Ministry,

Girkin declined to "rule out" the possibility that Putin could suddenly "disappear at any moment," whether he abdicates his position as president or dies, noting that his state is the "biggest secret" in Russia.

Russia would likely delve into chaos and lead to "external defeat" in Ukraine in this scenario, according to Girkin. He explained that new leadership would even allow Kyiv to retake control of Crimea, a goal of Ukrainian President Volodymyr Zelensky that Putin has warned would impede peace talks.
The Russian president has been blamed for the chaos and death that has happened in his country since he decided to invade Ukraine over a year ago. The Express noted, "Vladimir Putin is driving Russia towards a civil war and its disintegration as a state, a leading Russian opposition politician told Express.co.uk. He also said the only way to remove the Russian president and his "criminal" regime was through the use of force. Andrey Sidelnikov has an extensive background in Russian politics, having initially acted as one of the leaders for Boris Berezovsky's Liberal Party, before going on to help found the Union of Right Forces in 1999 and whose backers included Boris Nemstov and Yegor Gaidar.
The anti-Putin activist is a member of the Executive Council of the Congress of People's Deputies (CPD), which met last week for a four-day session in Warsaw, on the eve of Putin's decision to invade Ukraine just over a year ago.
Mr Sidelnikov told the Express at the conference that removing Putin from power could only be achieved through an armed uprising and that steps towards this end were already underway.
He explained: "I am not going to deceive anyone. A transfer of power in Russia cannot be achieved peacefully in any circumstances."
Putin will not go down without a fight, however. 
But Nate Sibley, an expert on Russia has said, "One thing we can predict with more certainty is that, unlike so many wealthy Russians, Putin does not plan on retiring peacefully to a mansion on the French Riviera with his mistresses.
"He watched carefully as other former Soviet leaders tried to extricate themselves from authoritarian regimes— and as they failed. What luxuries you can buy with vast wealth has become less important to Putin, over the years, than who and what you can control.
"Others with ambitions of their own might like to see him stripped of power, rotting in a cell, or swinging from a lamppost. Whatever his future holds, it is increasingly unlikely to be a happy ending."
He continued that the end of Putin will be "either of old age or with bullets in his back."
Putin's loss of standing in his own country may be why China has become more and more interested in propping him and his war up. The communist leadership of the country has done everything is can to continue to prop up Russia's economy amidst major sanctions by buying its oil, replicating the Western supply chain the country relied upon, and providing an alternative to the U.S. dollar. 
The last part might not last long, however. CNN recently stated that "UnionPay, the Chinese payments system, has reportedly stopped accepting cards issued by Russian banks over fears of international sanctions, according to Russian paper Kommersant.
"Large Chinese businesses are wary about secondary sanctions and are cautious about dealing with the Russian entities under sanctions or with the Russian market in general," Kireeva said.
Seeing how Biden has handled the collapse of other countries. How confident should we be that the man in the White House will be ready if civil war does break out in Russia?
[Read More: Federal Department Gives Credence To COVID Lab Leak]