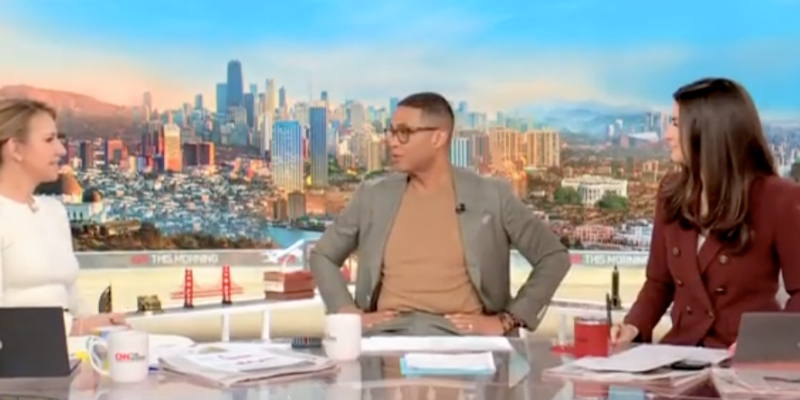 Don Lemon clearly has a problem with women, and CNN may soon become desperate to dump him. As we previously noted, the anchor has been causing problems with T.V. partner Kaitlan Collins off-camera after screaming at her and making her cry.  
The New York Post wrote about the incident: According to two sources with knowledge of the situation, 56-year-old Lemon approached 30-year-old Collins following the show's Thursday, Dec. 8, broadcast — and unloaded on her in front of staffers as he accused her of "interrupting" him on air.
News of the explosive incident made its way up to CNN CEO Chris Licht, who is said to have been appalled by Lemon's behavior, according to a source. A second source said a producer talked to Lemon at the behest of Licht and told the anchor to take the next day off to 'cool off.'"
Now, Lemon, a hardcore leftwing partisan who hates Republicans, is under fire for making sexist comments about Nikki Haley, the former U.N. Ambassador who recently announced her candidacy for president. 
During a segment discussing President Biden's age heading into 2024, the hosts talked about Haley's proposal to require politicians over 75 to take "mental competency tests" before running for office. In trying to defend our 80-year-old, doddering president, Lemon thought it was a good idea to announce when a woman entered her "prime." 
Don Lemon: "Nikki Haley isn't in her prime. Sorry, when a woman is considered to be in her prime in her 20s, and 30s, and maybe 40s…"

Poppy Harlow: "Are you talking about prime for like child bearing?"

"Don't shoot the messenger! I'm just saying what the facts are! Google it!" pic.twitter.com/n1HmtkWTpl

— Townhall.com (@townhallcom) February 16, 2023
Fox News broke down the scene: "CNN's Don Lemon claimed Thursday that former U.N. ambassador Nikki Haley, who just announced her 2024 bid for president, was not in her "prime" and said any discussion about age made him "uncomfortable." 
'This whole talk about age makes me uncomfortable. I think it's the wrong road to go down. She says people, you know, politicians are something if not in their prime. Nikki Haley isn't in her prime, sorry. A woman is considered to be in their prime in 20s and 30s and maybe 40s," Lemon said. 
Co-host Poppy Harlow questioned what he meant by 'prime' and Lemon said that it wasn't according to him.
'It depends, just like prime, if you look it up. If you Google it, when is a woman in her prime, it'll say 20s, 30s and 40s,' Lemon continued. 'I'm not saying I agree with that. I think she has to be careful about saying that, you know, politicians are in their prime.'"
Some former doctors serving in the House of Representatives have claimed to have noticed a decline in the president's physical abilities. This is especially relevant since Biden intends to become the oldest person to ever serve as president. Reports have said he plans to announce a run for reelection this spring despite many Democrats hoping he doesn't. 
It's not a mystery as to why some may wonder if Biden has had senility kick in and is capable of being president for six more years.
Meet Joe Biden, the White House's "best communicator" pic.twitter.com/sr3mMccDrB

— RNC Research (@RNCResearch) February 15, 2023
The Washington Examiner noted, "For instance, Biden's public missteps during the first two years of his presidency are "certainly" cause for concern, according to Rep. Scott DesJarlais (R-TN), a former family medicine practitioner before he was elected to Congress in 2010.
"I think it would be important to see a very thorough and comprehensive cognitive function study that is released with transparency to the general public," DesJarlais told the Washington Examiner. "The American people want to know that their commander in chief is fully capable of performing at the highest level to protect the safety and security of our nation."
The pressure from Republicans appears to be paying off. The White House announced that the president "will undergo a closely watched physical examination on Thursday, ahead of an expected announcement that he is seeking a second four-year term.
Biden's session with the doctors at Walter Reed National Military Medical Center in nearby Bethesda, Maryland, will be his second extensive exam since he took office in January 2021.
About three-quarters of Americans – including more than half of Democrats and the vast majority of Republicans – say Biden is too old to work in government, according to a Reuters/Ipsos poll conducted Feb. 6-13. Most Democratic respondents said the president remains mentally sharp but about half of them said he cannot handle the physical toll of the presidency.
Biden would be 86 by the end of a prospective second term, making him 13 years older than the average life expectancy of an American male, according to 2020 U.S. Centers for Disease Control and Prevention (CDC) data."
Unsurprisingly, his last exam resulted in the White House physician, Kevin O'Connor, saying that Biden is "fit for duty and able to execute his responsibilities."
Politico again reiterated that many Democrats secretly hope Biden does not seek a second term, but also believe that Kamala Harris is unfit to serve. The magazine said that "high-level Democrats are rallying to President Biden's reelection, not because they think it's in the best interest of the country to have an 82-year-old start a second term but because they fear the potential alternative: the nomination of Kamala Harris and election of Donald Trump.
Not that many of them will say it publicly, at least not that directly. 
'Nobody wants to be the one to do something that would undermine the chances of a Democratic victory in 2024,' Rep. Dean Phillips (D-Minn.) explained to me. 'Yet in quiet rooms the conversation is just the opposite — we could be at a higher risk if this path is cleared.'"
Even Biden insiders have admitted that the president has been "annoyed" by Vice President Kamala Harris's incompetence, which is allegedly driven by her deep insecurities. 
A former Harris staffer claimed that the vice president has "refused to do the kind of preparation that you need to do before going public on a hardcore policy matter. And then she became incensed and outraged when things wouldn't go the way she thought they were supposed to."
Earlier in the week the vice president claimed that electric vehicles were futuristic because they have USB chargers in them that allow you to charge your phone. 
Kamala Harris lauds the benefits of driving an electric vehicle: you can charge your phone using a USB outlet. pic.twitter.com/0Ps8WVOKYN

— Ian Miles Cheong (@stillgray) February 16, 2023
[Read More: Canada Begs NYC Mayor To Stop Sending Illegals]